Gary Hershorn/Reuters
LOS ANGELES—As the Academy prepares to recognize actors, filmmakers, and composers at the Oscars this weekend, the Human Rights Foundation has put together a list of celebrities deserving recognition for their accomplishments in the field of human rights. Additionally, and without the humor that accompanies the "Razzie" Awards for the worst in film, HRF has called out the rich and famous who should be ashamed for supporting, endorsing, or serving the interests of human-rights violators. 
The Nominees for Outstanding Work in the Field of Human Rights
1. George Clooney and Arnold Schwarzenegger
In December, Clooney recorded a video message supporting pro-democracy protesters in Ukraine and condemning the government's violent crackdown on them. Schwarzenegger sent demonstrators in Kiev his own video message, wishing them the "best of luck in their peaceful struggle for democracy and freedom." The Austrian-born bodybuilder is also a patron of charities fighting human trafficking and modern-day slavery. As governor of California, he opted to forgo his salary and instead directed the money to a variety of causes around the world.
2. Madonna
This month, the queen of pop denounced Venezuelan President Nicolás Maduro for his brutal crackdown on peaceful protesters, tweeting, "Apparently Maduro is not familiar with the phrase 'Human Rights'! Fascism is alive and thriving in Venezuela and Russia. The Ukraine isn't far behind!" Her comments were retweeted more than 20,000 times and made national news, helping to focus attention on the continuing crisis in Venezuela.
Madonna's been on a tear against dictatorship since her 2012 concert in Moscow, when she spoke out in support of imprisoned members of the Russian punk band Pussy Riot, saying, "I think that these three girls … have done something courageous. I think they have paid the price for this act. And I pray for their freedom." She later ripped off her jacket to reveal the band's name printed in large block letters on her back. Her stunt earned her criticism from the Russian government but she continued to support the women, even headlining a concert benefiting Pussy Riot this year in New York.
3. Khalid Abdalla
Abdalla, star of the film adaption of the bestselling book The Kite Runner, is also featured in one of this year's Oscar-nominated documentaries for standing up to the Egyptian dictatorship. The Square chronicles Egypt's recent revolution, from the protests that expelled longtime autocrat Hosni Mubarak to the military ouster of President Mohammed Morsi. The Scottish-Egyptian actor, who was raised in the U.K. but comes from a family of outspoken critics of Egyptian tyranny, felt compelled to return to Egypt when the uprising against Mubarak began in 2011. Abdalla spent six months living in Cairo's Tahrir Square and has dedicated most of his free time in the past three years to fighting for democracy. He has also denounced the military-backed government's recent authoritarian streak, stating, "We have thousands of people in prison, we have a protest law that is incredibly authoritarian, we do not have freedom of speech, and we do not have freedom of press."
4. Jon Stewart
The Daily Show host has supported the Egyptian comedian and television host Bassem Youssef, who is often referred to as "the Egyptian Jon Stewart." Youssef has faced threats and censorship from both the Morsi regime and the current military government. In 2013, Stewart appeared on Youssef's show before it was pulled off the air, telling him "you have my undying support and friendship."
5. Cui Jian
The father of Chinese rock was invited to play in the 2014 Spring Festival Gala, an annual televised program of state propaganda watched by hundreds of millions on the eve of the Chinese New Year. But he refused to participate because his performance was conditioned on changing some of his song lyrics, publicly proclaiming that he would never censor his music. Although Cui Jian may be an unfamiliar name in the West, he has produced music that criticizes Chinese repression and is therefore often banned from state radio.
6. Ben Kingsley and Susan Sarandon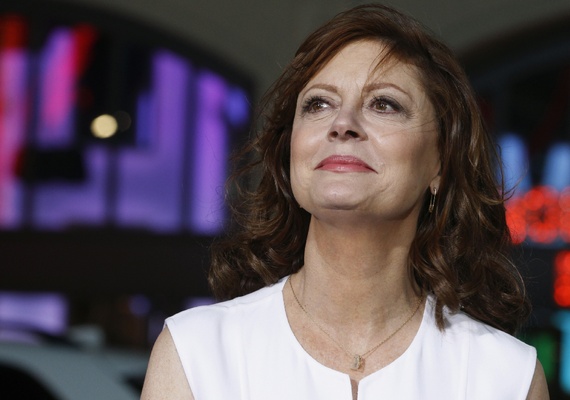 Kingsley and Sarandon expressed support for anti-government protesters in Turkey by sponsoring an open letter in London's The Times condemning Turkish Prime Minister Recep Tayyip Erdogan for the violent clearing of Istanbul's Gezi Park and Taksim Square, which killed five people "whose only crime was to oppose [Erdogan's] dictatorial rule." The actors also called attention to the suppression of press freedom in Turkey, writing, "There are more journalists languishing in your prisons than the combined number of those in China and Iran." The letter so upset Erdogan that he threatened to sue The Times for publishing it.
7. Colin Firth and Emma Thompson
Both Thompson and Firth have won Oscars, but they are also involved in combating issues as diverse as human trafficking and rights violations in the Congo. In January, the actors said they were "ashamed" of the British government for not doing more to help refugees fleeing the conflict in Syria. They have urged the international community to aid those persecuted by the Assad regime, especially the millions of Syrians who have been displaced by the violence.
8. Gabriela Montero
The Venezuelan-American concert pianist is known for her unique ability to compose and play pieces "on the fly" based on suggestions from audience members. But Montero has also distinguished herself by criticizing Venezuela's government. She composed "Ex-Patria" in 2011 to give a voice to political prisoners of Hugo Chávez's regime, and has critiqued Chávez's successor, Nicolás Maduro, as well. Her popular videos about the problems plaguing Venezuela and outspoken criticism of artists who support the government reveal a fearless commitment to prioritizing her principles over her career goals.