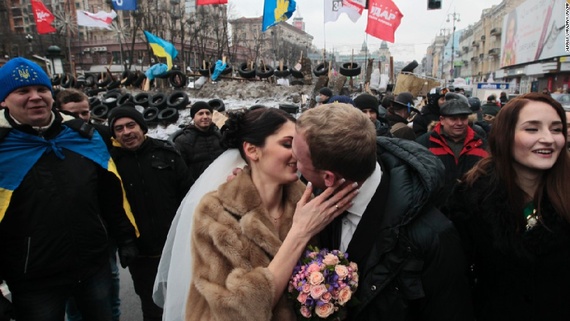 If I could be anywhere writing about anything, right now, I'd be lost in Kiev. I used to read about certain countries in Europe after they threw bananas at some black soccer player, and say to myself, "I'll never go there." But I am a little older now, and I am more confirmed in the fact of this one-shot life. And knowing that this is not a dress rehearsal, and knowing, too, that questions are burning in me, and feeling that my whole purpose here is to observe, I simply don't much care anymore. I am past the age where one can afford to sit around waiting for the world to autoliberate from its various hatreds. And I have had my hatreds too. Like most humans.
I began this blue period thinking mostly of justice for my people. And having explored that subject, I came to wonder how other societies handled their national crimes. And so we've spent the past few months thinking of some of the most horrifying wrongs of the 20th century, and in those wrongs I have seen so much of myself. It is an odd thing to be raised black, to be raised by the dictates of white supremacy prevention, and then turn around and see yourself in people lighter than you. I feel deeply ignorant writing that. But it's true. The Ukrainian national anthem translates as "Ukraine Has Not Yet Died," and I have some sense of what that means.* But then I kind of don't. Analogy can sometimes obscure as much as it clarifies. Someday I hope to know more. 
At any rate, here is a great piece by Tim Judah in the New York Review of Books. If you haven't been following the news, it's a good primer. But it also gets to one of the most trenchant questions, for me, to come out of this whole journey--what, precisely, do Europeans mean when they say Europe:
Before Yanukovych decided against the deal with the EU, Tetiana Sylina, a journalist highly critical of the government, told me that unless the EU signed the deal, with or without the release of Tymoshenko, it would "lose Ukraine." Not signing, she said, would lead to increasing authoritarianism resembling Russia's. "Yanukovych," she said, 

is not interested in the EU or the customs union or European values, he just wants cheaper credits and foreign investment and the opening of markets for oligarchs. But for Ukrainians, Europe is not about Yanukovych but about its 46 million people.

In this respect, she echoed Hanna Shelest, a researcher at the National Institute for Strategic Studies, whom I met in the Black Sea port of Odessa. She told me that she wanted Ukraine to sign the deal because "it is a question of self-identification. Sometimes we don't feel ourselves European but what is worse is when Europeans don't see us as European." Andrey Stavnitser, a businessman who runs a dry cargo terminal near Odessa, told me he was hoping that if the deal was signed, the application of EU standards would begin to curb corruption. "For my business," he added, "it would be better to enter the customs union," because he could then expect more Russian cargoes, but "as a citizen," he said "I would vote for the EU." As to a relationship dominated by Russia, he said, "I would not go there again."

Among ordinary people there was more ambivalence about the deal, although the polls favor it. A big reason for this was that what was at stake and how the EU deals or the customs union would actually affect people's lives were rarely explained properly. Indeed, the Russian-funded media in Ukraine had, said Shelest, even given people the impression that if they chose Russia over the EU, "then everything will be cheaper, such as gas, and that if we go toward the EU, normal marriages will not exist, only gay marriages." Russia, she said, was presenting itself as "the big brother who will tell us what to do," and a pro-Russian choice would mean "we will live happily ever after and won't have to read that complicated EU agreement."
There's so much there--the fear of being relegated to Asia ("You cannot move Romania into Africa.") whatever Asia means in the Ukrainian mind, and at the same time, a fear of modernism represented by the recognition of the right of gay human beings to form families. And then finally a desire for a dictator to simply tell people what to do.