Updates from Greenville and "the upstate" of South Carolina coming soon. In the meantime, selected China readings: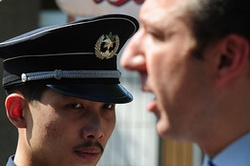 1) "Is China the Next Mexico?" Atlantic readers know Jorge Guajardo and his wife Paola Sada as former Guest Bloggers in this space. In China they have been known in recent years as the face of Mexico, since from 2007 through 2013 Jorge was the Mexican ambassador there. (That's him at the right, in a news picture during a tense Mexican-Chinese moment five years ago.) Now they are living in the United States, where Jorge has delivered a puckishly provocative speech.
Its premise is not the tired one of whether Mexico might become the "next China" but rather the reverse: whether China has the hope of going through the political reforms that have transformed Mexico since the end of one-party rule. Very much worth reading, for its "who should be learning from whom?" approach. I hope they are studying this in Beijing.   
Disclosures: Jorge and Paola Guajardo are close friends of our family. Also, the venue for the speech was the School of International Relations and Pacific Studies (IR/PS) at the UC San Diego, where I have visited many times and feel part of its diaspora.
2) "A Field Guide to Hazardous China Cliches," by Benjamin Carlson in Global Post. Anyone writing or talking about China gets used to a certain rodomontade. China has not simply been around for a long time. It has a "5,000-year history," which must be referred to in exactly those terms. (I burst out into admiring laughter when, with my friend Michele Travierso, I walked into Turkey's pavilion at the Shanghai World Expo in 2010. The introductory plaque said something like, "For 6,000 years, civilization on the Anatolian plain..." ) China was not simply buffeted by the decline of the Qing dynasty at just the time of European colonial expansion. It suffered the "century of humiliation," which explains and excuses any touchiness now. 
Ben Carlson, a former Atlantic staffer now based in Hong Kong (and a relative of mine), has a very nice brief checklist of these and other phrases to be aware of and avoid—or at least to surround in protectively ironic air-quotes if you have to utter them. As with one of the phrases he saves for later discussion: "Hurting the feelings of the Chinese people." Again very much worth reading. 
3) "In China, Watching My Words." From Helen Gao—a Beijing native, Yale college alumna, and recent Atlantic staffer—a very eloquent NYT essay on how she has adjusted what she allows herself to say since moving back to China. This piece has gotten a lot of attention, and deserves it.
4) "China's International Trade and Air Pollution in the United States." Here is the full-text version of a scientific study mentioned in an Atlantic Cities item recently. Most press coverage emphasized a kind of ironic backflip whammy: U.S. factories had outsourced much of their production to China. And—ahah!—the pollution was blowing right back across the Pacific to get them. (I discussed the ramifications of this coverage in an On the Media segment with Bob Garfield today.)