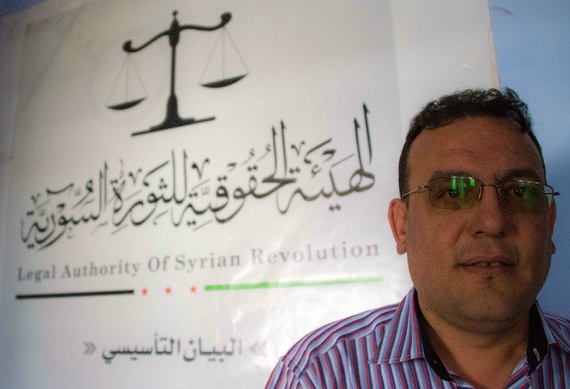 REYHANLI, Turkey — Mosab al-Jamal sees his family once a week, and sleeps only four hours a night. As he lights his fifth cigarette in almost as many minutes, he stops talking and looks out the window onto a dusty, quiet street, beyond which lies Syria. "So many students, so many educations interrupted," he murmurs quietly.
A former law professor at Damascus University and a portly man in his late fifties, al-Jamal is the leader of a group of academics who have created the Free Syrian University, an academic institution that began teaching classes in November in the once-sleepy Turkish town of Reyhanli, only a few miles from the Syrian border.
"This is only temporary," he says, arms swinging as he surveys his surroundings in his office on the top floor of a modest apartment building. A Free Syrian Army flag lies folded in the corner of the room, and an elaborate but weathered sign works hard to bestow legitimacy to his operation, saying simply, "Legal Authority of Syrian Revolution." Worn furniture, scattered ashtrays, and empty demitasses round out the rest of the room.
The effort to get the school off the ground comes as the Syrian conflict, which has left more than 130,000 dead and produced more than 2 million refugees, enters its 34th month. Amid the horrific day-to-day death and destruction, several concerned academics are taking the long view—realizing that regardless of the outcome of the war, Syria, whose society has long respected those with advanced degrees and whose state-run educational institutions were once points of pride, stands to lose the minds of an entire generation of educated youth. It is these young people who will be essential for the country's rehabilitation after the last bullet is fired.
Until then, ongoing conflict has ended almost all educational opportunities for Syrian youth, many of whom struggle in nearby countries to advance their educations against linguistic, cultural, and economic barriers.
Ismail is one of them, eager to build on his education in neighboring Turkey but thus far unable to enroll in classes. The 22-year-old was a law student at Damascus University before Syria's civil war erupted and attended the peaceful protests in 2011. "I was scared, but I was kind of optimistic too. The regime was there filming us, but, amazingly, nothing happened. I think this encouraged us. We were all dancing in the street," he recalls, eagerly showing videos taken on his iPhone that have received thousands of hits on YouTube. "Then, within a month or two, they started shooting at us. What [was] I supposed to do? They started shelling areas full of the youth, killing children." Ismail, who asked that his last name not be used, left Syria in early 2012 and arrived in Turkey via Aleppo as the fighting worsened.
Now delivering water for a Turkish company in Gaziantep, a city 40 minutes from the Syrian border, Ismail embodies the challenges facing displaced Syrian students hoping to continue their educations. "I have almost no options," he explains. "First, I have to take Turkish-language classes for nine months, and have to start university all over again, and that's only if I have the proper paperwork. But the FSA [Free Syrian Army] doesn't give out passports and the regime makes you collect your passport in person, so I have no paperwork. Second, there's lots of confusing information about scholarships—the Turkish government has announced them publicly, but when I ask about them, I am told they don't exist. And the fees for university here are high for Syrians, the Syrian pound is worthless now."
Asked if he could continue his studies at Damascus University, which is still holding classes and contributing to the veneer of normalcy that the Assad regime has sought to promote, Ismail is dismissive. "There is no more education in Syria," he says. "It's all for show, whatever is left."
"We university professors have an enormous responsibility to face this reality," says al-Jamal. "Ours is an academic duty to answer this educational crisis."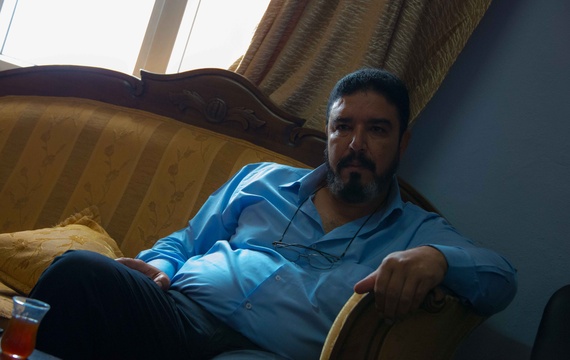 The idea for the Free Syrian University took root one year ago among several former classmates who attended Damascus University with al-Jamal in the 1970s and fled Syria for Turkey at the outbreak of violence. These include Ibrahimi al-Haji, who for 18 years was the chief justice in a court in Aleppo, Syria's largest city, and who now functions as the university's legal advisor. Support has also come from professors among the Syrian diaspora living in Europe, who have offered to teach classes both in Turkey and from afar via the Internet, primarily through Facebook and Skype.