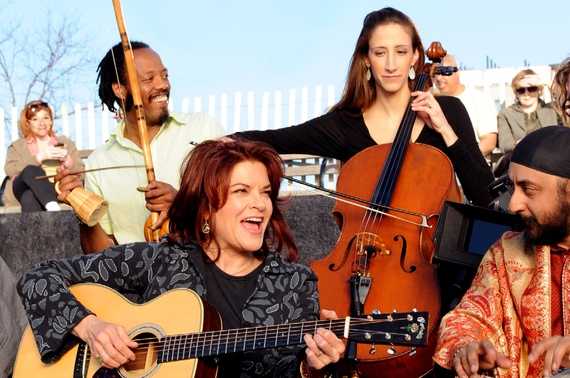 BERLIN — Recently, a curious bit of programming popped up on German television, sandwiched between a dating show and the news: a commercial promoting the United States, in the form of Rosanne Cash singing America's praises under the Brooklyn Bridge.
While ads for American products like iPhones or Coca-Cola are a staple of advertising abroad, rarely is the U.S. itself the product on display. But if there were ever a time when America needed to make a sales pitch for itself abroad, this was it. In Germany, as a result of the NSA spying scandal, trust in the U.S. government has fallen from 76 percent in 2009 to 35 percent today. The trend is in keeping with eroding pro-American sentiment elsewhere in the world.
The "Discover America, Land of Dreams" ad campaign is the product of a joint venture between the U.S. government and tourism industry. The entity behind the campaign is called Brand USA, and it aims to attract international tourists who have been turned off to America as a vacation destination.
"After 9/11, we secured our borders, but made America unwelcoming," Anne Madison of Brand USA told me. "People abroad saw the U.S. as a 'been there done that' country."
Madison said America's share of global international travel dipped 30 percent in the first decade of the new century—this despite an otherwise growing global tourist sector. The ramifications for the economy were clear. "International tourism is the number one services export that we have. And yet, until this campaign, we were the only developed country that lacked a national tourism campaign."
International tourists to the U.S. directly support about one million jobs, and the tourism industry generates almost 3 percent of U.S. GDP. The country's nearly 70 million international tourists spent $166 billion in the U.S. in 2012, and an estimated $179 billion in 2013. The Obama administration, which launched Brand USA in 2010, wants the U.S. to attract 100 million international tourists and $250 billion of their cash annually by 2021.
Brand USA functions as a public-private partnership—in 2013, 339 travel-industry partners contributed $139 million in services and cash; it also took in $100 million through a $14 fee levied by the Department of Homeland Security on visitors from countries that qualify for visa-free travel to the U.S. The television ads debuted in 2012 in Canada, Japan, and the U.K.—since those countries' tourists have traditionally spent the most money on trips to the U.S— and the campaign also features videos of native-language narrators giving tours of various American locations deemed of interest to respective audiences: a Chinese woman recommends outlet malls in California, a German man kayaks around Virginia Beach, a French woman tours New Orleans.
Cash's catchy song, "Land of Dreams," is the campaign's centerpiece. The commercial, directed by Dave Meyers, of Katy Perry's "Firework" fame, features lush images of Cash singing with Brazilian-American artist Bebel Gilberto and sitar players. There are frequent cutaways to images of Americana, including a blonde woman tip-toeing through the Everglades, two smiling Muslim women strutting down a Manhattan street, a man of Asian descent riding a Harley-Davidson through a redwood forest, friends enjoying dinner in Napa Valley, a bi-racial couple celebrating their wedding in New Orleans, and a gay couple embracing on a trolley in San Francisco.
So, is the campaign working? Madison says yes.
Intent to travel to the U.S.—an industry term meaning the likelihood of a person booking a trip within the next few months—has risen by 22 percent in Canada, 12 percent in the U.K., and 14 percent in Japan since 2012, Madison said. (Data for other countries targeted by the campaign is expected in early 2014.) Overall, international visits to the U.S. have rebounded since their dramatic fall after the 9/11 attacks and dip in 2009 during the height of the global economic crisis; indeed, in 2013, more international tourists visited the U.S. than ever before.
The next phase of the project is to train U.S. border guards to be nicer to visitors, and to improve the visa application experience at U.S. embassies around the world. "In the coming year, we are going to be putting more and more energy into making the U.S. more welcoming," Madison explained.
But John Kester of the United Nations' World Tourism Organization suggested that America's image problem has more to do with negative news—the NSA spying scandal, for instance—than brusque border agents. "People are influenced by the news, but you can try to counterbalance some of that," Kester told me. "The problem with the U.S. was that it was lacking an image overall—so negative news has tended to define the image."
Kester noted that America's visitor numbers—while strong today—could be even higher were it not for the country's 'lost decade.' But he applauded the campaign, and cited South Africa as an example of another country that solved a similar image problem stemming from apartheid and a high crime rate. "South Africa was primarily defined by negative news until the country decided to make soccer center stage," he said, referring to the country's winning bid to host the 2010 World Cup games.
Though the U.S. boasts strong regional brands—"I Love New York" comes to mind—Kester agreed that the country needed to create a national brand strategy in the face of competition from new markets.