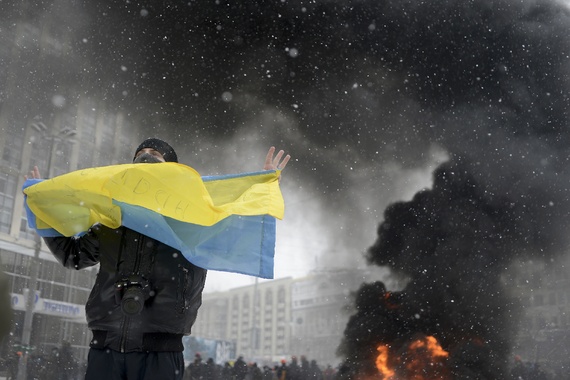 The first day of Ukraine's new laws restricting public demonstrations erupted in chaos and bloodshed on January 22 as the country's two-month-old Euromaidan protest claimed its first victims, two men killed by gunfire amid clashes between demonstrators and police. 
Fellow demonstrators said both men had been Euromaidan stalwarts for weeks, and many paused to praise the two—one an ethnic Armenian, the other a Belarusian native—for taking up Ukraine's democratic cause.
The first victim identified was Serhiy Nihoyan, a 21-year-old from Bereznovativka, a small village outside the eastern Ukrainian city of Dnipropetrovsk. Nihoyan's Armenian parents reportedly immigrated to Ukraine from the embattled enclave of Nagorno-Karabakh in 1992, a year before Serhiy was born.
His father, Garik, told RFE/RL's Ukrainian Service that he had hoped to discourage his son from joining the Euromaidan protesters but that Serhiy, who had recently fallen into a depression after breaking up with his girlfriend, had insisted on traveling to Kiev.
"We were very critical of his decision from the start, but he wouldn't listen," he said. "We asked if someone was forcing him to go, but he said, 'No, no one's forcing me, I can leave whenever I want.' But he had other problems, with a girl. He was depressed, he started growing a beard. And then he contacted some girl over the Internet, and the next day he got up and left."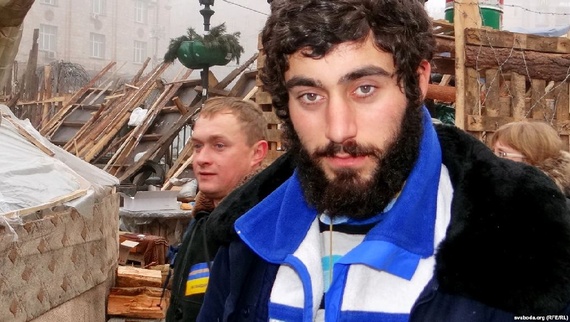 Activists say Nihoyan, with his distinctive dark beard, was a permanent fixture from early December at the Euromaidan demonstrations, where he chopped wood or served as security—standing guard on the perimeter of the crowd, often with the red-blue-and-orange Armenian flag draped around his shoulders.
Many on January 22 referred to him as a "hero" and "Euromaidan's first martyr." One woman recounted on Facebook how she met him after bringing hot tea to the protest: "Unlike a lot of the other guards, he didn't approach me—he didn't leave his post. I walked up to him myself, and only then he took the tea and gratefully kissed my hand."
Many supporters circulated a video showing Nihoyan standing at the protests and raising a clenched fist as he recites the following passage from "The Caucasus," a poem by Ukraine's 19th-century poet and artist Taras Shevchenko that depicts the struggle of Circassians to free themselves from Russian oppression:
And glory, freedom's knights, to you,
Whom God will not forsake.
Keep fighting—you are sure to win!
God helps you in your fight!
For fame and freedom march with you,
And right is on your side!
Above: Serhiy Nihoyan reads "The Caucasus" in Ukrainian.
Serhiy Proskurnia, a Ukrainian filmmaker who has produced a series of the Shevchenko videos to mark the 200th anniversary of the poet's birth, says he was struck by Nihoyan's charisma.
"He enthusiastically agreed to take part in our project," Proskurnia says. "For me, it was very interesting because he was an Armenian who spoke very good Ukrainian. He fulfilled all my producer's recommendations—this 'rot front' gesture, the raised hand with a tight fist, and two flags, Ukrainian and Armenian. This clip has made him recognizable; a lot of people noticed him. Now, unfortunately, it's become the main clip of our project."
Other observers, however, have attempted to cast doubts about Nihoyan's background, with several tweeting journalists and at least one blogger, Graham Phillips, suggesting Nihoyan was a paid mercenary or right-wing terrorist trained by members of an Armenian liberation movement. Phillips offers no evidence to back his claims but includes a link to Nihoyan's VKontakte page, which contains photographs of Nihoyan in combat fatigues, holding a gun and in some cases brandishing an Armenian flag.