Following last night's China roundup, another batch of news items before we get back to Greenville, South Carolina:
1) The Iran deal: substance. As a reminder, the interim U.S.-U.K.-French-German-Russian-Chinese deal with Iran holds no guarantees. But if it should succeed in re-integrating Iran as a "normal" country, the benefits to the world in general and the U.S. in particular would be enormous, similar in concept (though not in scale) to the benefits of re-integrating China a generation ago. Thus it is worth giving the negotiations every chance to succeed—and resisting the cynical congressional effort to guarantee failure by adding impossible poison-pill conditions.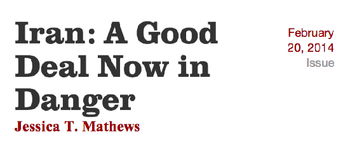 In the upcoming issue of The New York Review of Books, Jessica Tuchman Mathews, president of the Carnegie Endowment for International Peace and former National Security Council staffer on proliferation issues, underscores the importance of the deal and the danger of the congressional effort. Her essay, headline shown above, begins:
In recent weeks, Iran and the United States, for the first time, have broken through more than a decade of impasse over Iran's nuclear program. Significant differences remain, but at long last, both governments appear ready to work their way toward a resolution. Yet the US Congress, acting reflexively against Iran, and under intense pressure from Israel, seems ready to shatter the agreement with a bill that takes no account of Iranian political developments, misunderstands proliferation realities, and ignores the dire national security consequences for the United States.
She goes on to make the case on all counts. As does Steven Walt, in Foreign Policy, with a catalogue of the sweeping benefits for the United States if relations with Iran should improve. And Fred Kaplan in Slate.
Why is Congress threatening to make a deal impossible, before one can be struck? The only real opposition comes from some hardliners inside Iran, who have no U.S. constituency; plus the current governments of Saudi Arabia and Israel, who have an easier time getting the attention of U.S. legislators. Mathews says:
Prime Minister Netanyahu greeted the agreement with a barrage of criticism. Even before it was completed he called it a "Christmas present" for Iran; later, "a historic mistake." His too attentive audience on Capitol Hill followed suit. Many of the criticisms suggest that the critics haven't appreciated the terms of the agreement. Senator Charles Schumer dismissed it as "disproportionate." The observation is correct, but upside down, for Iran gave far more than it got.
2) The Iran deal: politics. The poison-pill legislation is officially known as S. 1881, the Nuclear Weapon Free Iran Act of 2013 (full text here), and informally as the Kirk-Menendez bill, after Senators Mark Kirk (R-IL) and Robert Menendez (D-NJ). Most Republicans say they're for it; the Obama administration is (obviously) dead-set against it. The only discernible reason why some Democrats are lining up with the GOP is AIPAC's strong push for the bill. 
A report this week by Ron Kampeas in JTA is worth reading closely on the political dynamics. For instance:
AIPAC has been stymied by a critical core of Senate Democrats who have sided with the Obama administration in the fight. While AIPAC's bid to build a veto-busting majority has reached 59 — eight short of the needed 67 — it has stalled there in part because Democrats have more or less stopped signing on....

AIPAC, however, says its bid to pass sanctions is on track.

"Our top priority is stopping Iran's nuclear program, and consequently we are very engaged in building support for the Menendez-Kirk bill which now has the bi-partisan co-sponsorship of 59 senators," AIPAC's spokesman, Marshall Wittman, wrote in an email to JTA. "This measure would provide our negotiators with critical leverage in their efforts to achieve a peaceful end to Iran's nuclear weapons program."
Kampeas has an update on the substance and politics here. And John Hudson, in Foreign Policy, describes the pressure AIPAC is putting on Debbie Wasserman Schultz, longtime representative from Florida and national chair of the Democratic National Committee, to switch away from her announced support for the administration's approach. And Mathews's article says:
The bill's most egregious language explains why so many senators leapt onto this bandwagon: it has become a vehicle for expressing unquestioning support for Israel, rather than a deadly serious national security decision for the United States.... Senators report that AIPAC's advocacy of the bill has been intensive, even by its usual standard.
In two previous big showdowns with the administration—over Chuck Hagel's nomination as secretary of defense, and over military intervention in Syria—AIPAC de-escalated and said it hadn't really been looking for a fight, once it became clear things weren't going its way.* As the Iran-sanctions issue gets more attention, my bet is that something similar will happen. For good reason, there is zero American-public appetite for a showdown with Iran. Since the interim deal was announced, polls have shown support for giving the talks the best possible chance. E.g.: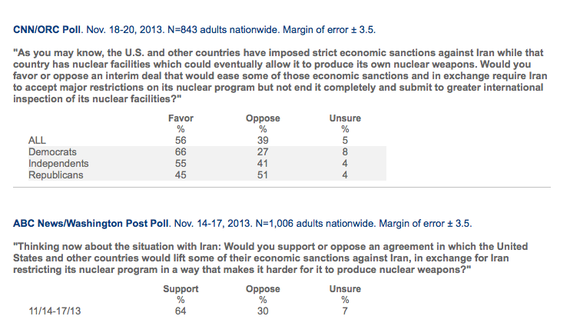 As the talks go on and everyone except the Saudis, the Netanyahu administration, and AIPAC extol their possibilities, it will be harder for leading Democrats to explain why it makes sense to defy their party's president, secretaries of state and defense, and congressional leadership, plus most of the rest of the world, on this issue. (Also see Greg Sargent in the WaPo, and another from Kampeas.)