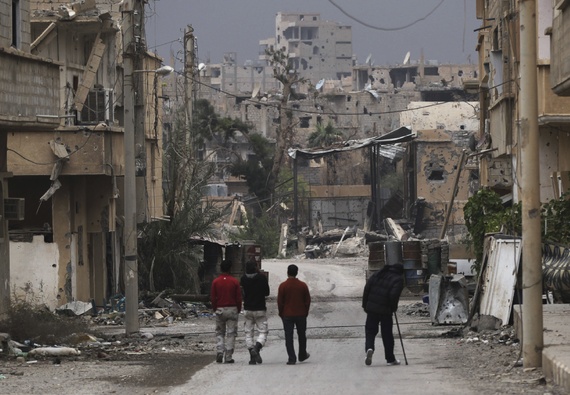 Free Syrian Army fighters walk along a street in Deir al-Zor that has been scarred by war. (Khalil Ashawi/Reuters) 
William R. Polk first wrote for The Atlantic during the Eisenhower administration, with a report in 1958 about tensions in Iraq. Soon after that, he was recruited from a teaching position at Harvard to work on the State Department's Policy Planning staff in the Kennedy administration. In the years since, he has written and taught extensively about international affairs, especially in the Middle East.
Earlier this year, Polk wrote a series of very widely read dispatches for our site about U.S. policy toward Afghanistan and Syria. He also has two new books available on Amazon. The first, Humpty Dumpty: The Fate of Regime Change, deals with the history and current affairs of Kashmir, Pakistan, Afghanistan, Iran, Syria, Libya, and Mali. The second is an espionage novel called Blind Man's Buff and carries the tale of the Great Game for control of Central Asia into the present. (I have just bought it on Amazon and will report back after reading it.)
Now he offers an updated report on the grim prospects in Syria. Like his previous offerings, it is long and detailed—but as with the others, it offers both a coherent perspective and a myriad of facts and insights you will not find elsewhere.  —James Fallows
Geographical Syria
Syria is a small, poor, and crowded country. On the map, it appears about the size of Washington state or Spain, but only about a quarter of its 185,000 square kilometers is arable land. That is, "economic Syria" is about as large as a combination of Maryland and Connecticut or Switzerland. Most is desert—some is suitable for grazing but less than 10 percent of the surface is permanent cropland.
Except for a narrow belt along the Mediterranean, the whole country is subject to extreme temperatures that cause frequent dust storms and periodic droughts. Four years of devastating drought from 2006 to 2011 turned Syria into a land like the American "dust bowl" of the 1930s. That drought was said to have been the worst ever recorded, but it was one in a long sequence: Just in the period from 2001 to 2010, Syria had 60 "significant" dust storms. The most important physical aspect of these storms, as was the experience in America in the 1930s, was the removal of the topsoil. Politically, they triggered the civil war.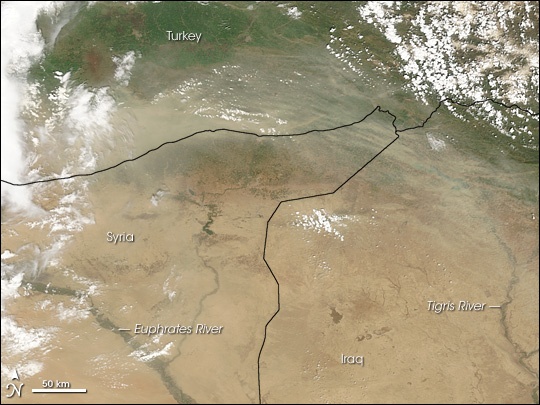 In addition to causing violent dust storms, high temperatures cause a lessening of rainfall. This U.S. National Oceanic and Atmospheric Administration map of the Mediterranean shows the drought conditions of 2010. Except for small areas of Israel, Jordan, and Lebanon, the whole eastern Mediterranean was severely affected (shown in red).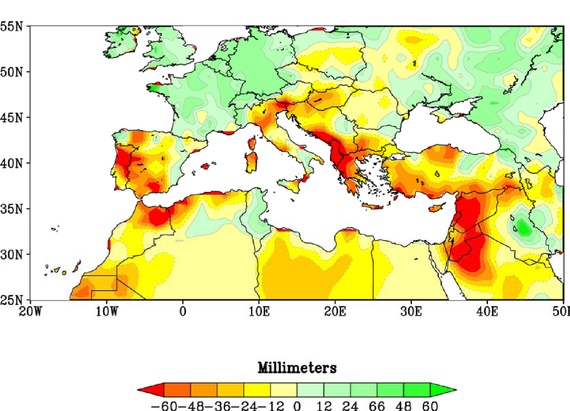 Even the relatively favored areas had rainfall of just 20 to 40 centimeters (8 to 15 inches)—where 20 centimeters (8 inches) is regarded as the absolute minimum to sustain agriculture—and the national average was less than 10 centimeters (4 inches). Worse, rain falls in Syria mainly in the winter months when it is less beneficial for crops. Thus, areas with less than 40 centimeters are heavily dependent upon irrigation. Ground water (aquifers) have been so heavily tapped in recent years that the water table in many areas has fallen below what a farmer can access, while the country's main river, the Euphrates, is heavily drawn down by Turkey and Iraq. Consequently, as of the last year before the civil war, only about 13,500 square kilometers could be irrigated.
Last year, according to the World Bank, agriculture supplied about 20 percent of national income (GDP) and employed about 17 percent of the population. Before the heavy fighting began, Syrian oil fields produced about 330,000 barrels per day, but Syrians consumed all but about 70,000 of that amount. Sales supplied about 20 percent of GDP and a third of export earnings. Production subsequently fell by at least 50 percent, according to the U.S. Energy Information Administration. Syria's oil is of poor quality, sour, and expensive to refine. Industry, (mainly energy-related) employed about a third of the adult male population and provided a similar percentage of the national income. Before the war, moves were being made to transport oil and gas from farther east across Syria to the Mediterranean; obviously, these projects have been stopped. Now there is a sort of cottage industry in crude refining of petroleum products for local use and smuggling.
Syria is not just a piece of land; it is densely populated. When I first visited Syria in 1946, the total population was less than 3 million. In 2010, it reached nearly 24 million. Thus, the country offered less than 0.25 hectares (just over a third of an acre) of agricultural land per person. Considering only "agricultural Syria," the population is about five times as dense as Ohio or Belgium, but it does not have Ohio's or Belgium's other means of generating income. If the population were much smaller, Syria could have managed adequately but not, of course, richly.
The bottom line is that the population/resource ratio is out of balance. While there has been a marginal increase of agricultural land and more efficient cropping with better seed, neither has kept up with population growth. Moreover, as the number of people in the country has increased, they have been unable to agree on how to divide what they have. So it is important to understand how their "social contract"—their view of their relationship with one another and with the government—evolved and then shattered.
The Syrian Heritage
Since before history was written, Syria has been fought over by foreign empires—Egyptians, Hittites, Assyrians, Persians, Macedonian Greeks, Romans, Mongols, Turks, British, and French. Only during the Umayyad Caliphate in the 7th and 8th centuries A.D. was it the center of an empire. But that relatively short period left Syria with its Islamic heritage. For many centuries, the society has been overwhelmingly Muslim.