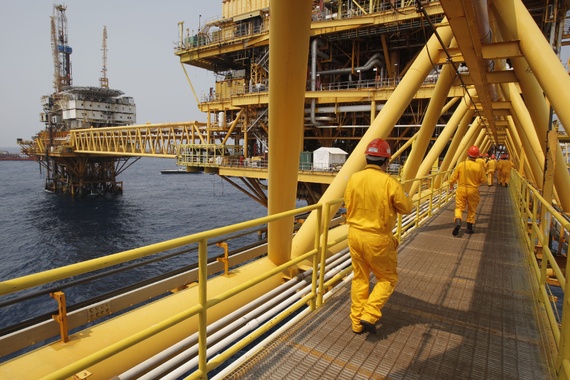 Silvio Berlusconi is out and Angela Merkel was reelected. Nelson Mandela and Hugo Chavez passed away. Fidel Castro didn't. People took to the streets in Kiev and Bangkok, Cairo and Khartoum. The president of Syria ignored Barack Obama's red line and used chemical weapons, while Iran was willing to engage in negotiations with the United States for the first time in 34 years. China elected a new leader and jailed another. North Korea's tyrant-in-training executed his uncle.
There is never a dull moment in global politics, and 2013 was no exception. But which of the myriad, attention-grabbing events that took place this year will have lasting consequences? Surely, the international repercussions of Berlusconi's political demise in Italy are not as significant as Xi Jinping's ascent to power in China. Street protests against the government in Istanbul or Sao Paolo did not have as much impact as those in Cairo, where a democratically elected president was ousted. A thaw in relations between Washington and Tehran is bound to change the world more than the massacres in Syria. Here are the stories from 2013 that will reshape the world long after this year draws to a close.
---
North America's Energy Revolution
Few developments are bound to redraw the world's geopolitical landscape as much as the current boom in North America's energy production. And Mexico's decision in December to end a 75-year state oil monopoly and allow foreign firms to invest in its oil and gas sector will only accelerate this trend. According to a 2013 International Energy Agency (IEA) report, North American oil production will increase by almost 4 million barrels per day from 2012 to 2018, accounting for more than half of the increase predicted for non-OPEC countries. In parallel, oil imports to North America will diminish from about 6 million barrels per day in 2012 to some 3.5 million barrels per day in 2018, while intracontinental oil and gas shipments will intensify.
The IEA calls such changes "revolutionary"—and for good reason. U.S. dependence on Middle East exporters will decline and, with it, that region's weight in world affairs. The IEA estimates that global oil production capacity will grow to 102 million barrels per day by 2017, a volume well above demand forecasts of 96 million barrels per day. Such excess production will weaken oil prices in the medium term and deal a blow to oil-rich Russia's economy and political clout. The U.S. military will be able to recalibrate its role in ensuring safe passage in the sea lanes through which Middle Eastern oil reaches global markets.
Analyst Nikolas Gvosdev argues that America's newfound energy capacity means that  "a robust U.S. military presence abroad will no longer be seen as essential for prosperity at home…. [T]he Carter Doctrine and the Reagan Corollary, which commit the United States to defend the countries of the Persian Gulf against outside aggression and internal subversion because this region and its energy resources are deemed invaluable to U.S. interests, [could] go the way of other now-irrelevant U.S. foreign policy doctrines."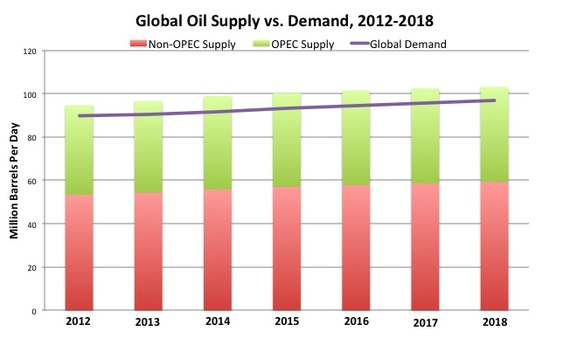 ---
America's Battered Standing in the World
Barack Obama cautioned the government of a small and almost-failed state not to use chemical weapons on its people, only for Syria's Bashar al-Assad to ignore the warning while the U.S. president discovered that he did not have the power to deliver on his threat. Thanks to a last-minute, face-saving diplomatic gambit engineered by Vladimir Putin, Obama was spared the embarrassment of seeing his threat annulled by a Congress that was likely to deny him the authorization to launch military strikes. He also discovered that he did not have the power to avert the shutdown of his government or to make sure that the website of his most important domestic initiative—Obamacare—would work. He was unable to prevent Brazilian President Dilma Rousseff from canceling a state visit to Washington once Edward Snowden's immensely consequential leaks this summer revealed that the U.S had been spying on her telephone conversations—or from joining Germany's Angela Merkel and other U.S. allies in condemning the espionage.
Throughout all these mishaps, the rest of the world was watching. The United States came across as inept and its president, who came to power in 2009 riding a wave of enthusiasm, looked weak. As Prince Turki al-Faisal, the former head of Saudi Arabia's intelligence services, put it, "We've seen several red lines put forward by the president, which went along and became pinkish as time grew, and eventually ended up completely white."
As the U.S. economy continues to recover, the benefits of the energy revolution become tangible, government shutdowns are averted, budgets are passed, and Obamacare starts to deliver on its promise—or even as some visible diplomatic breakthroughs are achieved—the perception of America's weakness is bound to improve. Nonetheless, the damage suffered by "Brand Obama" in 2013 is a reality. In politics—and in geopolitics—perceptions are a critical part of reality, and the perceptions of an America weakened by political gridlock, unable to make timely and effective decisions or deliver on its threats, may—rightly or wrongly—determine the actions of its friends and foes.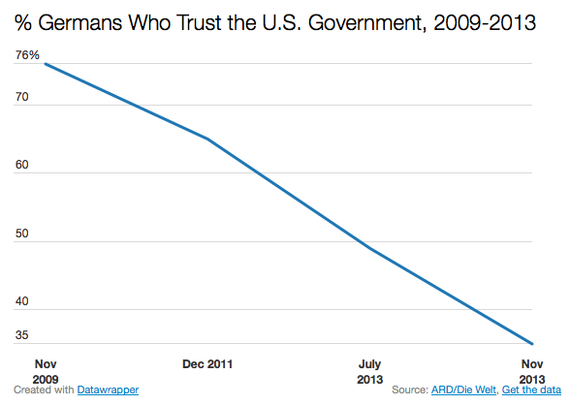 ---
China's New Assertiveness