This week, Ron Haviv described to me the first time one of his photographs changed history.
The acclaimed war photographer was surrounded by his life's work, which is now on exhibit in New York's Anastasia Photo gallery. At age 23, Haviv took a photograph of supporters of Panamanian dictator General Manuel Noriega beating the country's recently elected opposition vice president.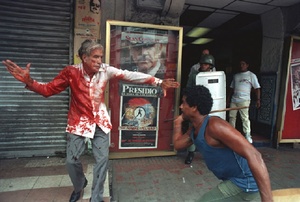 What is striking about the image is not just the crimson blood covering the man's shirt. It is the Panamanian soldier standing a few feet away—doing nothing to protect him. The photograph appeared on the cover of Time, Newsweek, and U.S. News and World Report. Months later, President George H.W. Bush cited the riveting image in his speech justifying the U.S. invasion of Panama.
"All of the sudden," said Haviv, a longtime colleague and friend, "I had this understanding that the work I was doing was going out into the world and creating and causing a reaction. It helped cement my desire to do this for a living."
A quarter century later, photography is our predominant means of communication. Dizzying technological advances allow a mind-boggling number of images—half-a-billion a day—to be shot and posted online. Yet the emergence of the Web and smartphones has made it harder than ever for photographers to earn a living.
Haviv, a founding member of the photo agency VII, says only a handful of magazines and newspapers now send photographers to cover overseas stories. Haviv fears that iconic images that could trigger the public's conscience are being missed.
"There are eyes missing on major stories," said Haviv, who has covered most major conflicts over the last 30 years.
Like so many other industries, the Web has had a disorienting and double-edged impact on photography. It has made photography more popular and accessible. It has also, however, undermined photography's traditional source of funding—print advertising. Some news operations are gradually increasing their online revenues but they have been unable to make up for unprecedented losses in print.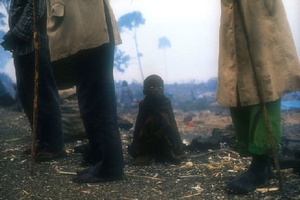 This spring, the Chicago Sun-Times eliminated its entire 28-person photography department. (Last month, under union pressure, it hired back four of them.) As they shifted to Web-only publications, U.S. News and World Report fired its photography staff and Newsweek released its contract photographers. Other magazines, newspapers, and news agencies, including Reuters, have reduced their photography staffs and rates.
Last month, the Pew Research Center found that more news photographers, artists, and videographers have been laid off than any other type of journalist. Nationwide, their numbers decreased by 43 percent, from 6,171 in 2000 to 3,493 in 2012.
Donald R. Winslow, a veteran photographer and editor of News Photographer magazine, the trade publication of the National Press Photographers Association, called those cutbacks a strategic mistake.
"We now live in the most visual, literate society America has ever had," Winslow told me. "As newspapers took their product to the Web, they failed to realize that they needed to add photographs, not reduce them."
Posting smartphone self-portraits online has become so ubiquitous that the Oxford English Dictionary declared "selfie" the 2013 word of the year. The buzz—and debate—surrounding the practice reached a crescendo when President Barack Obama posed for Danish Prime Minister Helle Thorning-Schmidt's iPhone self-portrait with British Prime Minister David Cameron at Nelson Mandela's memorial service.