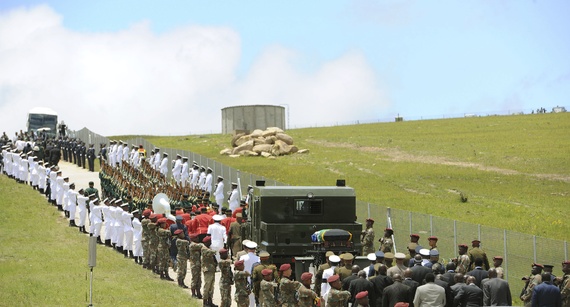 "Now I can die in peace," Nelson Mandela said, his words nearly drowned out by a howling wind. There was a sharp intake of breath from a few of us drawn close enough to hear him. "Don't say that, Madiba—please," murmured the man standing next to me, using Mandela's clan name. We'd perched at the edge of a platform on a rocky bluff in Mvezo, the impoverished village where the former freedom fighter was born in 1918. The occasion was the elevation of his eldest grandson, Mandlasizwe, to become nkosi, or traditional leader, of the village.
Mandela had flown into town by helicopter. He flashed his megawatt smile as he ambled in alongside his wife, Graca Machel, and his grandsons. Behind him, you could see the low rolling hills bowed down to the Mbashe River, muddy with silt, in the valley below. This was terrain where he first "learned to knock birds out of the sky with a slingshot, to gather wild honey and fruits and edible roots, to drink warm, sweet milk straight from the udder of a cow, and to swim in the clear, cold streams, and to catch fish with twine and sharpened bits of wire," he wrote, in his autobiography.
When it was Mandela's turn to speak, at the end of the ceremony in which his grandson was anointed and wrapped in the skins of lions, the ex-lawyer, ex-guerrilla leader, ex-president, and current icon looked quite stern. He tucked his chin in, a little like a schoolteacher calling errant pupils to order. He'd insisted on walking by himself over uneven ground, looking wiry, trim, and quite vulnerable. Waving off assistance offered by his wife and two men who stood by, poised to catch him if he fell, he hauled himself up a short flight of steep steps on spindly arms and legs. A furious wind bullied him from one side and then battered him from to the other as dogs howled, wagging their whip-like tails. Mandela gripped both sides of the podium, recalling the history of his clan and reaching back for generations. He spoke with special feeling and at length about his grandfather and father, as if to emphasize his own modest contribution to family history.
Watching the week-long succession of mass events to mark Mandela's life and death, which began with the chaotic memorial service in Soweto on Tuesday and ended with his burial in his childhood village of Qunu, not far from Mvezo, on Sunday, it struck me that I'd been lucky enough to witness, up close, the start of Mandela's final big political campaign. His talk in the village on that gray day in the autumn of 2007 was the beginning of a six-year-long exercise in saying goodbye. The speech circled, in his characteristically stilted public speaking style, around the need for modesty, restraint, and humility. It was at home a half dozen years ago that he first tried on themes for this final message.
No other contemporary political leader insisted so regularly that he was just an "ordinary man" who'd simply done his duty as he understood it. Few world leaders were as relentlessly self-critical, either. In diary notes, collected in Conversations with Myself, Mandela regularly emphasized his "weaknesses, errors, and indiscretions," as if arguing against the more heroic version from his bestselling autobiography, which is also the basis of the feature film by Anant Singh that virtually sanctifies him. In an entry in 1998, he ended on a stunningly self-lacerating note: "One issue that deeply worried me in prison was the false image that I unwittingly projected to the outside world; of being regarded as a saint. I never was one, even on the basis of an earthly definition of a saint as a sinner who keeps on trying." Mandela felt particularly aggrieved about the myriad ways he felt sure he'd failed his own family, and also his countrymen.
His talk to the small crowd in the village of his birth underscored this message. Many political leaders remain stubbornly sure of their singularly heroic qualities and indispensable roles in society, in life, in history. In effect, the man celebrated as the father of modern South Africa kept insisting, instead, upon his own dispensability. Of course, his periodic expressions of such humility had the opposite effect of the one he apparently intended, inspiring even more ardent waves of admiration. The last time I saw him, after the World Cup in 2010, Mandela greeted my son and me with a little joke: "Ah, it's nice that the young people still come around to see an old man even though he has nothing new to say." We laughed, but I thought there was a nice needle wrapped inside the quip. He seemed to be saying that his contribution to the creation of a new kind of society—non-racial, non-sexist, anti-homophobic, and more egalitarian—was over, but his visitors ought to feel free to ask themselves what they'd done recently to move the world closer to that ideal.
This past week, Mandela's body traced the trajectory of his life—only the coffin made the journey in reverse. As a boy, Mandela wandered through the hills of Qunu as a shoeless goatherd. Like so many young men for generations, he migrated to Gold Reef City—Johannesburg—where he rose in status as a lawyer and then traded everything away for political struggle. His body traveled with an honor guard from the jazzy and hyper-kinetic metropolis of Johannesburg, through the staid and portentous seat of executive power in Pretoria, back to the dusty hills of Qunu. The village where he insisted upon being buried, and which welcomed thousands of visitors from all over the world on Sunday, was, Mandela wrote, a "place apart, a tiny precinct removed from the world of great events, where life was lived much as it had been for hundreds of years." Mandela bridged the world of the rural amaqaba, Xhosa-speaking traditionalists, and the amagqoboka, more educated Christians. His burial reflected that, incorporating Christian rites, the pomp of a state funeral, and traditional rituals to ensure that his Thembu ancestors welcome him into the supernatural fold.