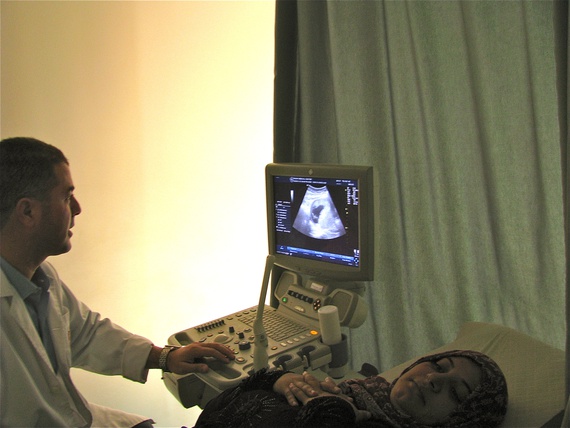 NABLUS, WEST BANK–Suhad Abu Fiad hikes up her bulky black abaya, slides onto the sonogram bed, and immediately tears up at the sight of her unborn baby's tiny feet and fingers. She's hoping for a girl but, as she's only four months pregnant, it's still too soon to tell.
After the routine prenatal discussion, doctors speak with Suhad in hushed, somber tones about the prisoner release last month in which 26 Palestinians convicted of killing Israelis were set free as part of ongoing peace talks. "Inshallah," God willing, they say, her husband Samir will be released in the next exchange, but she shakes her head. Samir was imprisoned only in 2009, while those let free in October were jailed for attacks committed before the 1993 Oslo peace accords. The chances for his early release are slim. 
According to Suhad and the doctors at the Razan Infertility and IVF clinic in the West Bank city of Nablus, the pregnancy is a "miracle," and not only in the way most people mean it. Suhad hasn't touched Samir in more than three years. He's serving an 11-year sentence at Israel's high security Megiddo prison for participating in terror attacks on Israelis, though, she stresses, "there is no blood on his hands." And while "security prisoners"—the term used by Israel to define Palestinians incarcerated on charges related to the ongoing conflict—aren't entitled to conjugal visits, Suhad claims Samir's sperm made its way across security checks and into her uterus.
The scheme was a blend of low-tech ingenuity and modern medical technology, and one that's gaining momentum as word spreads of its success. Suhad says she first considered undergoing in vitro fertilization with her husband's smuggled sperm after seeing a television news segment about a 31-year-old prisoner's wife and new mother. In August 2012, that woman, Dalal al-Zabin, reportedly became the first prisoner's wife to give birth to a baby through this process. She spoke triumphantly to local and international press, dedicating her baby "to the Palestinian people, namely prisoners and their families," and paving the way for dozens of other prisoners' wives to do the same.
In Suhad's case, her two youngest children—who were allowed to have physical contact with their father during the last ten minutes of 45-minute visitation sessions—spirited the sperm out of the jail in a plastic container and took the three-hour trip to Nablus with their grandmother. The contraband goods were then injected into one of Suhad's eggs, which had already been prepared at the clinic. The fertilized embryo was later transferred from a petri dish to her uterus. 
Suhad refuses to go into any further detail about the operation. "I don't want to ruin it for the other women," she says. Doctors here say that samples have arrived in eye-dropper containers, candy wrappers, chips bags, and other makeshift containers. The sperm can usually stay viable for around 12 hours, though it depends on the quality of the sperm and the conditions of its transmission. To the soundtrack of blaring Arabic pop, men and hijab-wearing women work at the lab and are on call 24 hours a day. Once a sperm sample arrives—sometimes in the middle of the night—and is deemed usable, as much as possible is preserved in sub-zero storage tubes. The prisoners' wives, whose husbands in many cases are serving life sentences, then have around 10 years to decide whether they want to use the sperm again to get pregnant.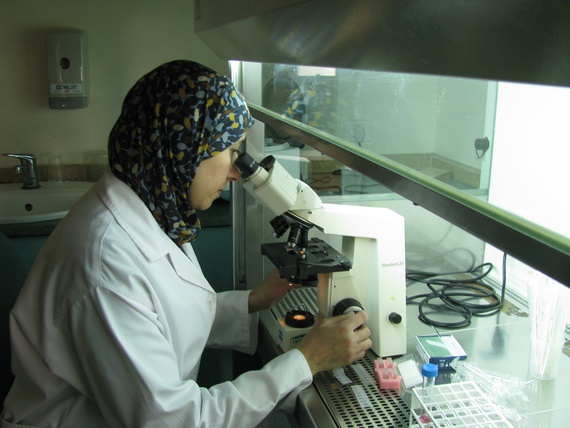 The fate of prisoners in Israeli jails has long been a viscerally sensitive issue for Palestinians, who refer to the inmates in Arabic as "prisoners of war." Many Palestinians have at least one relative in jail—or have themselves been in jail—for offenses ranging from stone-throwing to carrying out suicide bombings that target Israeli citizens. Some 750,000 Palestinians have been imprisoned since 1967, according to Palestinian human rights groups.
When Samir gets out in seven years, Suhad will be 40 years old. Too late, she says, to have more children.
Providing for prisoners' wives like Suhad, "who have spent all their youth waiting for her husband, then must wait again while their husbands are in jail and their biological clocks are running out," is a "social responsibility," says Saalem Abu Khaizaran, director of the Razan clinic.
"In our Eastern culture," he says, small or childless families carry a significant social stigma. For prisoners' wives, the doctor performs each $3,000 IVF procedure pro bono. He says that there are currently 65 sperm samples in the Nablus lab, that more than 20 prisoners' wives are now pregnant from IVF, and that demand is only growing. Though Razan isn't the only infertility clinic catering to prisoners' wives, it is the biggest, and it often gives out technical advice to other centers.