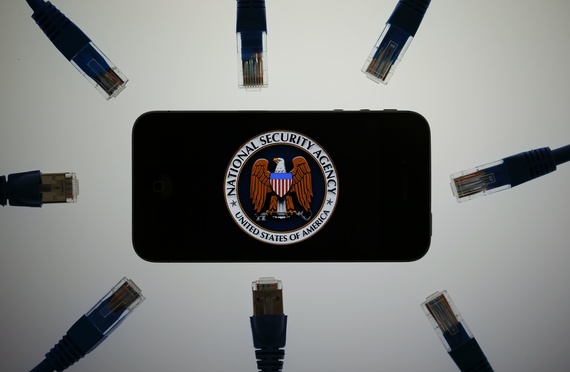 BERLIN – If Germany's special parliamentary session on U.S. surveillance this week was any indication, European politicians are still worked up about former NSA contractor Edward Snowden's leaks. Chancellor Angela Merkel declared that the revelations had "tested" U.S.-German relations. Green Party politician Hans-Christian Strobele urged the German leader to thank Snowden and offer him asylum for discovering that her cell phone "was probably bugged." Merkel even got called a "scaredy-cat" for not standing up to Washington.   
The criticism comes as politicians in the region—from Estonia to Germany—are calling for the European Union to create a cloud-computing infrastructure of its own to compete with American providers like Amazon, Google, and Verizon.
The idea is that if the EU has its own cloud—and what form it would take, who would build it, and where it would be based remain unclear—then member states could compel providers to abide by the EU's (comparatively) stricter data-protection rules. It's part of a backlash against the long arm of the U.S. intelligence community that has echoes everywhere from Brazil to the United Nations.
One of the main proponents of a European cloud is EU Commission Vice President Viviane Reding, who was in Washington earlier this week to hammer out a treaty that would, if signed, assure that any EU citizens' data stored in the United States be given the same privacy protections as U.S. citizens' data (in the aftermath of the Snowden leaks, however, policymakers and privacy advocates in the U.S. are questioning the effectiveness of those protections).
Reding's cloud formation plan essentially calls for EU nations to band together and create a European champion in cloud systems just as France, Germany, and Britain did in the 1960s, when they created aircraft manufacturer Airbus to compete with Boeing.
"For awhile now, I have been saying it's time for the Europeans to build their own cloud," Reding told a German radio station last week. "I think data protection needs to be thought of not as some extra cost, but something that makes us more competitive. When a company can guarantee that its customers' data will remain secure, they will flock to you—it's a golden business opportunity for European tech companies. It can become a sales argument."
Indeed, part of the motivation here is a business one. European politicians want to see their companies exploit a gap in trust in U.S. companies as a result of the Snowden leaks. And two recent studies suggest that this is a sensible idea.
In one study of "industry practitioners and cloud-computing stakeholders" based outside the United States, the Cloud Security Alliance found that 56 percent of those polled would be less likely to work with U.S.-based cloud service providers due to data-protection fears. Another report by the Information Technology and Innovation Foundation suggested that the surveillance revelations could cost the U.S. cloud-computing industry $22 to $35 billion in lost revenues over the next three years.
European providers have already been positioning themselves to become the router and storage solution of choice for companies in Africa, which has seen its share of traffic passing through the U.S. drop dramatically over the last 10 years. In 1999, some 70 percent of African Internet traffic went to the United States, according to a 2012 report by Analysis Mason. By 2011, the study noted, less than 5 percent of that traffic went to the U.S., "having been replaced by bandwidth to Europe." It is unclear, however, what percentage of this data actually migrated away from American companies, many of which have built data centers in Europe to be closer to customers in the EU and Africa.
Not all Europeans share the outrage voiced by their political leaders over U.S. surveillance. A survey commissioned earlier this month by the magazine Wirtschaftswoche, for instance, found that 76 percent of Germans were not bothered by Snowden's leaks. "Most people didn't think that anything in their lives would be of interest to the American intelligence service," the survey's authors wrote. While the study didn't ask whether Germans were concerned about charges that U.S. intelligence tapped into their chancellor's phone, it did reveal that Germans are uneasy about their own officials: only 17 percent of those polled trusted the German government's handling of their personal data.