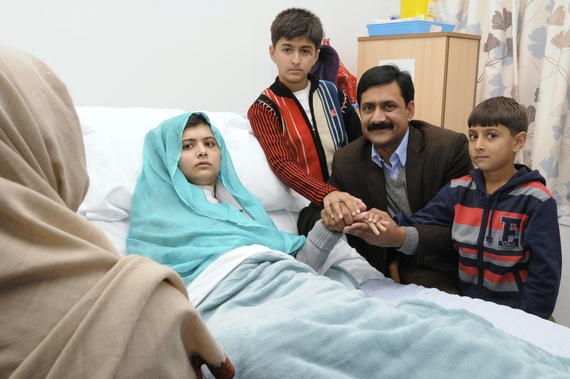 My introduction to Malala Yousafzai through her schoolteacher father, Ziauddin Yousafzai, was somewhat accidental. 
It happened during the Taliban's unprecedented ban on girls' education in Pakistan's Northwestern Swat Valley in December 2008. I had been covering the story for the BBC's Urdu-language service. The ban prompted me to pitch to my editors the idea of enlisting a young schoolgirl to write a blog for our widely read website.
The concept was simple—to document life under the Taliban as seen by a schoolgirl.
After getting the go-ahead from the editors, I approached one of my key contacts in Swat, Ziauddin. He ran a private school and was a vocal member of the anti-Taliban Swat Qaumi Jirga (community assembly), and provided great insight into his troubled homeland.
Within days he introduced me to one of his 10th grade students who was eager to write the blog but soon backed out because of parental pressure.
Nonetheless, I persisted and pressed Ziauddin to help me in finding a replacement. He eventually turned to his 11-year-old daughter, who gladly accepted the challenge.
It was the worst of times in Swat. After years of fighting in the remote western tribal regions along Afghanistan's border, the Taliban had expanded their reach and captured a strategic district close to Pakistan's heartland and imposed harsh rule. Floggings of alleged thieves and fornicators, beheadings, suicide attacks, and targeted killings were everyday occurrences. Raising a voice against Taliban atrocities in Swat was practically akin to signing your own death warrant.
I was impressed by Malala's intelligence. Long power cuts and almost no Internet in Swat Valley forced me to ask her to dictate her blog over the telephone.
I wanted to protect her identity. So I used to call her from my wife's cell phone. I strongly suspected the Pakistan intelligence services of tapping my telephones because of my critical reporting of their operations against the Taliban. As a further security precaution, I gave her a pen name, Gul Maka—Pashto for cornflower.
Malala was very shy initially but gradually gained in confidence and it was very easy to work with her. Her blog attracted a lot of attention within Pakistan and gained international fame after the BBC began to translate it into English for its global audience.
Gul Makai's real name was revealed to the world in 2011 when she was nominated for the International Children's Peace Prize.
But the Taliban were not happy with her prominence. Malala's name resonated around the globe after a Taliban assassin failed to kill her in October 2012. Following her miraculous recovery, Malala turned into a global icon. Her story reverberated across continents and inspired millions. 
Despite her global fame very few people know the folks who raised Malala. Her father, Ziauddian, and mother, Thorpekai, have done much to turn their eldest child into an independent individual who is courageous and articulate.
Ziauddin, a short moustachioed man with neatly combed hair, has mentored Malala. He once told me that he encouraged Malala from a very young age to grow as an independent person. "I wanted her to be my friend—someone who can be a comrade in my struggle and believes in my mission and philosophy," he said. "I never tried to clip the wings of my daughter who was meant to fly high in the sky."
By 2005, Swat gradually turned into the personal fiefdom of Taliban leader Maulana Fazlullah. Ziauddin was one of the handful of local activists who dared to oppose him openly. His witty and incisive speeches were appreciated in Swat and he was widely quoted in tea houses and drawing rooms. His efforts were aimed at uniting the people against Taliban atrocities. "Swat has been treated like a poultry farm," he told one gathering. "The Taliban are slaughtering us one by one. We should see the writing on the wall and respond to their mayhem collectively."