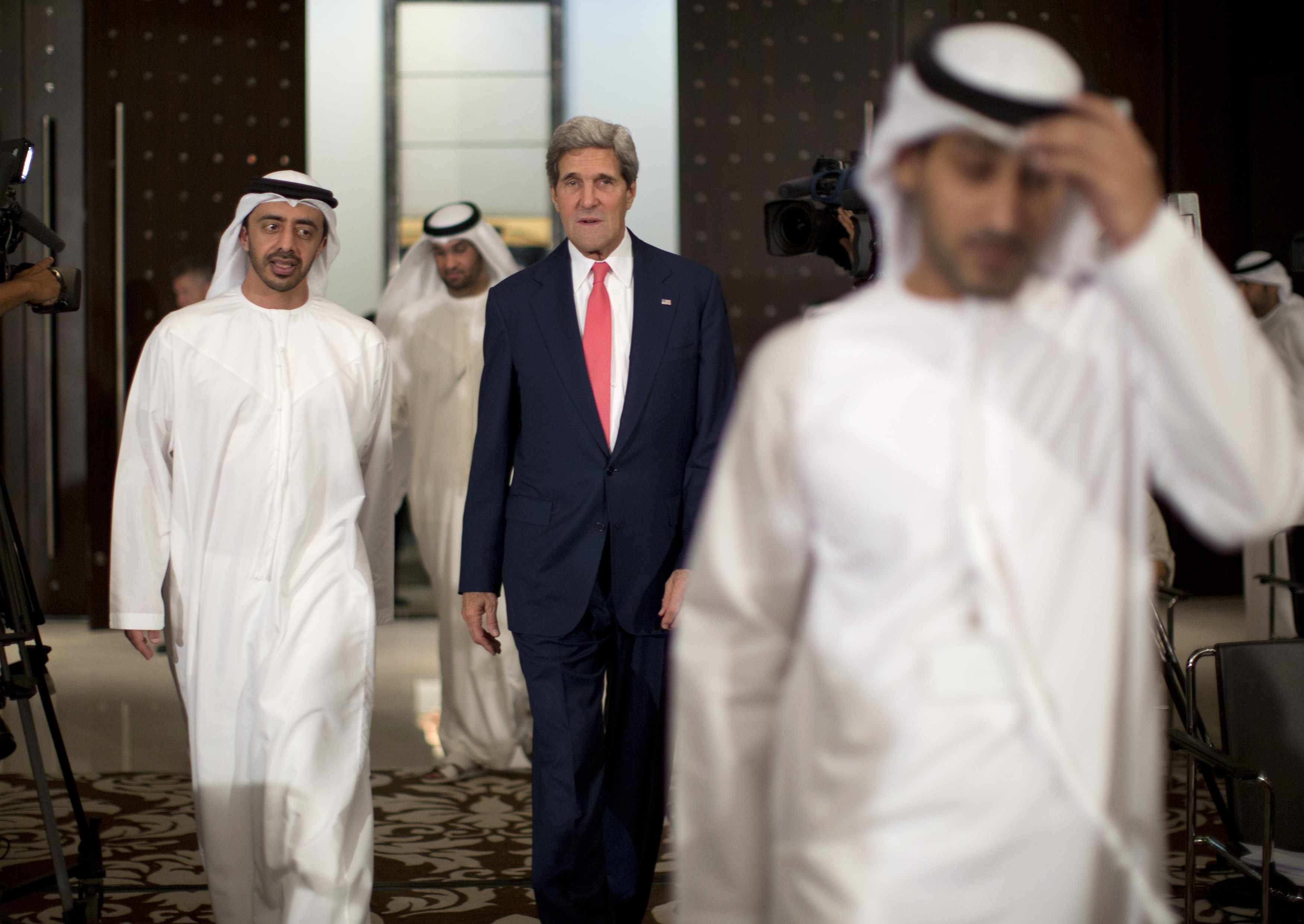 President Barack Obama and Secretary of State John Kerry appear to have run the table in Middle East diplomacy. An interim nuclear agreement with Iran has been reached, Israeli-Palestinian negotiations are underway, and peace talks to end Syria's civil war are slated to begin in January.
For an administration under siege domestically, press coverage declaring the triumph of Obama diplomacy over Bush-era militarism is a political godsend.
But talk in Washington of a legacy-defining breakthrough for Obama is overstated and premature. So are the apocalyptic warnings of Iranian hegemony now coming from Jerusalem and Riyadh.
Fundamental differences must be overcome before a comprehensive nuclear pact with Iran, an Israeli-Palestinian peace agreement, or a Syria ceasefire can be brokered. In all three, the White House and Kerry ignored, avoided, or fudged thorny issues—and declared success.
First of all, Kerry and the White House deserve praise for simply reaching this point. Defying deep skepticism in Washington, Jerusalem, and Riyadh, they embarked on risky diplomatic overtures that ranged from Kerry's quixotic public effort to revive the Israeli-Palestinian peace agreement to a secret meeting between American and Iranian officials in Oman last March.
The momentum created by these interim agreements could lead to final settlements. Strategically, the Obama administration's embrace of diplomacy is a welcome shift from a long-running American tendency to resort to military force in the Middle East.
But enormous obstacles must be overcome in all three cases before they can be declared diplomatic triumphs.
In future Iran talks, the core unresolved issue is whether Tehran will be able to have a limited, tightly monitored nuclear energy program that enriches uranium to 3.5 percent, far below nuclear weapons level. Officials from Iran's newly elected, relatively moderate government say it would be politically impossible for them to accept an agreement that does not include some form of nuclear energy program. This is a right, they argue, that all countries have under the Nuclear Non-Proliferation Treaty.
Skeptics in Congress and Israel insist that Tehran's previous cheating means it should have no nuclear program at all. White House officials appear to be willing to accept a small, exhaustively monitored Iranian nuclear energy program. Kerry denied that the interim agreement recognized Iran's right to enrichment—though the preamble does state it would be the goal of a final agreement.
"This comprehensive solution would involve a mutually defined enrichment program," the preamble states, "with practical limits and transparency measures to ensure the peaceful nature of the program."
It remains unclear whether the administration can convince key congressional Democrats who are deeply skeptical of Iran—such as Senators Charles Schumer (D-N.Y) and Robert Menendez (D-N.J.)—that some Iranian enrichment is tenable. Israeli officials have been adamant that no enrichment should occur in Iran.