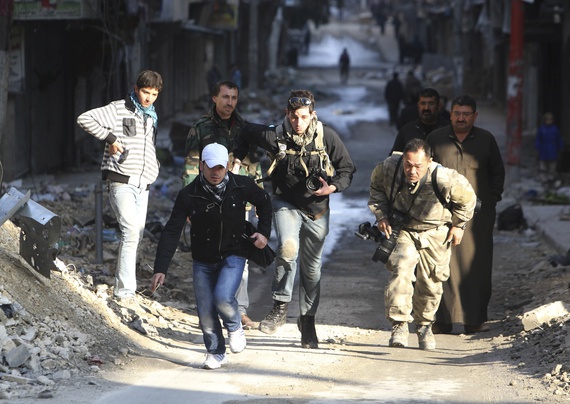 Thirty journalists—half of them foreign reporters, half of them Syrian—have been kidnapped or gone missing in Syria, the Associated Press reported last week. The number is unprecedented. Syria today is the scene of the single largest wave of kidnappings in modern journalism, more than in Iraq during the 2000s or Lebanon during the 1980s. A combination of criminality, jihadism and chaos is bringing on-the-ground coverage of the war to a halt.
In one of several alarming new trends that have emerged in Syria, jihadists are abducting reporters, holding them captive and making no demands for their release. Instead of requesting prisoner exchanges or ransoms, they hold journalists indefinitely as human bargaining chips for future use.
Matthew Schrier, a 35-year-old freelance American photographer abducted in Syria last December, said that his captors made no demands before he escaped after seven months in captivity. Instead, they asked for his online passwords and used his credit cards to buy Mercedes-Benz parts, Ray-Ban sunglasses, tablets and laptops.
They also sent false email messages to Schrier's family and friends that said he was safe and still working in Syria. His mother realized that the messages — filled with spelling and grammatical errors –were fake and agonized over what to do. Schrier urged the families of the missing to not give up.
"Until someone shows you proof that your loved one is dead, you have to assume they're alive," Schrier said in an email. "A lot of people who knew about me thought I was dead — and look what happened."
The wave of kidnappings is also exposing an unintended consequence of a tactic widely used in Iraq and Afghanistan: media blackouts in kidnapping cases. Security experts and law enforcement officials generally recommend that abductions be kept secret in the hope that victims can be rapidly found or terms quickly reached. Publicity can also inflate kidnappers' ransom expectations.
Of the 30 cases in Syria, the families of a dozen captives requested that the abductions be kept secret or could not be reached, according to the Committee to Protect Journalists. In an effort to warn other journalists about how dire the situation has become in Syria, the group took the unusual step of disclosing the total numbers of kidnappings in Syria but withheld the captives' names and nationalities.
"Blackouts can have an unintended consequence of camouflaging the actual dangers of the situation," Rob Mahoney, the committee's deputy director, told me Friday. "It was in the interest of everyone that the scale of the problem be demonstrated."