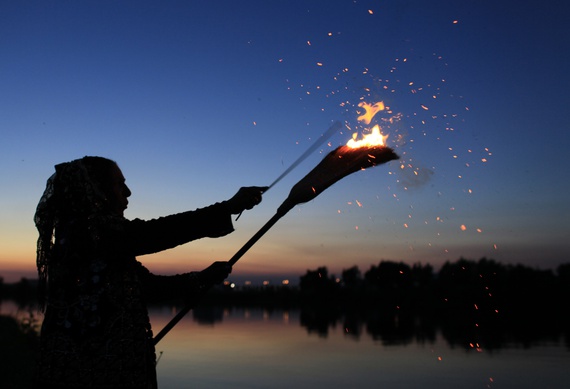 Most Western countries stopped executing people for witchcraft by the late 1700s. To this day, however, many governments around the world still pursue people suspected of sorcery. Here are five places where the global hunt for witches continues. 
1. Swaziland's Regulations on Broomstick Flight
After a private detective in Swaziland was arrested on charges of violating airspace rules with a makeshift drone last spring, journalists reached out to Sabelo Dlamini, the country's Civil Aviation Authority marketing and corporate affairs director, for a more detailed explanation of the aviation laws in question. The statute sets a clear ceiling of 150 meters, just under 500 feet, on light aircraft, which can include wayward kites or remote-controlled toys. According to Dlamini, though, the edict also covers a more imaginative type of aerial vehicle. "A witch on a broomstick should not fly above the [150-meter] limit," he said. Witches violating the rule would be subject to the same penalty as other violators, an arrest and a fine of more than $50,000, the South African newspaper The Times reported on its website. No penalties cover "witches flying below" that height, yet.  
GlobalPost noted that Dlamini may have "used the flying broomstick example only to illustrate his point" because brooms in Swaziland—small bundles of sticks without handles for riding on—are thought to be used by witches, as The Times notes, only "to fling potions about homesteads" and "not for transport." 
Whatever the case, witchcraft "isn't a joking matter in Swaziland,"where the belief is strong, as the The Times notes. In sub-Saharan Africa, an average of 55 percent of people believe in it, according to Gallup (tiny Swaziland was not included in the survey). In September, in nearby Zimbabwe, two "witches" were arrested after locals said that they had "crash-landed" outside a residence in a suburb of Harare and were "found naked with an assortment of witchcraft-associated paraphernalia, including a live owl, two winnowing baskets which are used for flying in witchcraft mythology, a baboon skeleton and an orange substance in a 550ml Coca-Cola bottle." Though the pair later told a judge that they were just paid actresses hired by a local "prophet" hoping to gain a larger following, they were still charged "with engaging in practice commonly associated with witchcraft." After admitting to a less serious charge of public indecency, neither will serve jail time.
2. Romania's Witch Tax
After the Romanian government expanded its tax code to include the occupations of witch, fortuneteller, and astrologer in 2011 as part of a larger program to increase revenues during a rough financial period, some vowed magical retribution, according to the Associated Press. A coven gathered on the shores of the Danube River and threw toxic mandrake into the water, claiming the spells would work against the government and president, who planned to make them remit 16 percent of their already-scant incomes.
Bratara Buzea told the Associated Press she was going to use a potent mixture of deceased canine and feline fecal matter in a separate spell of her own. "We do harm to those who harm us," she told the AP. 
After the tax bill passed, Romanian legislators also drafted a law that would punish witches for incorrectly predicting the future. Buzea again disagreed with the move. "They can't condemn witches, they should condemn the cards," she said. 
3. Saudi Arabia's Magical Police Unit
The harshest place for witches, or rather, female foreign domestic house workers the government thinks are witches, may be Saudi Arabia. An entire police unit is dedicated to fighting witchcraft crime, and religious judges often convict people with laughable evidence. But the consequences are dire: some of these alleged magicians have even been put to death. 
From a piece I wrote at The Atlantic in August:
In a country where public observance of any religion besides Islam is strictly forbidden, foreign domestic workers who bring unfamiliar traditional religious or folk customs from Sri Lanka, Indonesia, Africa, or elsewhere can make especially vulnerable and easy targets. "If they see these [folk practices or items] they immediately assume they're some kind of sorcery or witchcraft," he said. 

The Saudi government's obsession with the criminalization of the dark arts reached a new level in 2009, when it created and formalized a special "Anti-Witchcraft Unit" to educate the public about the evils of sorcery, investigate alleged witches, neutralize their cursed paraphernalia, and disarm their spells. Saudi citizens are also urged to use a hotline on the CPVPV website to report any magical misdeeds to local officials, according to the Jerusalem Post. 

....

By 2011, the unit had created a total of nine witchcraft-fighting bureaus in cities across the country, according to Arab News, and had "achieved remarkable success" in processing at least 586 cases of magical crime, the majority of which were foreign domestic workers from Africa and Indonesia. Then, last year, the government announced that it was expanding its battle against magic further, scapegoating witches as the source of both religious and social instability in the country. The move would mean new training courses for its agents, a more powerful infrastructural backbone capable of passing intelligence across provinces, and more raids. The force booked 215 sorcerers in 2012.
4. Central African Republic's Court System Is Clogged With Witches