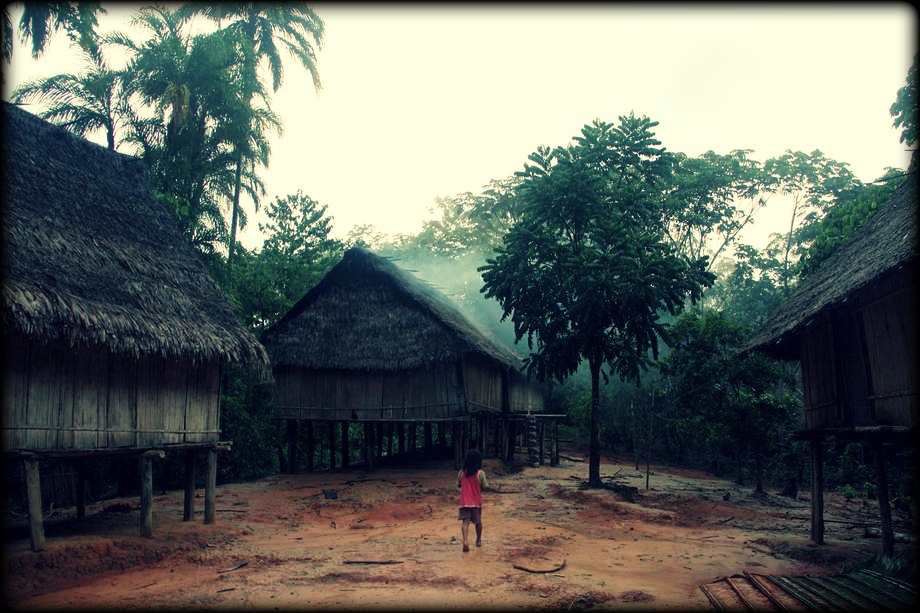 When the balding Australian first stepped off the riverboat and into the isolated pocket of northeastern Peru's Amazon jungle in 2010, he had what seemed like a noble, if quixotic, business plan.
An ambitious real estate developer, David Nilsson hoped to ink joint venture agreements with the regional government of Loreto province and the leaders of the indigenous Matses community to preserve vast thickets of the tribe's remote rainforest. Under a global carbon-trading program, he wished to sell shares of the forest's carbon credits to businesses that hope to mitigate, or offset, their air pollution.
The product is invisible, poorly understood, and regulation is extremely limited.
Located a six-day ride from the frontier city of Iquitos, the jungle's vegetation, soils, and looming trees store an immense amount of carbon dioxide—roughly one ton, the equivalent of one UN-backed carbon credit, per tree.
In an ideal scenario, this is how it's supposed to work: A community in a developing country works with an NGO or developer to design a plan to protect a large swathe of forest and thus prevent the release of the harmful chemical compound into the atmosphere, in accordance with the United Nations' program called REDD (Reducing Emissions from Deforestation and forest Degradation). Then, it can get the emissions reductions certified by a third-party auditor and sell the resulting carbon credits to corporations in developed countries interested in reducing their own carbon footprints. (Deforestation accounts for roughly 17 percent of all global greenhouse gas emissions.)
Nilsson's Hong Kong-based company, Sustainable Carbon Resources Limited, planned to help the indigenous community set up the Peruvian carbon credit project in exchange for sharing the profits once they were sold. If Nilsson's plan worked, in theory the forest would be spared from loggers, his company would net some profit, and the indigenous community would receive millions of dollars in funding for education and medical care from investors and corporations interested in expanding sustainability and social responsibility efforts.  
Nilsson recruited Dan Pantone, an Iquitos-based American ecologist with close contacts in the Matses community, as a guide to show him around the jungle, and, more importantly, introduce him to the right decision-makers.
"[Nilsson] told me, 'You're going to be a millionaire in a year,'" Pantone said of his earliest phone conversation. "He said he was going to help the indigenous people."
Early on, Nilsson didn't seem particularly interested in hammering out the details of a potential forest project. "He didn't talk about REDD; he just wanted the contact," Pantone said of Nilsson's early conversations with Angel Dunu Maya, a Matses chief.  "Once he had the contact, he had everything he wanted from me." In meetings with Peruvian lawyers, Nilsson was also advised about the difficulty of proving the risk of emissions, as REDD requires, in such an isolated area that was already designated as a reserve by the federal government. He also faced other, more obvious challenges. "The government asked him to show his sources of income, and he was unable to do that," Pantone added. "So that was a dead-end for him."
Nilsson flew back to Australia for Christmas, but he was not deterred. In February 2011, he reappeared in the jungle wearing what would become his signature, Crockodile Dundee-style Akubra cowboy hat.
Unable to broker a deal with regional government officials, he met with Matses leadership in Iquitos in March and presented a PowerPoint that detailed the incredible profits he claimed the tribe would receive. He was granted permission for a meeting in Matses territory, where the community would decide whether or not to sign the contract he had presented. According to Indian Country Today, a news service that caters to a Native American readership, the leaders were told that the agreement had to be written in English because "the World Bank and the UN only recognize the English language." The contract, according to the indigenous rights organization Interethnic Association for the Development of the Peruvian Rainforest (AIDESEP), which advises the Matses and other tribes, gave "considerable control and powers to [Sustainable Carbon Resources Limited] for an indefinite period. Effectively this would reduce the Matses to the role of forest 'gatekeepers' rather than playing an active part in the administration or co-management of the Project."
By this point, Pantone's relationship with Nilsson had soured, and his suspicions had boiled over into a full-fledged investigation into his past. In late March, Pantone was able to reach two of Nilsson's former associates, who claimed that they and indigenous communities in the Philippines had been victims of his deceit. Cecille Villanueva, who worked at an Australia-based energy consultancy company called Ienergy, sent the following to Pantone in an email:
We have known him to be deceitful, but also careful in covering himself from possible legal repercussions. But his character certainly shows a trail of … false claims to further his financial objectives, which
in the past involved illegally selling land and running with the monies of
vulnerable people. We hope this does not happen to the Matses.
She was referencing spurious land deals Nilsson had allegedly made with residents of the small South Pacific island nation Nauru. In the 1990s, according to transcripts of meetings in the Queensland Parliament, Nilsson had sold six rural lots in a coastal area development for $70,000 each. However, the lots did not exist and the investors in Nauru never received anything.