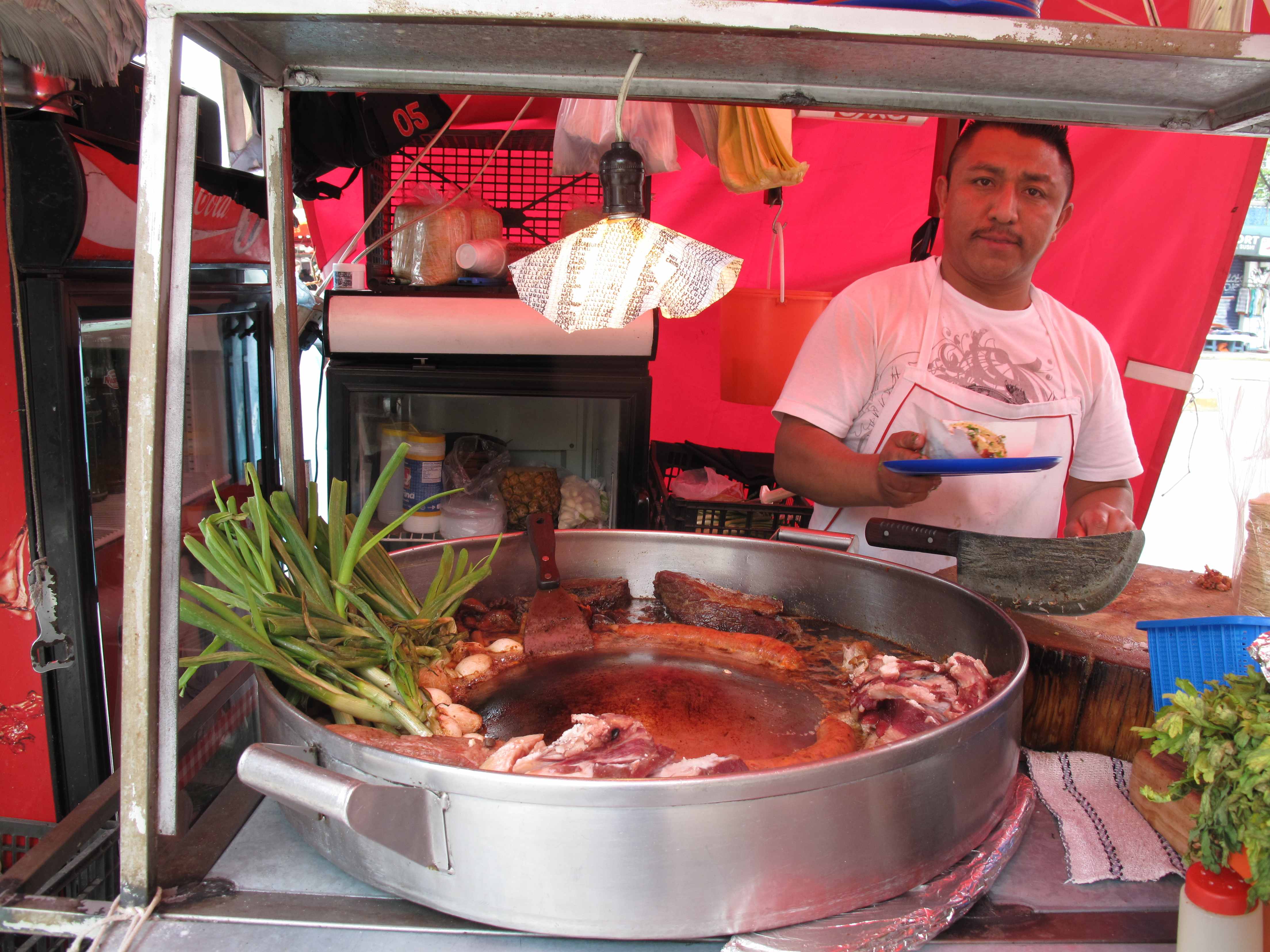 MEXICO CITY—On a recent afternoon, Daniel Soto, a 36-year-old chef and entrepreneur, scrutinized the pedestrians passing in front of his brilliant orange food truck a few blocks away from the white, ultramodern, glass-paneled Reforma 222 mixed-use shopping center, at the border between Mexico City's downtown financial district and the city's trendy Roma Norte neighborhood. As Mexico evolves its two disparate halves, its globally connected, educated elite and its marginalized, informal workforce continue to exist side by side in the country's capital. Soto looked up the sidewalk at a man in a suit walking past an abandoned, graffiti-covered 18th century mansion. Even as Mexico's economy continues to transform, many entrepreneurs still prefer to work in the informal sector. Soto, watching a customer settle down onto a plastic stool in front of his truck, explained that the upside of informality is "you charge for the food, not the space."
As Mexico evolves its two disparate halves, its globally connected, educated elite and its marginalized, informal workforce continue to exist side by side in the country's capital.
Modern Mexico is home to both an advanced industrialized economy and swaths of under-developed rural mountain ranges where residents survive on subsistence agriculture and government income transfer programs. Mexico has a growing high-tech manufacturing and service export sector, but it is also home to sizable informal economy, a secondary workforce of street food vendors, window washers, shoe shiners, and domestic helpers. In Mexico City, these two paradoxical aspects of the country's economy often coexist within the same city block. For instance, in the heart of the country's capital, inside the Reforma 222 shopping center, shoppers can dine on up-market reinterpretations of traditional Mexican dishes such as carnitas pork tacos and tortilla soup at restaurants such as El Bajio and La Distileria. Professionals who work in the offices in the tower's upper floors can descend to mingle with the Chilangos (Mexico City residents) browsing for Apple products, CDs, home goods, and athletic equipment in the brightly lit stores in the building's first three floors. At lunchtime, a pair of hungry diners could easily spend $100 on a couple of gourmet dishes and a few drinks at one of the formal restaurants inside the shopping center. By contrast, less than a block away, a neighborhood taco stand sells tripe, sausage, and slow fried beef brisket tacos—a hungry diner can get five meat-laden tortillas for less than $2.
In Mexico, it seems you are where you eat. Mexico City's young professionals dine at a mix of modern, formal restaurants and old-school informal street stands. Investors are opening a new wave of world-class restaurants in many neighborhoods in Mexico's capital city, targeting the growing budgets of the city's upwardly mobile young professionals. But the formal economy isn't robust enough to provide jobs for the entire workforce. Like meat in an over-stuffed taco, many people don't fit into the formal sector and fall out to the sidelines.
Standing in front of his bright orange truck as doctors from a nearby hospital and businessmen in suits walked by, Soto explained that he didn't need to seek out loans to start his business. "We had the resources to invest in the trucks," he said. Other would-be entrepreneurs aren't as fortunate, however.
"In Mexico it's hard because there is no real legislation for food trucks, so it's hard to get financial resources from a bank. The money usually comes from individuals," Soto explained. As he talked, a waiter set down a sandwich stuffed with unctuous shredded pork for a customer seated at a stool in front of the van's narrow, stainless-steel lunch counter. A sandwich and a drink cost $1.90.
For food truck vendors, even securing the right to use a particular space involves careful navigation of formal and informal channels. "You try to get a permit from the city government, but if you can't, you reach out to informal leaders to rent out a space," Soto said.
Informal businesses, whether they are operated out of rented spaces on the sidewalk or are run as itinerant enterprises, are not officially registered and do not contribute social security payments for their employees. Although the unregistered food vendors do not pay taxes, they do serve as an important source of employment in a country where only four out of every 10 workers are employed in formal-sector jobs. "It's an informal business, [but] the government tolerates us," Soto added. Up the block and around the corner, customers stood in front of white metal shacks, eating hamburgers, shrimp cocktails, and a wide variety of different tacos. Each shop has its own improvised electricity connection. The wires rise up into an elaborate tangle before connecting to the grid.