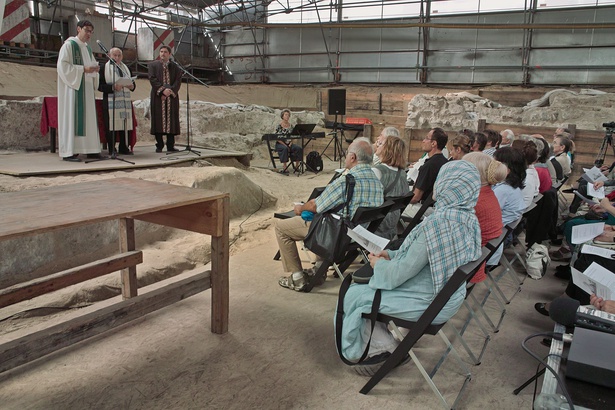 BERLIN—On a recent late-summer Sunday afternoon, an imam, a rabbi, and a minister met under an expansive tent set up next to a busy Berlin road. The altar on which they prayed, and the folding chairs on which the congregants sat, were placed atop the ruins of St. Peter's Church. St. Peter's was built in 1230, enlarged in 1717, and demolished by East Berlin officials in 1964 so they could widen the road.
The congregants were a mixed bunch—German senior citizens, teens of indeterminate religion, a Muslim mother who kept a watchful eye on her daughter as the child climbed about the church's remnants. As the rabbi sang in Hebrew, the imam held his hands clasped, and the pastor eyed the audience.
The trio hopes that in two years' time, a permanent, $41-million, multi-faith prayer space will be built atop the land and put Berlin on the map as a global center for interfaith dialogue.
But right as the campaign got underway, a noted German historian, Manfred Gailus, reminded them of a fact that was likely unknown to Gregor Hoberg, the Protestant pastor who initiated the project. But some think it also may have been swept under the rug by Hoberg's past and present church superiors.
During the 1930s and 40s, St. Peter's housed one of Berlin's most ardently anti-Semitic pastors, Walter Hoff. He and a handful of other Nazi religious figures provided Hitler with the theological rationalization for the Holocaust. What's more, Hoff claimed to have himself ordered the murder of Jews.
Gailus says the interfaith plan glosses over St. Peter's problematic past. And he has launched a one-man media push urging the interfaith campaign to rethink their idea. But the trio has already picked an architect's design for the building, created slick press packets that tell of their project's uniqueness, and switched on a crowd-funding website to raise the millions needed to build the space. By all accounts, they seem intent on moving forward with their plan, Nazi history or not.
***
Gregor Hoberg is the pastor of St. Mary's Church on Alexanderplatz. His congregation owns the land a few blocks south, on which St. Peter's once stood.
Hoberg said the site had been used as a parking lot for decades. Under the macadam sat the foundations of three, or possibly even four, churches that formed the erstwhile St. Peter's. In 2008, he and his subalterns decided to unearth the remains and redevelop the lot.
"We wanted people to be able to pray here," Hoberg told me. "We want it to correspond to the city as it stands today, a city that has changed so much. So we decided to create something together with other religions in order to show the predominantly secular society around us that religion can also help foster peace."
Hoberg resolved to build a space large enough to accommodate a mosque, a temple, and a church. There would also be a common room, and a commitment by the religious leaders to hold joint services weekly.
Then came the hard part, he said.
"The part that we spent the most time thinking about was who we should choose to work with us on this," Hoberg said.
He picked a respected figure in Berlin's Jewish community, Rabbi Tovia Ben-Chorin; and an enthusiastic, young Turkish-German Imam named Kadir Sanci.
Rabbi Tovia Ben-Chorin is an Israeli who grew up speaking German in Palestine. His father was a German Jew who fled from Munich in 1935, and later founded Jerusalem's first Reform Judaism congregation. Rabbi Ben-Chorin's father was one of a group of Israelis who initiated a German-Jewish dialogue after the Holocaust.
Rabbi Ben-Chorin spoke of his childhood days playing with Arab kids in 1930s and 40s Jerusalem, and of learning Arabic from them. As an adult, he studied at a rabbinical institute in Cincinnati. Later, he wanted to serve congregations in Berlin so that he could help breathe new life into Germany's growing Jewish community. He joined the St. Peter's project last year.
"The decision was to include the three monotheistic religions," Ben-Chorin told me, "Because this is the base now of European culture. You have to have dialogue with other religions. We need an exchange of information. In this new space, we want to discover roots on the one hand, and identity on the other hand. We want to influence each other, but not missionize."
Imam Kadir Sanci, for his part, said he became interested in multi-faith projects while studying near Darmstadt, where he visited a large prayer building that housed a Catholic and a Protestant church under the same roof.
"We realized that many Muslims in both the West and Turkey, where I am from, have little knowledge of Christians and Jews," Sanci told me. "That's a reality. So we are hoping, and want to make it our goal, to make this new center into a place where we can learn about each other."
***
One morning last winter, Manfred Gailus was sitting at the large oak dining room table in his apartment in the tranquil Berlin borough of Schöneberg. He opened a newspaper and was shocked to read about Hoberg's plans for St. Peter's. Gailus had written about the site in the mid-1990s in his landmark history of the German Protestant church under Hitler.