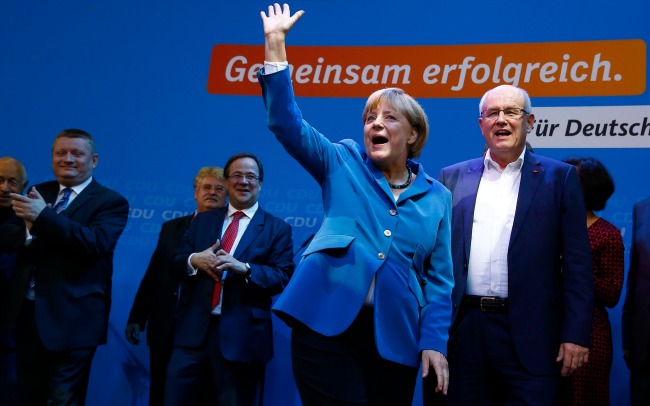 BERLIN—Germans reaffirmed their faith in Chancellor Angela Merkel during the country's elections today, with her supporting center-right Christian Democratic Union garnering 41.7 percent of the vote—8 percent more than in the last election—and setting up Merkel for a third four-year term.
"This is a super result," the chancellor said to her cheering, orange-clad supporters. "I'd like to thank the voters who have given us so clearly their trust, and I can promise them we'll treat that trust responsibly."
The scene at the CDU headquarters in Berlin, where supporters joyously drank and danced, was the final flourish in an election that had long been expected to go to Merkel, who Germans trust as much for her measured, competent personality as for the relatively prosperous economy she's presided over. Television polls tonight showed that nearly 80 percent of all voters approve of Merkel, regardless of their political affiliation.
In Europe, Merkel has pursued a centrist, incremental approach to the euro crisis, and at home, she's adopted many of her opponents' policy positions into her own platform. Some have criticized the latter tendency as making it difficult for other contenders to emerge—or for voters to know what Merkel actually stands for.
"Merkel takes all of the energy out by bear-hugging her opponents and absorbing their issues," said Andreas Kraemer, the director of the Ecologic Institute in Berlin. "It makes politics boring so as to reduce voter turnout and increase support for the incumbent."
Her win also reflects Germans' desire for continuity at a time when the country's unemployment rate—5.3 percent—is the lowest it has been since reunification. Some attribute the healthy domestic picture to the chancellor's seemingly non-ideological decision making, something her opponent decried as "sticking her finger in the air to see which way the wind blows" during a pre-election rally.
Even events abroad have sparked about-faces for the chancellor: Her biggest recent policy—to abandon nuclear power in 10 years—was prompted by the Fukushima meltdown in Japan.
"Merkel always seems to be saying, 'on the one hand, on the other hand...' She can convince you that she's doing what she thinks is best," said one young Berliner who voted for the opposition Social Democrats. "It's a bit how I think about decisions also."
Meanwhile, Merkel's opponent, the Social Democrats' Peer Steinbruck, came off as a loose cannon, proving too gaffe-prone (he once complained that chancellors' $300,000 salaries are too low) and vulgar (he appeared on the cover of German magazine Süddeutsche Zeitung flipping the bird at his critics.)
This is in stark contrast to the steady hand of Merkel, whom Germans call "Mutti" (mother) with admiration. The fact that she's the first chancellor from the former GDR has made her seem like an "East German Obama," as one Social Democratic campaign strategist put it, and women tend to appreciate her even if they reject her right-leaning politics.
"I personally like that she's nice and relaxed and determined, but I didn't vote for her," said one voter in Berlin. "Maybe I'm just happy to see a woman there."
In Germany's complex parliamentary system, the winning party—in this case Merkel's CDU—must either gain a majority of seats in the Bundestag or govern with a smaller coalition partner. Merkel's former coalition partner, the libertarian-like FDP, lost big on Sunday and seemed like they might not even get enough votes to return to parliament, which means Merkel would likely form a coalition with her rivals, the left-leaning Social Democrats, or SPD. However, that coalition could take weeks to hammer out since the SPD have so far said they'd refuse to govern with the CDU.