Every year, thousands of Vietnamese women are sold into marriages abroad.
In yesterday's edition of the Global Times, the Chinese English-language newspaper tells us "Vietnam's mail-order bride business is booming." This, of course, is nothing new. But the story, and the controversy surrounding international marriage migration in Vietnam, reminded me of my time in the country.
Back in 2007, when I was working to support the health and welfare of migrant brides from Vietnam, an acquaintance sent a photograph he had taken while visiting Ho Chi Minh City's District 5. It was of a poster advertising a marriage broker's services, and its bulleted text read: "She is a virgin, she will be yours in only three months, fixed price, if she escapes in the first year, guaranteed to be replaced." 
Although cross-border migration between countries of the region has existed for centuries, the mid-1990s saw a rapid uptick in the number of Vietnamese women marrying foreign men from countries around East and Southeast Asia. Living by the hundreds in viewing hotels around Ho Chi Minh City, women wait day after day for a prospective foreign husband to come and choose them.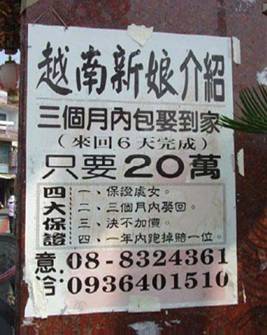 How migrant brides eventually arrive in South Korea, Taiwan, Singapore, Malaysia, and even China is controlled by a network of agents whose motives are more driven by profits than the welfare of the people they profess to help. 
The proliferation of marriage brokering is largely market driven, and at the intersection of supply and demand, is the market price for these women: about US$5,000. One Singaporean agency, J&N Viet-Bride, advertises that men can travel to Vietnam, select a bride, get married, and return home, all in the space of a week. Their new wives join them a month later, once the visa formalities are completed.  
As I found when working on this issue with regional governments as an official with the International Organization for Migration (IOM), Vietnamese women are often living in isolation and are therefore highly vulnerable to exploitation and abuse. But because policies are insufficient for mitigating the cross-border disparities that lead to this type of migration, governments should invest in empowering marriage migrants through education, while concentrating on effectively implementing existing laws.
What drives marriage migration?
The marriage migration phenomenon gained momentum after the opening of Vietnam's economy to foreign investment. In the 1990s, there was an influx of Taiwanese businessmen traveling to work in the country. They found Vietnamese women, with Confucian values similar to their own, to make suitable partners. Upon returning to Taiwan, friends and family members caught on, and opportunists realized they could turn a profit on arranging marriages. 
Today, mainland China, Cambodia, the Philippines and Mongolia are also major source countries. According to IOM, 133,000 Vietnamese women married foreigners between 2005 and 2010.
Many Vietnamese women, often from poor rural villages, favor the opportunity to live abroad, stating that they risk domestic abuse within their own villages if they are to stay behind. The lure of relative wealth overseas, and financial pressure to support their families, means migration can be a better option for many, even though they've heard some of the stories of marriages gone wrong.
Sometimes the marriages do go very wrong: Vietnamese women have been tricked into sham-marriages that were just a front for organized prostitution and others have been murdered by their husbands.
In spite of the known dangers and challenges, most Vietnamese women remain hopeful that language barriers may be overcome and their own marriages might be rosy. At the very least, the chance for the brides to remit some money to their families is enough incentive to tie the knot.