The airport in Bethel, Alaska, population 6,080, consists of one room with a concrete floor and a single baggage carousel. Rather than suitcases and duffles, though, it spins forth cardboard boxes scribbled with names and large plastic containers held together with duct-tape. I watched as one sturdy woman wrestled a Rubbermaid bin filled with tampons onto her luggage cart. 
Alaska may have an overabundance of wildlife, natural beauty, and stick-to-itiveness, but it sorely lacks basic infrastructure. In small towns like Bethel, gasoline costs $6 to $8 a gallon, and there are few roads available to get consumer goods out of urban centers and into the shops that dot the grassy steppe. At the Swanson's grocery store in town, a can of Folger's coffee runs $18.55, a gallon of apple cider goes for over $20, and a box of Bisquick for $12. Locals have few options other than to make the occasional journey to Anchorage, where they grab up basics and check their stockpiles as luggage.
Plenty of people from the "lower 48" have moved to Bethel for its rugged charm and unparalleled salmon fishing. But many others, the hyper-educated in particular, find the quirks of remote Alaskan life too daunting. Much of rural Alaska, like much of the rest of the rural U.S., faces a severe shortage of doctors and dentists.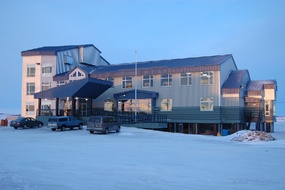 "The situation in Alaska is unique because the population is so sparse, but it's not that much different than the rest of frontier America," said Jay Butler, director of community health services for the Alaska Native Tribal Health Consortium in Anchorage. "I grew up in North Carolina, and I see [that] the small towns that used to have hospitals; many of those towns don't have hospitals anymore."
There are about 6,000 federally designated areas with a shortage of primary care doctors in the U.S., and 4,000 with a shortage of dentists. Rural areas have about 68 primary care doctors per 100,000 people, compared with 84 in urban centers. Put another way, about a fifth of Americans live in rural areas, but barely a tenth of physicians practice there.
A few stopgap measures have aimed to fix the problem, at least temporarily. The National Health Service Corps offers scholarships to students who train as primary care doctors, as long as they agree to serve for a year in a designated shortage area. The Affordable Care Act also created new grants for programs that train doctors who will work in rural locations. Kansas, which has five counties with no doctors at all, recently opened a medical school geared entirely toward rural medicine.
Still, it will take thousands more dentists and doctors to alleviate the current shortfalls. Alaska alone needs to add 60 new physicians each year.
The day I left Bethel, a suicidal man ran at two police officers with a baseball bat, hoping the officers would shoot him dead. One officer fired at the man's chest, puncturing a lung. He had to be airlifted to a medical center in Anchorage, an hour's flight away.
* * *
When it comes to getting newly minted doctors into far-flung communities, the economics of healthcare work less like the free market and more like a complicated medieval bazaar.
The breakdown starts with medical education: There are too few applicants from rural areas applying to medical school, as Howard Rabinowitz, professor of family medicine at Thomas Jefferson University's Medical College, told CNN. And about half of the ones who do come from the countryside don't wish to return there after they graduate.
Medical students with country roots are more likely to return to the farm to open up their practices, but some studies suggest rural students are less likely to go to college in the first place. Residents practice near where they train, but many of the nation's most prestigious medical schools are in big cities—and they are less likely to enroll rural students.
After eight grueling years of school and with hundreds of thousands in student loan debt, many doctors are reluctant to give up a city's creature comforts for a more hardscrabble existence.
A recent poll by Sermo, a social network for doctors, found that a lack of cultural opportunities topped the list of reasons it was hard to recruit rural physicians.
"[Providers] may graduate from a big school, and they realize they like the ballet," said Lyle McClellan, a dentist in Hillsboro, Oregon. "They don't necessarily want to go out on the tundra."
Bethel seems like Brooklyn compared with some of Alaska's smaller villages, where the traditional ways might take an outsider some getting used to. Three-quarters of the villages in the region are not connected by roads to a city with a hospital. One woman who lives in Unalakleet, a town of 650 just below the Arctic Circle, told me that popular pastimes include riding snow machines and hunting walruses. The 1,000-person community of Hooper Bay, on Alaska's west coast, is fiercely beautiful, but about a third of residents lack jobs and most rely on subsistence hunting and gathering. The local diversions include a video rental place, a youth rec center, and the gathering of "mousefood"—a delicacy that consists of root particles that villagers dig up from underground vole burrows.