The June day that I walked Briggs Lane, where the Brunes once lived, the wind had scoured the road and deposited small dunes along a livestock fence. A light was on in a nearby house. I knocked, and a man came to the door. I asked if he knew of any cancer in the neighborhood. Two men had lived in the house before him, he replied; one died of liver cancer, the other of leukemia. Next door, an elderly woman waved me into the yard. Someone on the corner had breast cancer, she said. Then she eyed me curiously. Had I heard of the leukemia cluster? Those were "separate cases," she explained. "Not the same family or church group. Not much to make a deal about."
Most people I met spoke casually of disease: "Sure is a lot of cancer here," or, "Seems about everyone I know has some kind of cancer." Until recently, there was no reliable tally of diagnoses in Nevada. Most western Nevadans suspected of having cancer were sent to hospitals in California, and their cases counted toward the California Cancer Registry. Fallon residents heard of new cases by word of mouth, including the case of two middle school boys diagnosed with leukemia in the fall of 2012. Since the cluster investigation closed in 2004, at least five children have developed leukemia, but the boys' diagnoses earned the most attention. Though each had a different kind of leukemia and officials said the cases were unrelated, suspicion arose that the cluster had returned.
Peoples' guesses as to what caused the cancer vary. Some say the cluster was a media myth, or that "all the new people coming to Nevada" prompted the spike in cases. An elderly woman, whose nephew is an epidemiologist, told me, "If you throw up a handful of rocks, you're going to end up with clusters of rocks." When I asked if she thought there might be something in the water, she said, "No, honey. I think we pretty much come with what we get." Others attribute it to "something at the Navy base"; a pipeline leak; pesticides; radiation from an atomic bomb test site 20 miles to the southeast. Some believe that whatever caused the cluster lingered; they bathe their children in bottled water. One mother said she feeds her sons extra vitamins "to counter whatever it is that's doing it." Many people simply rolled or averted their eyes at mention of the cluster.
"There are a lot in Fallon that want it all behind them," Jeff Braccini, whose son survived leukemia, told me in July. "The mayor—if he could pay to have the Internet slicked, I know he would." Braccini has a chiseled face and small blue eyes. He had just returned from the Navy base, where he is an aircraft mechanic. We sat on his porch, watching geese turn circles in a pond. "I don't think it's the kind of thing you can just shove away," he said. "Kids died from this. And there's still kids getting sick."
His son was diagnosed in December 2001. The CDC had nearly finished collecting samples from study participants but would not release its results for another year. Braccini initially believed the investigation would find answers, but his confidence waned when he joined Fallon Families First, a program founded by the mayor's wife to offer emotional and financial support to cluster families. At meetings, parents criticized investigators for their slow progress. It had taken the CDC a year to prepare equipment and get permission to study human subjects. By the time investigators collected samples, most children had finished treatment, and some had died.
When his son stabilized, Braccini immersed himself in the scientific literature. He understood that science takes time, that the cause of leukemia was uncertain, and that there might be not one cause, but several. He knew, too, that an epidemiological investigation would not answer certain questions; it could reveal contaminants in children's bodies, for example, but not whether those contaminants had acted in tandem to cause leukemia.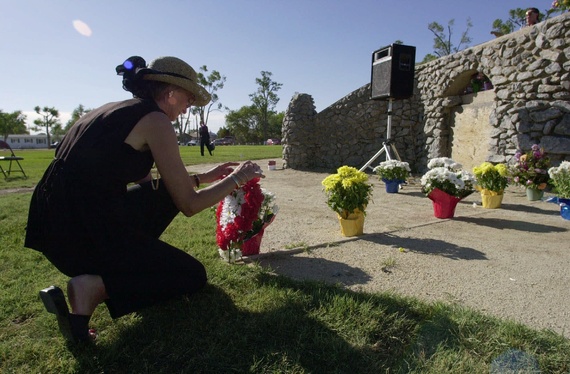 Still, Braccini believed there were holes in the investigation. He suspected one difference between his son and healthy children was not the degree to which they were exposed to toxic substances, but whether they had the genetic tools to detoxify their bodies. He had heard health officials mention this possibility, but genetic studies had only a minor role in the CDC investigation. Braccini also faulted the state's department of environmental protection for not sampling air and soil more extensively. Investigators collected soils from yards and dust from inside houses, but they seemed to look for contaminants in the wrong places, swabbing television screens and carpets instead of corners families rarely cleaned or ditches where children played. When parents voiced concerns, said Braccini, "It was always the same response. 'That's not in our protocol,' or 'You just don't understand the science.' "
Experts appointed by the state health division named three suspected causes. The first, arsenic, was ruled out. Fallon's drinking water had the highest level of any municipality in the nation, 10 times the federal standard, but it occurred naturally and existed long before the cluster appeared. And although repeated exposure can cause skin and bladder cancer, there is no evidence it causes leukemia. A second theory, that a virus infected the children, could have explained why the cluster grew so quickly. Scientists have linked viruses to other kinds of cancer—human papilloma virus to cervical cancer, for example—and research suggests that certain infections can trigger leukemia. But investigators found nothing of note when they tested children.