Kelly Quirino
Every year my birthday seems worse than the year before. This year, we actually kept score: In my house we kept a running, mostly-good-natured verbal tally of the things that went wrong around my birthday. Of course there were no tragedies, just small, standalone oddities: the slight insanities of family members, unusually bizarre exchanges at work, people's sudden and strange behavior around me, which I would recount to my family and my daughter would answer with, "Well, it IS almost your birthday."
If I were to choose the paramount terrible birthday moment, I would probably offer the image of myself, crouched on a stranger's cold front porch clutching a shivering, shit-covered puppy to my chest and crying while what sounded like a 100-pound-baby screamed from inside the house. (Spoiler: I did not get the puppy. Someday I will get the puppy, and the puppy I did not get that day, on my birthday, will remain a part of the larger story: the story of the puppy we worked so hard to find, and to love.) Now, from a distance, I can see this and I am grateful. That day, crying on a strange porch with a filthy baby animal in my arms, my universe felt like it was being torn apart.
My mom had already given me my birthday present. The week before, we had set out into a blizzard, aimed for a Franciscan convent about an hour away from where we live. The roads were bad and it got dark early, but we made our way slowly, on slick, wind-whipped roads. The headlights illuminated the snow in front of us, the sky was the same color as the ground around us, and to pass the time I tried to convince my mom that this road was some sort of Miyazakian segue into the underworld. She countered with C.S. Lewis' wardrobe, and for a while we amused each other with what we thought this Other reality would be, what it would do, how we would interact with it.
We thought we were being funny and clever, but as we drove through Oldenburg, Indiana (population 674) looking for the spires of the Franciscan convent, we realized that what we were imagining together had more or less come true. This was an Other reality, one completely foreign to us, and—viewed through the snow illuminated by the streetlights—probably magic.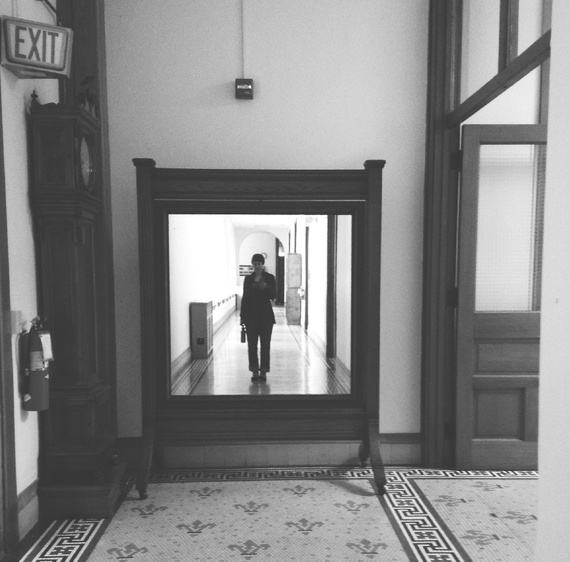 We pulled into the convent's retreat center, separate from the church itself, and were greeted by a tiny and smiling woman. She let us in, she showed us around. The retreat center was three floors of rooms that used to belong to the sisters before they had all moved into the convent itself. Each room was almost identical: cinder block walls, single beds, a sink, a mirror, a closet, a single window. There were stairs, but the sister led us from floor to floor with the aid of an ancient, sea foam green elevator with flickering lights and creaking cables.
She showed us the kitchen, a room as simple as any of the others we had seen, but with a gleaming, automated coffee machine in the center. She was so proud of and grateful for this coffee machine. She grinned and showed me with pointed arthritic fingers how to operate it, how to coax dozens of specialized drinks out of the humming electric machine. She made herself some hot chocolate as an example, and took my mom and me to our room.
Everything about the building was simple, functional, and old. Our sheets were worn but freshly ironed. The blankets were small and thin, but they were thoughtfully placed everywhere, on the backs of chairs, draped over the arms of couches, in almost every cabinet I opened. There were soft chairs arranged in small circles around tables of books and tables in nearly every available space: places to stop, to sit, to think, to talk. In contrast with the cinder block walls and the cemetery just outside the windows, these small comforts did feel luxurious, and important. The place felt whole and large; bigger than the building that contained it.
I spent almost my entire first night in the library, the sister had led me through the dark, long room, and ended with their selection of feminist and mystic texts, which she pointed out to me and winked. So this is how I came to spend an evening, while a blizzard swirled around me, in the dark, silent library of a convent reading about the shadow-feminine and Jungian mother-archetypes. It was one of the most quietly exhilarating nights I have ever had.
My mom and I had signed up for a silent, private retreat. The idea was that we would spend a quiet weekend at the convent reading, writing, thinking. We had free run of everything, could take our meals with the sisters (or not), we had a full weekend to be free of any obligation. The silence did not last long, because the sisters treated us like a miracle: We had come to them in the storm, a mother and daughter. To them we seemed impossibly young, and they doted on us and told us stories.
I am still not sure how, but in the beginning I was introduced to everyone as "Shirley." The sisters fussed over me, asked how I felt, if I needed anything, told me the history of everything in the room. I missed my chance to correct them, and they were so sweet and friendly that after a while I just couldn't bear to. At lunch on our first full day at the convent, sitting at a table full of beaming sisters, another approached and I had to introduce myself as "Shirley," so as not to let the others down. I'm not going to lie, it felt pretty good. I was more than ready to spend the weekend being someone else.