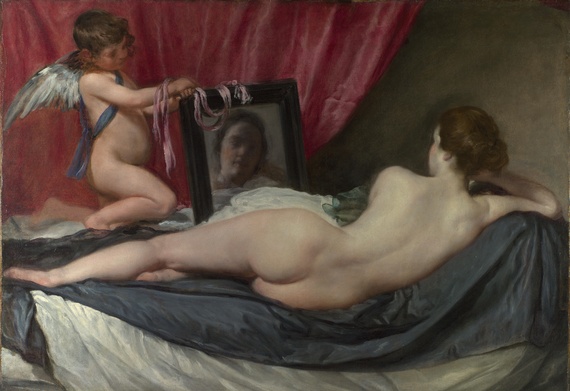 "Surely you don't believe in that nonsense."
It was intended as a rhetorical question, uttered with an implied wink and a smirk. The speaker, an ardent skeptic who prided himself on his rational approach to life, meant no offense. He was merely surprised to find that I, a lover of science, tote a battered key chain embossed with my astrological sign: Taurus. I've carried it with me for twenty years, like a personal totem.
It was perfectly reasonable for my skeptical inquirer to assume my key chain says something about me. He was employing cue utilization. We all rely on cues to make snap judgments when we meet new people, and those judgments can often be accurate, at least in broad strokes. Physical attractiveness, race, gender, facial symmetry, skin texture, or facial expressions and body language are all factors that contribute to how we form our impressions of people. Those cues may also include our "stuff": our choices in fashion, jewelry, tattoos, and key chains all provide clues about who we are, whether we intend them to do so or not.
Social psychologist Sam Gosling is interested in checking out our stuff, but not in a creepy, voyeuristic way. He has studied how we fill our spaces with material things, particularly offices and bedrooms, to better understand what those choices say about our personalities. For instance, certain items function as "conscious identity claims," things we choose based on how we wish to be perceived by others—the posters, artwork, books, or music we display, for example, or the tattoos we ink onto our bodies. We also fill our personal spaces with "feeling regulators": photographs of loved ones, family heirlooms, favorite books, or souvenirs from travel to exotic locales—anything that serves to meet some emotional need.
"If you are missing someone, you carry a photo in your wallet, or propped up next to your computer, or you value a necklace that somebody gave to you," Gosling explained. "You do these things to connect to someone as a sort of proxy, until you see that person again."
Finally, there is what he terms "unconscious behavioral residue," cues we leave behind in our spaces as a result of our habits and behaviors. A highly conscientious person may alphabetize their books, while the books of someone who is less conscientious would be more haphazard and disorganized.
All these conscious and unconscious cues, taken together, paint a fairly accurate rough sketch of the personality behind them. Gosling's research showed that it is possible to scan the objects in someone's personal space to make indirect inferences about certain personality traits. He measured his results using the Big Five personality traits: openness, conscientiousness, extraversion, agreeableness, and neuroticism. People who score high on openness, for example, tend to fill rooms with a greater variety of books and magazines, while those who score high on conscientiousness tend to have clean, well-lit, meticulously organized bedrooms.
However, Gosling cautions that this is an imprecise method; we can misread those cues. We may realize a given item is significant in some way to the owner, but we may not infer correctly the statement that it is making. Context is key. Position can help distinguish whether an object is serving as an identity claim or a feeling regulator.
If you walk into someone's office and there is a wedding photo on the desk facing outward, so it can be clearly seen by visitors, that is likely an identity claim. However, if the same photo is turned instead to face the owner, then it likely functions as a feeling regulator, to remind him or her of a loved one.
That is what happened in my encounter with the skeptic who scoffed at my choice of key chain. It does say something about me, but he interpreted it as an identity claim, when in fact it is a feeling regulator. There is a story behind that key chain, or rather, a singular person by the name of Nick. We became friends as eager young twenty-somethings in New York City, when we both worked brief stints at the same legal publisher.
Nick was a natural raconteur who could hold a roomful of dinner guests in rapt attention, usually doubled over in laughter while he recounted his decidedly Rabelaisian adventures as a young gay man in Manhattan. He loved good food, good clothes, good music, good sex, and never shied from offering to buy the next round of drinks.
But this was at the height of the AIDS epidemic, when an HIV-positive diagnosis was akin to a death sentence. Over the course of three years, I watched my friend wither away to a shadow of his former self as the virus ravaged his immune system, although his wicked sense of humor and big heart remained intact. Nick even helped me with a last-minute move on a hot summer day after I was evicted from what turned out to be an illegal sublet, stopping every now and then to dramatically wipe the sweat from his brow and announce, "I shouldn't even be doing this, you know. I have a terminal illness!" Then he would grin at my guilty expression and give me a hug to let me know he was just teasing.
Nick's own housing situation was even more precarious: Unable to work as his illness progressed, and unable to sign a lease with a reputable landlord, he relied on local city charities and the tight-knit gay community to snag a cluttered, roach-infested basement apartment in Chelsea whose prior occupant had died. It was dirt cheap, but the stench of death still hung over the place—likely due to the decaying rodent corpses trapped behind the sagging walls. Nick hated it and found it unbearably depressing. Soon he was back in the hospital, and when I went to visit, he broke down in tears over a game of cribbage and begged me to help him find another option: "Please—I just don't want to die there."