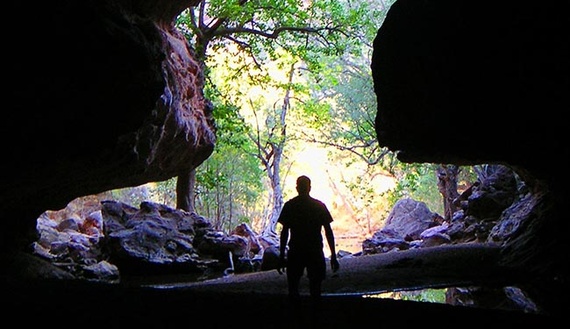 It's not hard to see why the Internet would be a good cave for a narcissist to burrow into. Generally speaking, they prefer shallow relationships (preferably one-way, with the arrow pointing toward themselves), and need outside sources to maintain their inflated but delicate egos. So, a shallow cave that you can get into, but not out of. The Internet offers both a vast potential audience, and the possibility for anonymity, and if not anonymity, then a carefully curated veneer of self that you can attach your name to.
In 1987, the psychologists Hazel Markus and Paula Nurius claimed that a person has two selves: the "now self" and the "possible self." The Internet allows a person to become her "possible self," or at least present a version of herself that is closer to it.
When it comes to studies of online narcissism, and there have been many, social media dominates the discussion. One 2010 study notes that the emergence of the possible self "is most pronounced in anonymous online worlds, where accountability is lacking and the 'true' self can come out of hiding." But non-anonymous social networks like Facebook, which this study was analyzing, "provide an ideal environment for the expression of the 'hoped-for possible self,' a subgroup of the possible-self. This state emphasizes realistic socially desirable identities an individual would like to establish given the right circumstances."
The study, which found that people higher in narcissism were more active on Facebook, points out that you tend to encounter "identity statements" on social networks more than you would in real life. When you're introduced to someone in person, it's unlikely that they'll bust out with a pithy sound bite that attempts to sum up all that they are and all they hope to be, but people do that in their Twitter bio or Facebook "About Me" section all the time.
Science has linked narcissism with high levels of activity on Facebook, Twitter, and Myspace (back in the day). But it's important to narrow in farther and distinguish what kinds of activity the narcissists are engaging in, since hours of scrolling through your news feed, though time-wasting, isn't exactly self-centered. And people post online for different reasons. For example, Twitter has been shown to sometimes fulfill a need to connect with others. The trouble with determining what's normal and what's narcissism is that both sets of people generally engage in the same online behaviors, they just have different motives for doing so.
A recent study published in Computers in Human Behavior dug into the how and why of narcissists' social media use, looking at both college students and an older adult population. The researchers measured how often people tweeted or updated their Facebook status, but also why, asking them how much they agreed with statements like "It is important that my followers admire me," and "It is important that my profile makes others want to be my friend."
Overall, Twitter use was more correlated with narcissism, but lead researcher Shaun W. Davenport, chair of management and entrepreneurship at High Point University, points out that there was a key difference between generations. Older narcissists were more likely to take to Facebook, whereas younger narcissists were more active on Twitter.
"Facebook has really been around the whole time Generation Y was growing up and they see it more as a tool for communication," Davenport says. "They use it like other generations use the telephone… For older adults who didn't grow up using Facebook, it takes more intentional motives [to use it], like narcissism."
Whereas on Facebook, the friend relationship is reciprocal, you don't have to follow someone on Twitter who follows you (though it is often polite to do so, if you are the sort of person who thinks of Twitter more as an elegant tea room than, I don't know, someplace without rules or scruples, like the Wild West or a suburban Chuck E. Cheese). Rather than friend-requesting people to get them to pay attention to you, the primary method to attract Twitter followers is just… tweeting, which partially explains the correlation between number of tweets and narcissism.
Of course, there's something to be said for quality over quantity—just look at @OneTweetTony and his 2,000+ followers. And you'd think that, even if you gather a lot of followers to you through sheer volume of content spewed, eventually some would tire of your face's constant presence in their feed and leave you. W. Keith Campbell, head of the University of Georgia's psychology department and author of The Narcissism Epidemic: Living in the Age of Entitlement, says that people don't actually make the effort to unfriend or unfollow someone that often, though.