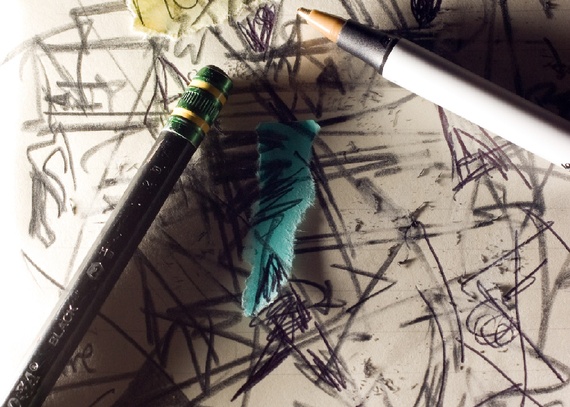 I knew, very literally, that love wasn't going to happen overnight. I am not a patient person. Nor am I very accepting of change. But I also knew that if I really wanted to meet someone as much as I was saying I did, I might have to step outside my Comfort Zone, which is what I call my flannel pajamas, and into the big, hopeful, scary world of Internet dating.
It didn't start out so badly. My friend Jenna came over on a Wednesday night, because it was February first, and we decided that something like this should happen on a first day of the month. We poured ourselves glasses of wine and set about describing ourselves in the best, most attractive, most unique, most intriguing ways we possibly could. We were truthful, though. Mostly. I mean, yes, technically I'm five-eleven and a half, but I'm not going to round up to six feet online, am I? Is this what guys are thinking when they list their heights as five-ten even though you know, in your heart, that they are five-seven? But in reverse? Goddammit. This is why online dating is terrible.
But that first night was fine. I had myself signed in to chat accidentally, because I didn't even realize it was there. When a little message popped up in the bottom right-hand corner of my screen saying "Hello, tall girl," I screamed. I checked out the profile of the guy who'd messaged me—tall, dorky, kind of funny—and though I didn't find him all that attractive, I impulsively decided to chat with him anyway. He was a boy who wanted to talk to me! On the first day of online dating, that is sort of all you really need. I honestly don't even know what we talked about. I think I was just overwhelmed by how much it took me back to middle school, flirting (well, talking) with boys on AIM for the first time. It didn't matter what he looked like (or what I look like, for that matter), or if we had anything in common, or what we were even talking about. He was a boy. Talking to me. On the INTERNET.
That small, youthful joy does not last very long.
In a month on OkCupid, I received around 130 messages. I say "around" because I deleted so many of them immediately (having them sit in my inbox felt contaminating) that I cannot report with scientific precision the exact count. I don't think this number makes me special. I actually think it makes me decidedly un-special, because to many of the messages' authors I was clearly no more than one more female-looking thing who might be intrigued by the dashing brevity of a message reading only "sup?" Everyone was always telling me that, if nothing else, having an online dating profile would be a confidence booster because of all the flattering messages I'd receive.
This is abject bullshit.
Of the many, many things that my messages could have been called, "flattering" is not one of them. More fitting would be "trite," "absurd," "weirdly insulting," and "grotesque expressions of the soul-sucking vortex known as humanity." Some messages were innocuous enough, but these were in the minority. A few precious gems were legitimately nice and pleasant, but their presence in my inbox was so minuscule as to hardly be noticeable. If I didn't have corrective contact lenses, I wouldn't have even been able to see them. (Or anything, really. But whatever, you get my point.) These messages were like these little lifesavers thrown out to me, a person who was drowning in a cesspool of filth and sewage water, only to be just as quickly cast aside because, even though they were nice enough, relatively speaking, the guys who sent them were fifty-two years old or were self-described "fitness models" or went by the user name "LetsFckAround."
Look, I know it isn't easy out there for dudes, either. (Isn't it? I think it actually could be. Easier, anyway. Less horrifying.) For some reason it seems like standard operating procedure, among those with opposite-sex interests, that GUYS message GIRLS and that is that. I think this is on the way out, but it's lingering. So guys have some pressure—they're the ones who have to "make a move" and then just wait while my friends and I gasp and laugh and email each other the complete garbage they've just sent us. I would feel bad, except that the authors of the messages that provoke that kind of reaction most certainly do not give a fuck. You know how I know? Because they sent that same exact masturbatory-ass message to me AND two of my friends. Word. For. Word.
So I'm not sorry. I am, however, interested in the betterment of humankind. I am interested in historical records on some of the most pressing matters of our time. I am interested in the grouping and analysis of small disasters. So I've come up with a few categories of messages that you're liable to receive if you find yourself being simultaneously female and in possession of an online dating profile. May God have mercy on our souls, and may whoever invented the backhanded compliment as flirting tactic (damn you, popular MTV pickup artist Mystery!) be slowly roasted in a stew of his own fedoras, watched over by the legions of women who have to try to figure out why this person who ostensibly wants to date them just called them "pretty but not in an intimidating way."
Types of Messages You Will Receive During Your Time in Romantic Jail
1. The Neg