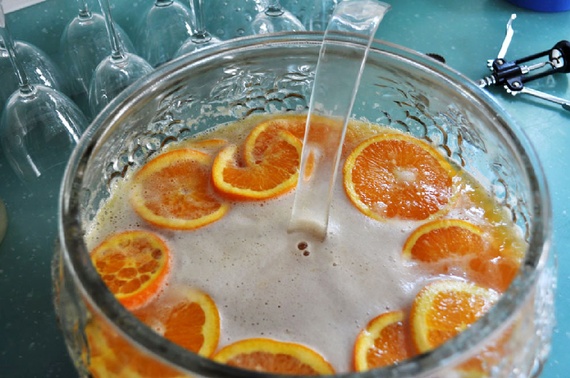 I once counseled a 17-year-old, I'll call her Katey, who admitted that she had planned to get "completely smashed" at a school-related function.
"I guess I knew what might happen," Katey said, after being expelled for bringing the alcohol to the party and even coaxing the host of the event—the daughter of the director of her school—into the drinking spree. "But the fun of it just seemed like too much to turn down."
That Katey followed through on her plan—even in the face of knowledge about the potential outcomes—resonates with recent studies revealing that teenagers usually have awareness of the risks of potentially dangerous behaviors. As teens, we are often not oblivious to the negative consequences of our actions. Instead, even though the negative consequences are fully known, we place more emphasis on the potential positive aspects of an experience: the thrill, the shared experience, the fun, the excitement of breaking the rules. That emphasis on the positive, we now know, is a result of shifts in the brain's structure and function during the adolescent period.
Katey's enhanced focus on the positive was in fact a natural consequence of the increased reward drive in the adolescent brain. The brain is a collection of cells that communicate with one another using chemicals called neurotransmitters. During adolescence there is an increase in the activity of the neural circuits using dopamine, a neurotransmitter central in creating our drive for reward.
Starting in early adolescence and peaking midway through, this enhanced dopamine release causes adolescents to gravitate toward thrilling experiences and exhilarating sensations. Research even suggests that the baseline level of dopamine is lower—but its release in response to experience is higher—which can explain why teens may report a feeling of being "bored" unless they are engaging in some stimulating and novel activities.
This enhanced natural dopamine release can give adolescents a powerful sense of being alive when they are engaged in life. It can also lead them to focus solely on the positive rewards they are sure are in store for them, while failing to notice or give value to the potential risks and downsides.
The brain's increased drive for reward in adolescence manifests in teens' lives in three important ways. One is simply increased impulsiveness, where behaviors occur without thoughtful reflection. In other words, impulse inspires action without any pause. Pausing enables us to think about other options beyond the immediate dopamine-driven impulse pounding on our minds. Telling that impulse to chill out takes time and energy so it's easier just not to do it. This said, with the drive for reward stronger and more pressing than ever when we are teens, taking the time needed for processing—for reflection and self-awareness—becomes very important. If any notion turns immediately into an action without reflection, we are living our lives all gas pedal and no brakes.
The good news is that such impulses can be put on hold if certain fibers in the higher part of the brain work to create a mental space between impulse and action. It is during the time of adolescence that these regulatory fibers begin to grow to counteract the revved-up "go" of the dopamine reward system. The result is a decrease in impulsivity. This is sometimes called "cognitive control" and is one important source of diminished danger and reduced risks as adolescents develop.
A second way in which increased dopamine release affects us during adolescence is the documented increase in our susceptibility to addiction. All behaviors and substances that are addictive involve the release of dopamine. As teens not only are we more likely to experiment with new experiences, we are also more prone to respond with a robust dopamine release that for some can become part of an addictive cycle. A drug, alcohol for example, can lead to release of dopamine, and we may feel compelled to ingest beer or wine or hard liquor. When the alcohol wears off, our dopamine plummets. We then are driven to use more of the substance that spiked our dopamine circuits.
The third type of behavior shaped by the increased reward drives of the adolescent brain is something called hyperrationality. This is how we think in literal, concrete terms. We examine just the facts of a situation and don't see the big picture; we miss the setting or context in which those facts occur. With such literal thinking, as adolescents we can place more weight on the calculated benefits of an action than on the potential risks of that action. Studies reveal that as teens we are often fully aware of risks, and even at times overestimate the chance of something bad happening; we simply put more weight on the exciting potential benefits of our actions.