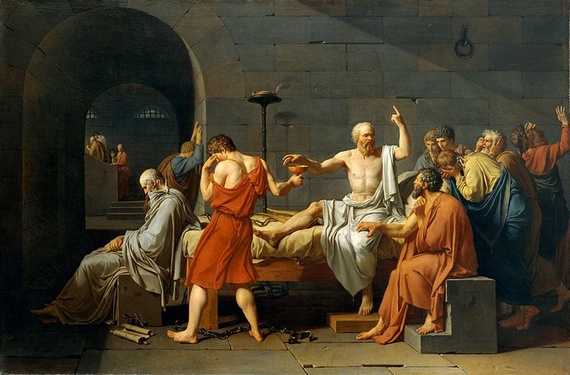 We can put a man on the moon a rover on Mars but we're still figuring out our own brains. Mental illness is stigmatized, potentially overdiagnosed, and often misunderstood. Scientists are still learning new things about where conditions come from, while sufferers figure out how to cope.
William V. Harris, a professor of history and director of the Center for the Ancient Mediterranean at Columbia University, studies mental illness in the classical world—ancient Rome and Greece. Though the body of knowledge we have at our disposal is still not totally sufficient to understand mental illness today, there's an added level of difficulty involved in trying to apply today's knowledge to earlier civilizations. Or in understanding those civilizations' concepts of mental illness in a time when the gods were thought to be involved in everyday life, and hallucinations weren't something to worry about.
Harris is the author of several books, and most recently edited Mental Disorders in the Classical World, published last summer. I spoke with him over email about how the ancient Greeks and Romans approached mental illness and what we can learn from them today.
Could you start by explaining how attitudes toward mental illness were different in the classical world than they are today?
Many people in antiquity thought that mental disorders came from the gods. The Greek gods are a touchy lot, quick to take offense. For instance, they took a hard line with Orestes after his matricide. [Ed. Note: After killing his mother, Orestes was tormented by the Furies.] And in a world where many important phenomena such as mental illness were not readily explicable, the whims of the gods were the fallback explanation.
Physicians and others fought against this idea from an early date (the 5th century B.C.), giving physiological explanations instead. Many people sought magical/religious remedies—such as going to spend the night in a temple of the healing god Asclepius, in the hope that he would work a cure or tell you how to get cured—[while physicians sought] mainly medical ones. No one thought that it was the duty of the state to care for the insane. Either their families looked after them, or they ended up on the street—a nightmare situation.
In the introduction you wrote to Mental Disorders in the Classical World, you talk about "medicalizing mental illness." When and why did people start to be seen as sick instead of crazy?
Some time in the late 5th century B.C., some member of the school of Hippocrates wrote a treatise "On the Sacred Disease," in which he argued that the "sacred disease," i.e. epilepsy, was a physiological syndrome, and very soon all doctors and scientists (in so far as such a category existed) came to think that crazy people were sick (but not that they were not crazy).
Greek doctors did not distinguish sharply between physical and mental disorders, and they did not have concepts that correspond simply with "depression" or "schizophrenia." Roberto Lo Presti, in the book we are talking about, examines at length the development of Greek thinking about epilepsy. Greek doctors always tended to think that what we call psychoses were physiological in nature.
How did doctors diagnose the mentally ill back then? What were the criteria they used? And how did they go about treating them?
They were mostly (not entirely) concerned with psychoses (externalizing disorders such as antisocial personality disorder and drug and alcohol use disorders) rather than neuroses (internalizing disorders such as depression and anxiety), and they took into account a full range of hard-to-define symptoms including inappropriate behavior in public, delusions, delirium, and hallucinations. Treatments also covered a whole range from physical restraint to counseling; they did not make much use of pharmaceuticals.