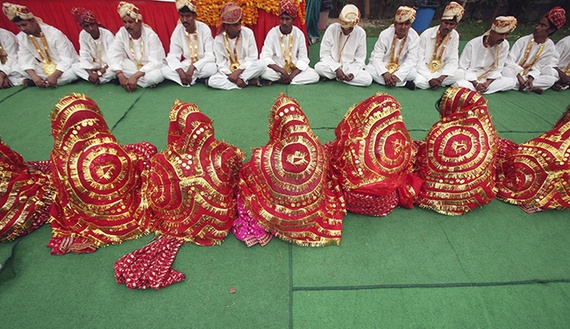 Last week, I joined Shaadi.com, India's oldest and most popular matrimonial website.
Call it anthropological curiosity; call it a metric of my own narcissism. Call it acclimating to the Indian single life after coming of age in the West, where India is often seen as a country of arranged marriages and impenetrable glass ceilings. If there's truth to caricature, then call my joining the online matrimony network a modern-day leap onto a bandwagon of millennia-old social custom.
"Shaadi" is the Hindi word for wedding; Shaadi.com is, intuitively, a wedding arranged via the Internet. It's one of more than 100 Indian websites that comprise the country's thriving online matrimonial market, where an individual can browse for his or her ideal spouse among a catalog of potential candidates organized by the personal information that apparently matters most: religion, caste, income, fairness of skin, family background, and so on.
Imagine eHarmony if it cut to the chase. Unlike online dating services, which at least superficially foster some sort of romantic connection, and which are effectively nonexistent in India, matrimonial websites are predicated on the idea that the first meeting between two paired users will be to chat about their wedding. They succeed for the same reason every online resource does: They offer convenience and expediency in an arena with high demand for it.
It's connubial bliss for a 21st-century India, where, by some estimates, 90 percent of marriages still classify as "arranged"—in other words, established on factors other than mutual love and attraction between the bride and groom. What those factors are, exactly, has changed as the country has, but the crux of the matter remains constant: if you're an Indian woman, it's statistically likely that your parents will choose the man with whom you spend the rest of your life.
More than 22 million Indians—around one of every eight who use the Internet—use the country's matrimonial sites, according to a recent review of India's Internet Economy Watch Report. In June, the Delhi-based Economic Times valued the online matrimony market at around 5.1 billion Indian rupees (roughly $81 million)with an annual growth rate of 30 percent: a rose in the snowdrift of the Indian economy, whose recent erratic nature has shaken everything from exchange rates to onion prices.
For those in the West, it probably isn't particularly surprising that Internet matrimony is one of India's most lucrative and omnipresent online industries. A few years back, a media psychologist named Srividya Ramasubramanian examined 24 American and British films about India for the prevalence and portrayal of certain tropes and saw little more than a country "consistently portrayed as backward, uncivilized, savage, and traditional." The Western notion of "Indian-ness," Ramasubramanian writes, is predicated upon a sense of Occidental superiority, complicit with a sort of "cultural imperialism… by establishing Indian peoples as inferior and incompetent who need to be civilized."
Ramasubramanian's study qualitatively confirms that the India offered to us in the West is an India of "inept subordinates" who deserve either our scorn or sympathy. It is a caricature consisting of the most cartoonish and visceral stereotypes—child marriage, bride burning, snake charmers, etc.—that reinforces the idea of the country as a pitiably primitive slum, especially when it comes to Indian women.
The movie Slumdog Millionaire presents female love interest Latika's sexual slavery as an inevitability of her birthright as an orphan. Bend It Like Beckham finds its central conflict in the struggle between Jess, our 18-year-old British-Indian protagonist, and her traditional Sikh parents' ideas of womanhood and marriage.
"It's just culture," says Jess, who the movie leaves us to assume has never been to India. She later concludes that the only way to deal with Just Culture is to get farther from it, heading, naturally, to America.
I made my Shaadi.com profile as an American in New Delhi, where I have been since June, who has watched from both places as this caricature of a backwards, misogynistic India evolved over the last year from comedy fodder to a target of international criticism. This happened after one night last December, when five men drank whiskey in south Delhi and boarded a local bus, where, joined by the driver, they used iron rods to sexually penetrate and fatally maim a 23-year-old physiotherapy student heading back from a movie with her boyfriend.
The fallout was unprecedentedly huge. The collective outcry by the country's long-silent women amplified and confirmed the clichéd association between India and sexual violence. In December, Delhi's Chief Minister Sheila Dikshit described her city as a "rape capital;" in June, the New York Times reported that visits by female tourists to India had dropped by 35 percent in the first months of 2013.
I joined Shaadi.com to explore the "labyrinth of complicated patriarchy," as Time Magazine recently labeled India that has borne the brunt of global criticism in light of the Delhi gang rape last winter and the string of publicized sexual crimes since. You can blame the inefficient government bureaucracy and you can blame the understaffed Delhi police, but patriarchy, the article said, teaches Indian men to hate Indian women. It teaches them to disenfranchise women and to rape them without guilt. It renders women a commodity, and marriage a property transaction.