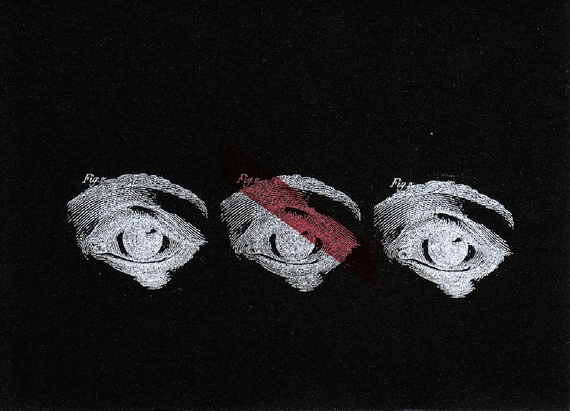 I awoke in a bed for the first time in days.  My joints ached and my eyelids, which had been open for so long, now lay heavy as old hinges above my cheekbones. I wore two pieces of clothing: an assless gown and a plastic bracelet.
I remembered the hallway I had been wheeled down, and the doctor's office where I told the psychiatrist he was the devil, but not this room. I forced myself up and stumbled, grabbing the chair and the bathroom doorknob for balance. I made it to the toilet, then threw water on my face at the sink, staring into the mirror in the little lavatory. My tousled hair shot out around my puffy face; my head throbbed. I looked hungover.
In those first moments, I remembered the basics about what had landed me in the hospital: Some pseudo-philosophical ranting and flailing brought on by a poorly executed experiment to see how long I could last without sleep.
I was 18, in Italy, on a school-sponsored trip with that pompously misnamed group for American teens who earn As and Bs, the National Honor Society.  I stayed up writing all night, and the next morning, on little more than impulse, I decided to go for it.
Why? There are a few layers of "why," and I will mine them later.
To this day, I am not sure how many consecutive nights I spent awake, but it was at least four. Espresso helped me keep going. So did furiously paced, illogical scribbling in a fat blue pocket notebook. As the sleepless days passed, I experienced the increasingly severe psychological effects common with extended sleep deprivation: I hallucinated, rambled, and lost focus. Toward the end of the ordeal, in New York's John F. Kennedy Airport, my body was giving out, too. While imposing a monologue on my biology teacher—who, I later learned, thought I was tripping on LSD—I blacked out and slumped mid-sentence. This happened more than once on my final day awake. Sleep specialists call these involuntary collapses "microsleeps." It's not hard to see why anybody—a high school chaperone, a parent, a doctor—might view a twitching, crumpling, babbling kid like me as some sort of nutcase. But what happened to me could happen to anyone who stays awake that long, voluntarily or otherwise.
Unlike other basic bodily functions, such as eating and breathing, we still do not fully understand why people need to sleep. There are theories—some think sleep may be the process by which the brain shuts down so it can store the day's memories. Others, like Dr. Joyce Walseben, a psychiatrist and the former director of Bellevue Hospital's Sleep Disorders Center, point to sleep's importance in regulating the body's hormones. But these theories are not complete.
"It may be the biggest open question in biology,'' Dr. Allan Rechtschaffen, a sleep expert and a professor emeritus at the University of Chicago, told the New York Times in 2003. "While we sleep, we do not procreate, protect or nurture the young, gather food, earn money, write papers, etc.,'' he wrote.
Dr. Steven Feinsilver is a pulmonologist and sleep specialist who said that humans need, on average, seven and one quarter hours of sleep to stay healthy. "Now clearly like all biological things there are probably people who feel great on five hours, and they're really lucky, and some people who need nine hours, and they're not so lucky," Feinsilver said. "Whether you can train that to change, I don't know."
Sleep deprivation is nearly as misunderstood as sleep itself, but it can physically and mentally harm people in myriad ways. Losing sleep can cause hallucinations, psychosis, and long-term memory impairment. Some studies have linked sleep deprivation to chronic conditions like hypertension, diabetes, and bipolar disorder. In 2003, neurologists at the University of Pennsylvania found that sleep deprivation over three consecutive nights (in the study, staying awake for 88 hours) as well as chronic sleep loss (in the study, four to six hours of sleep each night for 14 nights) seriously impaired cognitive functions in healthy adults. Also in 2003, Japanese researchers found that total sleep deprivation can cause high blood pressure and has "profound" effects on the immune system.
In 1989, at the University of Chicago, researchers observed rats which died after being kept awake non-stop for several weeks. (According to a 2009 Slate article, specialists who have looked at the 1989 study dispute which effects of sleep deprivation ultimately killed the rats. It could have been hypothermia brought on by decreased body temperatures, illnesses that arose from damaged immune systems, or severe brain damage.) In July 2012, Chinese soccer fan Jiang Xiaoshan died after staying awake for 11 days to watch all of the European Football Championship. In August, a Bank of America intern died after three days of sleep deprivation.
Feinsilver directs the Center for Sleep Medicine at Mt. Sinai School of Medicine in New York City. He speaks precisely and often adds cheerful "maybes" and "I wonders" into his sentences, taking care to not overstate anything. More than 30 years ago, Feinsilver learned first-hand the toll that sleep deprivation can take. One autumn, when he was an intern in an intensive-care unit, he had to work through every other night for six straight weeks.