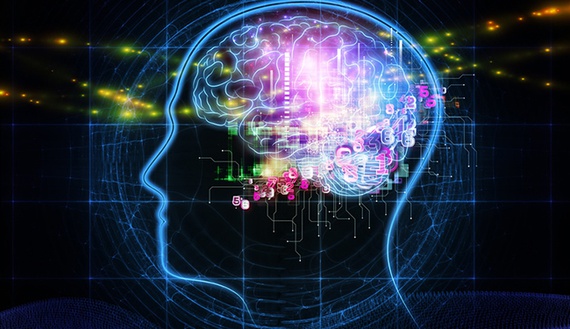 My morning writer's ritual is as predictable as it is contemporary: Walk the dog. Down a cup of coffee. Eat my shredded wheat. And, twice a week—sometimes three times—I flip open my vial of Adderall, tip out one of the 15-milligram peach tabs, and break it in half. For a moment the bitterness burns my tongue, and then down it goes.
The Adderall addition to my routine started three years ago, after I happened upon 60 Minutes one evening and caught a segment titled "Boosting Brain Power." It was an examination of the Adderall epidemic on college campuses nationwide, and I found myself quickly drawn into it.
By the end of the story, the conclusion was inescapable: Adderall makes everything easier to understand; it makes you more alert and focused. Some college students scarf them like M&Ms and think they're more effective at cognitive enhancement than energy drinks and safer than a smoke or a beer. A Harvard professor admitted he regularly devoured Adderall to help make a book deadline.
Prior to watching, I had some close friends and relatives with ADHD whose doctors prescribed the amphetamine for completely legitimate reasons. I called them "closet users" since they all seemed ashamed of their diagnosis, not to mention their prescription. Why they felt this stigma I'm not entirely sure. According to the National Institutes of Mental Health, 4.4 percent of the adult U.S. population has ADHD, which if left untreated is associated with significant morbidity, divorce, employment, and substance abuse.
Like all prescription medications, Adderall has risks that are crucial to understand. Buried in the middle of that 60 Minutes segment was a too-short riff on amphetamine's side effects, which include addiction, psychosis, and cardiovascular problems. I've read many of the horrific news stories about lives, especially young people's lives, destroyed by this drug. Most notably, the tragic tale of Richard Fee, "an athletic, personable college class president and aspiring medical student," as The New York Times reported earlier this year, who developed a full-fledged addiction, abetted by his doctors who routinely signed off on more meds. He was 24 when he hung himself at home.
Nonetheless, for untold healthy adults (those whom researchers refer to as "mentally competent") the cognitive-enhancing drug has led to positive changes in their lives. Not surprisingly, the many Adderall "success" stories often go unnoticed in the current debate and climate. Explained one young woman, in her late 20s, on a public bulletin board: "[Adderall] makes me so happy I can be at a family function or out socializing and not get too distracted by other events/conversations around me. I can hear them, but am not taken in by them."
And this testimonial from an anonymous poster: "Since being on Adderall, I have been insanely productive… I have paid all my outstanding bills and parking tickets (and even renewed my car's registration before it was due). I'm not late for things anymore… I have not spent a single day lying around my house doing nothing in the past few months. I have a budget, and a scheduler that I actually use."
The authors of a study published in the journal Nature argue in favor of moderate use: "Cognitive enhancement has more to offer individuals and society, and a proper societal response will involve making enhancements available while managing their risks."
That spring when I watched the 60 Minutes broadcast I was on a deadline to finish a 400-plus-page book. After viewing the segment, I had a moment of insight. Jumping online, I took a few ADHD screening quizzes and was told I had "possible ADHD." Such a diagnosis doesn't place me among the 4.1 percent of U.S. adults with ADHD but it did lead me to promptly make an appointment with my primary care physician. When she asked me why I needed it, I replied just as the college kids had on 60 Minutes: "For focus."  
The first morning I swallowed the whole pill (as prescribed), and within 30 minutes thought I was going to have a stroke. My heart and head were pounding, and I felt as if I were, well, on speed. Which I was—Adderall is, after all, an aggregation of amphetamines. I cut the tabs in half after that and completed my book manuscript by the deadline, with about half my 60-day supply left.
Did it make me smarter? No. Did it make me a faster writer? Yes. Previously, when I'd sit down at my desk, I felt adrift at sea. It was as though my MacBook and research materials, piled high, swayed from left to right and then back again. It was dizzying; I just couldn't get a grip.