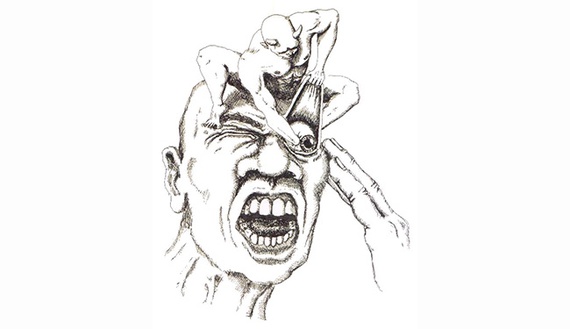 The "worst pain known to medical science" is an impossible thing to quantify, though many sufferers of cluster headaches are quick to describe their condition according to this elusive empiric standard. 
Here are some the ways the pain of clusters has been described to me:
"Like a really really strong pressure, and then there's a kind of burning sensation."
"Someone's jabbed a white-hot poker into your eye socket and is holding it there for 45 minutes to an hour and a half."
"Like I just got shot in the face."
"It's like a papercut in my eye, in the center of my head."
"A pain that's so sharp and excruciating, there's no talking or doing anything other than just screaming to try to get out of it."
 "It makes you want to get up and literally run from the pain."
Sufferers and doctors alike want to make clear the distinction: though they're called "headaches," clusters are not like migraines. The pain of a cluster headache is one-sided, typically concentrated around the eye and the temple, but can sometimes spread to other areas. On the affected side, the eye tears up and may droop, the nose can get congested. A headache will last between half an hour and two hours, and true to their name, they come in clusters—one or more times a day, often at the same time each day for a cycle that can last a few weeks, or a few months. Episodic sufferers get breaks of 30 days or more between their cycles; chronic sufferers get shorter breaks, or sometimes, no break at all.
It's not a new disorder—in 1745, the Dutch-Austrian physician Gerhard van Swieten described a patient who seems to be suffering from cluster headaches:
"A healthy, robust man of middle age was, each day, at the same hour troubled by pain above the orbit of the left eye, where the nerve leaves through the bony frontal opening; after a short time the left eye began to redden and tears to flow; then he felt as if his eye was protruding from its orbit with so much pain that he became mad. After a few hours all this evil ceased and nothing in the eye appeared at all changed."
"There's something very rhythmic about cluster," says Dr. Mark Green, professor of neurology at the Mt. Sinai School of Medicine and director of the school's Center for Headache and Pain Medicine. "Someone may come in and say 'at 4:15 a.m. every morning, I get an attack.' We used to call them alarm clock headaches, they were so regular." Though scientists don't know exactly what causes cluster headaches, the condition seems to involve the hypothalamus—the part of the brain responsible for circadian rhythms.
According to the World Health Organization, the condition affects one in 1000 adults—clusters usually start for people when they're in their 20s, or older.
Cindy Reynolds got her first cluster headache a little earlier than most. "I was 15," she says. "It was a wonderful day, I had just made cheerleading. I was super excited. I spent the night with a girlfriend and woke up in excruciating pain, screaming." After about a year, which included many trips to the hospital for MRIs and CT scans, she was diagnosed with episodic cluster headaches. Today, Cindy, now 52 years old, has been chronic for five and a half years.
Due to the rarity of the condition, "so many of the people I see with clusters are misdiagnosed," Green says. "They're told they have migraines or they're told they have sinus headaches or some other thing."
Mike Scott, 42, thought for years that he was suffering from sinus headaches. "It typically happened in the fall or the spring, and they would happen day after day for a while, so I assumed there was some kind of pollen or allergen or something that I was reacting to," he says. In his 30s, his formerly manageable headaches got worse, and he found out about clusters by Googling his symptoms.
Cluster headaches are also known, colloquially, as "suicide headaches." Green confirms that "most headache doctors have had patients with cluster headaches who have committed suicide from the pain…That's more likely in the chronic form, [when] they know that they're going to get one or two or three of these headaches, every day, forever. It's pretty awful to anticipate that."
Green remembers one 80-year-old cluster headache patient of his who also had heart disease. Because of that, he didn't want to prescribe a certain type of injection that can sometimes stop the pain. "He owns a gun and threatened suicide without them," Green says. The patient has since "done well, and understands the risks," he says.
Of the notion that it's the "worst pain known to medical science," though, Green says, "I think they're terrible. I think sometimes people can get a little carried away."
Even in less extreme circumstances, sufferers say the severity of the pain has changed their lives. Both Scott and Reynolds say their bosses are understanding of their conditions, and allow them to work from home. But they, and Green, know people who are unable to work because of the headaches.