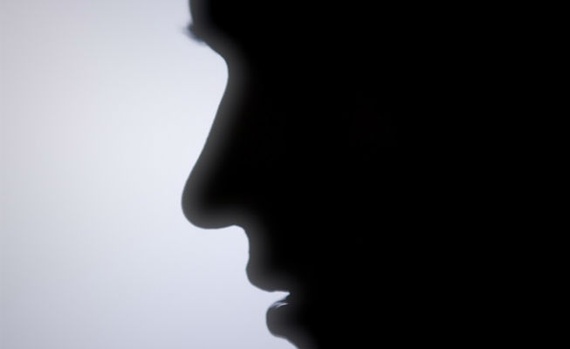 Two months into their relationship, Chris's boyfriend José pushed him to the ground in a fit of anger and ripped the clothes off his body. "We had gone out dancing, and when we got home, I was changing in front of him," said Chris, 34.
"I had on my favorite pair of underwear; it was the pair I had worn the first time we went out. He saw the underwear, and just flew into a rage, saying, 'How dare you wear those! Those are for me!'"
José threw him on the floor of their bedroom closet, and smashed the only light bulb in the room, leaving them in darkness. He loomed above Chris on the floor as he tore the underwear away. That was the first time things had ever turned violent between the two.
"I was in such a state of shock," Chris recounted seven years later, his fingers tapping at a wine glass stem and his brown eyes drifting. "I thought, 'Oh, he's just jealous; it's the drinking,' and I let it go. There was a lot of drinking in this relationship. No drugs, but lots of drinking."
The second time was worse. "He was angry at something—I can't remember what—and I was laughing," said Chris. José again became incensed, strode into the kitchen and grabbed a butcher knife. "He pulled me by my hair, had me on my knees and had the butcher knife at my neck."
Chris says he didn't react. At the time, his sister was pregnant, and he wanted to live to see his niece. "I talked him down, told him to give me the knife. I put my hand on his, and we put the knife back in place together," said Chris, demonstrating by holding his two hands together.
That night, José locked their bedroom door for fear that Chris would escape and tell someone. The next morning, he told Chris, "You know I didn't mean it, right?"
"That was his way of apologizing to me," Chris scoffed. The relationship lasted nine months, but continued to affect Chris for years after it ended.
***
Sam, 25, describes himself as having been "naive and impressionable," during the time he was dating David. "He's not a stupid person," Sam told me over Skype. "He never hit me or threw things directly at me, but he would frighten me enough to make me back down."
According to Sam, David became increasingly controlling after they moved in together, three or four months into their relationship. At that point, because of the apartment lease, he said, "it was too late to just up and go."
One of David's main methods of control was evoking pity and threatening to harm himself.
"He would get very sad and upset which, in hindsight, was a plea for compassion," Sam said, "As time went on, he became controlling through jealousy. Any attention that I didn't give to him—whether I gave it to friends, family, or other guys, even just other gay men who were my friends—he would get very upset if I hung out with them too much."
David eventually forced Sam to open a joint bank account so that Sam couldn't "stockpile" any funds and move out. He increasingly tried to cut off Sam's contacts with friends and family.
After two and a half years, Sam managed to end the relationship after David admitted he had returned to using cocaine.
***
LaTesha, 18, is a consummate Queens girl. Tough and stoic behind her soft voice and hooded sweatshirt, she is about to graduate from high school and wants to study criminal justice in college. She has already been beaten up by a girlfriend. "It only happened when we got into an argument," she said, her brown eyes getting serious. "If she felt like she was being disrespected, she would swing at me."
"We always argued," she continued. "But you know how a couple can argue and then just be back to normal? We would argue, be back to normal. When we argued again, she would bring up the last argument. And it would just build up." There was always something to argue about and usually, LaTesha said, it was girls.
"She was so insecure," LaTesha recalled. "If I'd be hanging out with one of my friends who was a girl, she'd see me and say 'What's this? You cheating on me?' And I always told her, 'You need to stop.' And then we would get into it. It was a pattern. We would break up for one week, get back together another. We must have broken up about 20 times."
The final break-up happened when Monique landed several punches on LaTesha in front of the staff of Safe Space, an LGBT community center in Jamaica, Queens.
***
Chris, Sam, and LaTesha are smart people with educations, plans, and busy social lives. They all identify as homosexual, and they all have had experiences with physically or psychologically abusive partners who left them financially, mentally, or emotionally damaged. Domestic violence—or as it's often referred to today, intimate partner violence—is usually discussed in the context of heterosexual relationships. But partner violence is also an issue in the LGBTQ community, a fact that has only come to light in recent years.