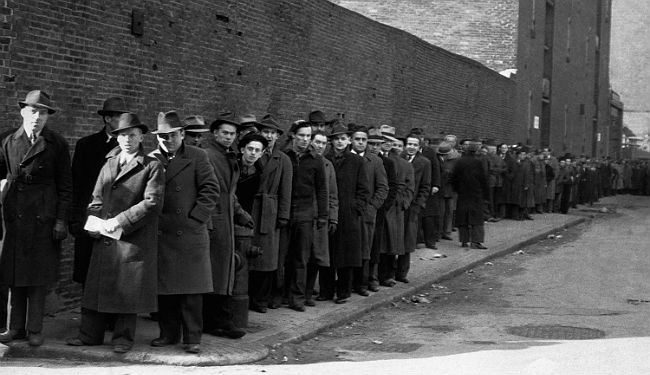 On April 12, 1937, the express train to New York roared across the New Jersey countryside. The train, a Pennsy Railroad electric locomotive the color of bull's blood, usually passed through the station at Elizabeth at about 50 miles per hour. On this particular morning, it came to an unanticipated stop. As the express rounded the curve, my great-grandfather jumped down from the platform, where witnesses reported he had been pacing for 10 minutes, and lay down across the tracks.
When the engineer was finally able to halt the train 100 feet past the platform, Roy Humphrey had disappeared beneath its wheels. His last act: raising his head to look at the oncoming train.
Roy was one of at least 40,000 Americans who took their own lives that year and the next, the two-year span that suicide rate spiked to its highest recorded level ever: more than 150 per 1 million annually. They are forgotten people, mostly men, and mostly brushed out of existence by a generation preoccupied by World War II and the post-war boom. Three-quarters of a century after Roy's death, I sat across from an old family friend, a woman in her 90s, who was eager to share stories of that monumental past – except when it came to my great-grandfather. When I finally asked her point blank if she had known him, her blue eyes focused.
"He killed himself, didn't he?" she asked, but it was more of a statement than a question. "Every family had a story like that. We never spoke of them. Why would we?"
My family had not only refused to speak of Roy, they rewrote the story of his death. Within hours, they closed ranks. A second cousin, a local policeman, told the newspaper Roy was subject to fainting spells. His mother said he died of a heart attack in a parking garage; according to another family story, he'd fallen in front of a train. Eventually, the lie became the truth. I flipped through the journals his mother wrote in 1950s. She mentioned Roy once, when a passerby reminded her of him. Then she went back later and whited out his name.
I didn't grow up knowing that Roy had killed himself, but I knew a shroud of mystery surrounded him. In 2008, just as the nation slipped into the Great Recession, the inconsistencies in the family story sent me in search of my great-grandfather.
I was working part-time at home and taking care of my two girls, 2 and 6. That part-time work turned out to be vulnerable in the economic collapse: My job was cut back. I had time on my hands. On a rainy Sunday in late September, I ignored the headlines about Lehman Bros. and looked up Roy's name in the New York Times archives, instead.
ENDS LIFE UNDER TRAIN

Former Lawyer and Customs Inspector Lies Down on Track

Elizabeth, N.J., April 12.

Roy L. Humphrey, 41 years old, a former Washington, D.C., lawyer and for the last five years an inspector in the United States Customs Service, stationed at the Barge Office in Manhattan, was killed instantly when struck by a Philadelphia-New York express train at the Pennsylvania Railroad station here today. The accident delayed service on the east-bound tracks for about ten minutes.

Witnesses, according to police, said Mr. Humphrey stepped from the station platform and lay down on the tracks as the express approached the depot.

The victim was born in Washington and attended Georgetown University. He was a graduate of the National Law School in Washington and practiced in that city for some time. Surviving are his mother, Mrs. Katherine K. Humphrey, his widow, Mrs. Frances Humphrey, and a daughter, Nancy T. Humphrey.
I attached the clipping to an email I sent to Roy's grandchildren and great-grandchildren, 13 people in all. What kind of anger could lead to an act by which he had forced someone else – the train engineer – to be complicit in his death?
As I began to look deeper into the story, I carried a couple of assumptions with me. First, I assumed there were likely to have been previous suicide attempts. Second, that Roy's suicide was linked to the economy. Neither assumption is correct enough, as I learned by talking to Alan Berman, the executive director of the American Association of Suicidology. People see being suicidal as a long-term state of mind, but most people who survive a suicide attempt do not later die by suicide. Being suicidal is better understood not as a permanent state but as an acute mental crisis. In the cases of public suicides the people committing the act are probably in the grip of magical thinking.
"They think, 'I will get attention in a world where I am feeling not attended'. What becomes magical is that they are dead; they will never feel attended," Berman said.
An article I read brought this point home. The handful of people who survived the leap from the Golden Gate Bridge told interviewers that as soon as their feet left the bridge, they regretted the act.
My second assumption, that "the economy," had somehow triggered Roy's act, was not specific or concrete enough. When it comes to understanding suicide (or maybe anything), specificity is important. "If we can figure out that which five or six pathways lead to suicide, we can interrupt the pathway," explained Berman.
Detailed studies of individual cases, or "psychological autopsies," might help researchers draw conclusions about causes, but autopsies have not been done in large enough volume. So correlations are the best we can do, but they need to be as specific as possible. Suicide is not strongly correlated to the economy, but to unemployment. In the modern era, for every 1 percent increase in the unemployment rate, there has typically been an increase of about 1 percent in the number of suicides, according to Steve Stack, a professor at Wayne State University.