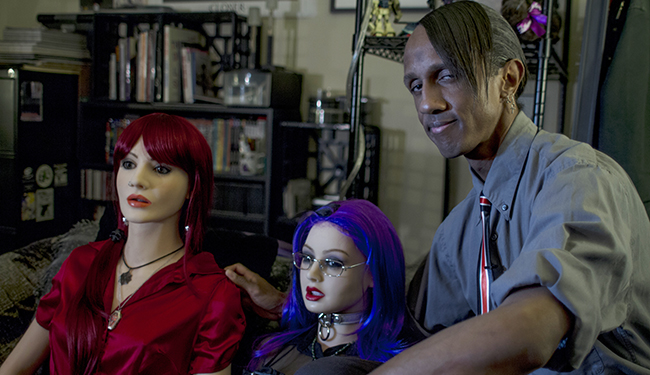 Davecat met his future wife, Sidore Kuroneko at a goth club in 2000, so the story goes. The less romantic but perhaps more true version is that he saved up for a year and a half to buy her online. She cost about $6,000.
Sidore is a RealDoll, manufactured by Abyss Creations in the shape of a human woman. She is covered in artificial skin made of silicone, so she's soft. These high-end, anatomically correct—even equipped with fake tongues—love dolls (or capital-D Dolls) are ostensibly made for sex. But 40-year-old Davecat (a nickname acquired from videogames that he now prefers to go by) and others who call themselves iDollators see their dolls as life partners, not sex toys. Davecat and Sidore (or, as he sometimes calls her, Shi-chan) obviously aren't legally married, but they do have matching wedding bands that say "Synthetik [sic] love lasts forever," and he says they're considering some sort of ceremony for their 15th anniversary.
Davecat considers himself an activist for synthetic love, and the rights of synthetic humans, such as Shi-chan. He's active online, with an iDollator blog, "Shouting to hear the echoes," that he updates regularly, and has appeared on TLC's show My Strange Addiction, as well as in a BBC documentary called Guys and Dolls.
According to the backstory of Davecat's relationships, his Doll mistress (and Sidore's girlfriend), Elena Vostrikova, saw Davecat and Sidore in Guys and Dolls and moved from Russia to be with them. Davecat purchased Elena, or Lenka, in 2012, and the three of them now share a one-bedroom apartment in southeastern Michigan.
I spoke with Davecat over email about the ups and downs of synthetic relationships.
When and why did you purchase your first Doll? Were you thinking of companionship at the time, or was it just for sex?
I bought Shi-chan back in 2000. Admittedly, my reasons for purchasing her were 70 percent sex, 30 percent companionship. I've always been attracted to artificial women such as mannequins, and especially Gynoids, which are robots made in the likeness of human females. In late 1998 one of my best friends, showed me the RealDoll website, as she knew I was keen on artificial women. I thought they were gorgeous creations, and having one would not only dispel loneliness, but be excellent for sex as well. And I was right!
When did you start feeling like Sidore was not just a sex toy but someone/something you were in a relationship with?
It actually didn't take me too long to regard Shi-chan as a synthetic person, and not simply a thing; it occurred pretty much when I opened her crate for the first time. I was immediately stunned by her lifelike beauty, and after I mentally collected myself, extracted her from her crate, and sat her down on the couch, I just held her in my arms for a while. It felt so right and natural, if you'll pardon the pun. It seemed perfectly normal for me to treat something that resembles an organic woman the same way I'd treat an actual organic woman.
Part of the (sexual) appeal of synthetics is how much they look like their organic counterparts. If you have a robot shaped like a refrigerator, that won't have as much draw as a robot in the shape of a human; people will be more willing to interact with the human-shaped one. Further still, if that humanoid robot has artificial skin and sounds like a human, most people dealing with it are more than likely to even have a moment where they forget it's a robot. With Sidore, her draw was instantaneous. There was never a moment when Shi-chan—or any Doll, for that matter—was merely an object to me.
Have you always been interested in dolls, and if so, was it always in a sexual way?
I've always been fascinated by the idea of artificial people, specifically artificial women. Before I knew Dolls existed, I'd long identified as being a technosexual, even before I knew there was a word for it. A technosexual is someone who is attracted to robots. Like any subculture, there's many shades within the term. Some technosexuals prefer their organic partners to dress as robots; others are attracted to robots who don't necessarily have a humanoid appearance, such as R2-D2. My preference is for humanoid robots that are covered in artificial flesh, so they look organic upon first glance; both Geminoid-F and the Actroid series of Gynoids by Hiroshi Ishiguro are excellent examples.
Obviously, I'm sexually attracted to synthetic humans, such as Gynoids and Dolls, but the much larger part of their appeal is that they're humans, but they don't possess any of the unpleasant qualities that organic, flesh and blood humans have. A synthetic will never lie to you, cheat on you, criticize you, or be otherwise disagreeable. It's rare enough to find organics who don't have something going on with them, and being able to make a partner of one is rarer still.
In your episode of My Strange Addiction, you talk about how you're perfectly aware she's a doll, and you're not trying to pretend she's a person. Yet you consider yourself married to Sidore, a marriage/relationship being something that is inherently two-sided. How do you reconcile those two things in your head at once?