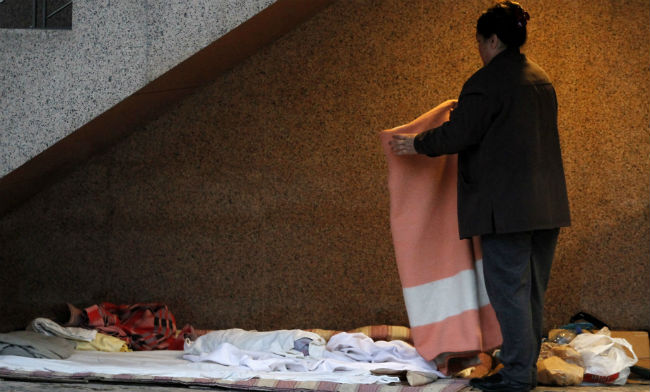 For five years, Alicia O. built a life beneath the rumble of traffic on the Francis Scott Key Bridge, unseen by the window shoppers strolling along M Street in Georgetown.
The Puerto Rico native pitched a tent by the river alongside a cluster of other homeless people whom she would come to regard as a sort of family. They bathed in the river, took turns safeguarding their camp and visited a nearby church to fill their bellies with canned food.
"We were kicking it old school," said Alicia, who asked that her last name not be used to protect her family. "We stuck with each other. We shared."
Still, she was often cold and sick, coughing up blood, struggling with alcoholism, respiratory infections and then-undiagnosed schizophrenia. The doctors at Georgetown University Hospital's emergency room knew the 55-year-old well – both for her friendly disposition and her numerous visits.
Two years ago, a local affiliate of Pathways to Housing stepped in and helped her get a one-bedroom apartment, along with regular medical care and other services. The New York City-based nonprofit uses a model called Housing First that works to get a roof over people's heads while social workers and others identify the underlying causes of their homelessness, often mental illness and substance abuse.
Alicia's changed circumstances had been a point of pride before she died August 19 after suffering what doctors say was a pulmonary embolism and cardiac arrest. During her last hours, Alan Pickett, her nurse through Pathways, said she was still in good spirits and able to see her three children, whom he called when she was admitted to the hospital.
Pickett said the years Alicia spent on the streets took a toll, with each visit to the emergency room having the effect of a "marathon on her body." While a more stable life wasn't a cure-all for her, she attained "a level of dignity – Alicia died with her family at her bedside, not under a bridge in Georgetown," he said.
Cost Effective Model
Proponents of the Housing First approach, which has been replicated in 40 cities nationwide, say that investing in high risk patients like Alicia can also save taxpayers millions. Funded by government grants and charitable donations, the programs can curb the high health care costs that the more than 630,000 homeless people in the U.S. incur through repeat ER visits, hospital stays and preventable, recurring illnesses.
Without health care and shelter, a homeless person in the U.S. is twice as likely to land in the ER as someone with a stable living situation, and to stay there longer, according to a study by the Denver Health Medical Center.
Using the Housing First model developed by New York University psychiatrist Sam Tsemberis, which combines housing with wraparound services like health care, those numbers dropped significantly. A 2009 Journal of the American Medical Association study of a Seattle-based Housing First program determined that the average monthly health and criminal justice costs of a homeless person dropped from $4,066 to $1,492 after six months of housing. Similar results were documented in San Francisco and Philadelphia. The programs also reduced ER visits by 58 percent, according to a national study by the Corporation For Supportive Housing.
"Good services and health care is cost effective and humane – there is no doubt about it," said Steven Baron, director of the district's Department of Mental Health.
He said the agency has access to about 800 housing vouchers specifically for those with mental illness. To be effective, the housing has to go hand-in-hand with a health care program, which helps tenants stay in their homes, he said.
On the Ground
Baron said the power of programs like Pathways lies in their team approach, which brings together nurses, psychiatrists, counselors and other specialists to identify and treat the severely mentally ill, who make up at least 25 percent of the homeless population.
Alicia, who became homeless after struggling with alcoholism and schizophrenia, said she was approached by Pathways outreach workers when they came by her spot under the bridge to introduce themselves and distribute food. As she built trust with a woman from one of the teams, she learned about possibly finding a home.