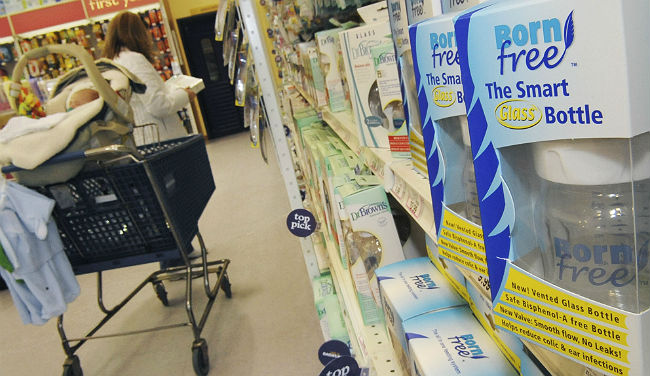 For years, the debate over restricting the stew of industrial chemicals that we live in has suffered from a case of he said, she said.
Environmental groups sounded the alarm about the thousands of chemicals in our air, water, food, housewares, and shampoo that science suggests — but doesn't outright prove — could make us sick. They warned about such commonly used substances as BPA (in cans and plastics), fire retardants (in furniture), and phthalates (in cosmetics). Chemical industry representatives countered that there is no clear evidence that their products are unsafe, and tighter regulation would squash innovation.
But now it's about pregnant moms and unborn babies.
For the first time ever, the American Congress of Obstetricians and Gynecologists (ACOG) this week came out with a strong statement about the risks of environmental toxins to pregnant women and fetuses. Also for the first time, the group is going so far as to urge individual doctors to advocate for policy changes to protect women and babies from exposure.
"The scientific evidence over the last 15 years shows that exposure to toxic environmental agents before conception and during pregnancy can have significant and long-lasting effects on reproductive health," wrote ACOG. Another group of reproduction specialists, the American Society for Reproductive Medicine, co-authored the opinion.
The medical groups cite what they term "sufficiently robust" research showing associations between chemicals in our everyday environments and awful outcomes such as miscarriage, stillbirth, premature birth, childhood cancers, birth defects, and cognitive impairment in children. And they thus add their voices to those of other medical groups, including the American Academy of Pediatrics and the Endocrine Society, that have publicly called for stronger regulation.
The chemical industry, naturally, disagrees. The American Chemistry Council's chief medical officer, Jayne Morgan, said in a statement that ACOG's evidence on certain chemicals, such as BPA, is based on "a limited number of flawed studies."
It's true that there is no definitive evidence that certain chemicals among the 84,000 on record in the U.S. directly cause illness. ACOG's president, Jeanne Conry, is clear about that. "We don't have cause and effect," she says. "But we have enough associations to make us concerned."
Part of the challenge is that it's ethically problematic to do the most rigorous studies, randomized controlled trials, for environmental health. You couldn't, say, deliberately expose Cleveland, but not Columbus, to an air pollutant for 10 years and then compare how the two populations fare. You can observe correlations between naturally occurring chemical exposures and human health, but these can take decades to become clear — by which time the harm may already be done. So, say the doctors groups, you have to rely on animal studies and other research in the lab.
The central question is how much evidence is enough when it comes to protecting our health. Science is always messy. It's rarely possible to say that any given conclusion is unequivocally, 100 percent certain. So at what point on that murky spectrum do we decide to act? And, critically, who has the burden of proof?