Neil Gaiman is the first author we read on our Twitter book club
@1book140
. That was back in 2010, when reading groups such as ours were still fledgling experiments in meaningful literary community on the Internet. This month, we're returning to Gaiman with 
The Ocean at the End of the Lane.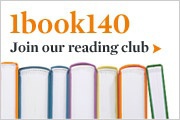 When a seven-year-old boy and his father discover that their stolen car has been used for a suicide next to a local pond, the boy cannot fathom that the pond might be an ocean, or that the powerful and mysterious women who live nearby might be, well, more than they seem. Narrated by the boy grown up, Gaiman's novel is suffused with longing for a childhood home, which is viewed through the sepia lenses of middle age.
Reviewers have been enthralled by how the terror and wonder of childhood unfold in Gaiman's writing. In
The Guardian
A.S. Byatt writes that the novel is propelled by the "the realisation that 
parents are not necessarily strong or understanding
." On NPR Annalee Newitz notes the absence of reasons for adult kindness in the novel: "None of us even really knows whether the people we became as adults are worth the love and protection given to us when we were too young to repay it in kind. And 
we have to grow old and die without ever knowing the answer
."
In the four years since 
Neil participated in a Twitter Q&A
 and 
blogged about our group
, the social web of books has grown dramatically. Twitter has its own 
books channel
 (recently re-invigorated), and Tumblr and many other publications now host book conversations online. I'm excited to reopen Gaiman's writing together once more—it's a bit like going home.
Reading Schedule for The Ocean at the End of The Lane
Out of tradition, I'm sharing a weekly discussion schedule, with the added note that this novel is best savored in long reading sessions. 
To participate, follow us at 
@1book140
 and tweet to 
join the conversation
 so we know that you're reading along. To avoid spoilers, we spread the conversation across several hashtags. Click on each hashtag to see the conversation at that point in the book: