"I am writing my life to laugh at myself, and I am succeeding."
I like the word "succeeding," here, because it suggests a new maturity in Casanova. You might think he'd have a worldly definition of success—he was obsessed with status in a status-obsessed time. He was from a humble background, an actor's child, and for most of his life he badly wanted to be viewed on equal footing with the nobility and the ruling class. To me, this line shows he actually grew as person—in a way that the memoirs don't, quite. It shows that, by the end, he could finally laugh at his gambling and his social striving and his endless affairs. Something about this line deepens the whole project for me.
I also think this line contains crucial insight about the process of writing one's own life. Writing memoir, after all, is usually a decision to engage with the most painful, fraught, or embarrassing portions of your experience. Memoirs, like most narratives, are about conflict and drama and pain. When life is good—or even more than good, when life makes sense—I really don't feel any desire to write about it. Only when life becomes painful, when I'm suffering, do I feel like I've got the material to work on the page.
But just writing down one's troubles isn't enough. You have to bring new perspective and insight to your suffering. For me, there's a sure sign I'll be able to muster the maturity to it takes to make art out of my life: When I'm finally able to laugh at a younger version of myself.
The things we can't laugh about are the things we haven't grown out of yet. Not laughing is, in some ways, a failure to grow beyond things that are still too close, too present, too hurtful. Laughter is a release from all that. It shows we've moved on. I don't think I'm ever ready to write about an experience or period of my life until I have distance from it—the kind of distance laughter signifies.
I've kept a journal on and off for the last 25 years—since my early 20s—and when I look at that stuff, it's agonizing. I have this churlish, aggrieved tone that would be totally unsuited to any piece of published writing. This writing is useful for remembering what happened when, and in what order, but I can't use any of the writing itself. I hadn't digested those experiences yet, or they mattered too much to me then.
An excerpt from my journal, written when I was 18:
I will never be quite the same after Venice because it has shown me that man can create true beauty and that I believe is Man's purpose.
On its own, this is so pretentious and self-important. Horrible! I cringe to think of writing these words—a sign that my perceptions, thank god, have deepened since then. Had I written these words just last year, I might want to burn them or hide them in a drawer. But because I have enough distance from who I was when I was 18, I don't have to feel ashamed of what I did or said or wrote. I can laugh.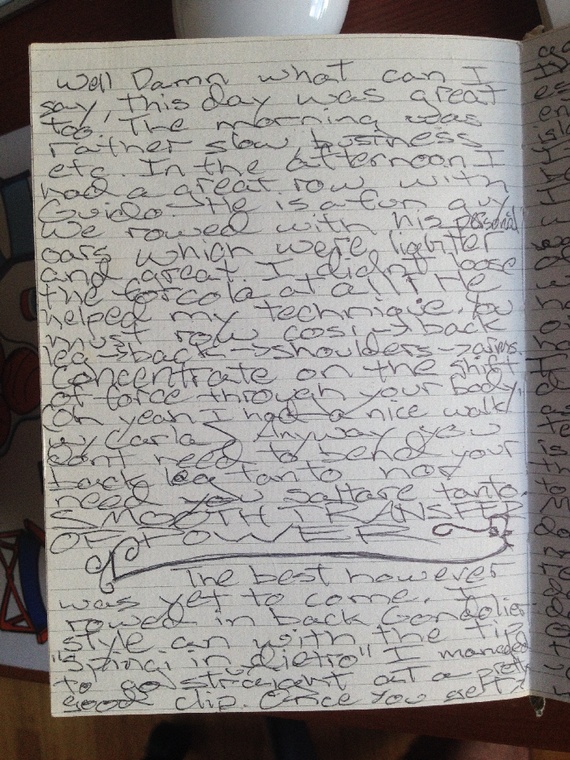 That's beautiful thing: As life goes on, everything that once seemed important eventually doesn't seem that way anymore. The things that felt so serious, so crucial and agonizing, lose urgency with time; what's left is the comedy of it. Not that laughter takes away the seriousness of one's original experiences, of course. Important or troubling experiences stay with us—but, with time, they begin to contain humor within them, too. I think there's something dishonest about writing that isn't funny. I can't engage with a piece of work without an element of humor to it. Laughter and levity are important aspects of human life, even at its darkest, and writing that lacks those qualities denies the full richness of experience.
Besides, there's nothing funnier than looking back on a poor, pitiful version of yourself. There's a section in the book—a little bit of it was in the New Yorker last year—about being an apprentice gondolier. As part of this section, I had an extended episode where I stowed away on the Mayor of Venice's private boat. I interviewed him, and had a crazy conversation that I recorded the whole thing. This mayor was a slippery individual. He's currently under house arrest for embezzlement. It was clear how crooked he was when I interviewed him, and it was a tense and strange conversation. And I could not listen to the tape. I just couldn't listen to it for a long time, when I did it was just pure agony. But, ultimately, I realized that the whole exchange was hilarious.
As a memoirist, you have to be willing to see yourself as a little bit absurd. And it's much easier to see yourself 20 years ago as absurd. With stuff that's well in the past, it's as though you become one of your characters. I'm far enough away from "Sean Wilsey" in the memoirs that I see him sort of as a journalistic subject—yet one I have deep, insider knowledge of, because I used to be him. Still, I feel very little as though he's still me. (And that's a relief.)