By Heart is a series in which authors share and discuss their all-time favorite passages in literature. See entries from Claire Messud, Jonathan Franzen, Amy Tan, Khaled Hosseini, and more.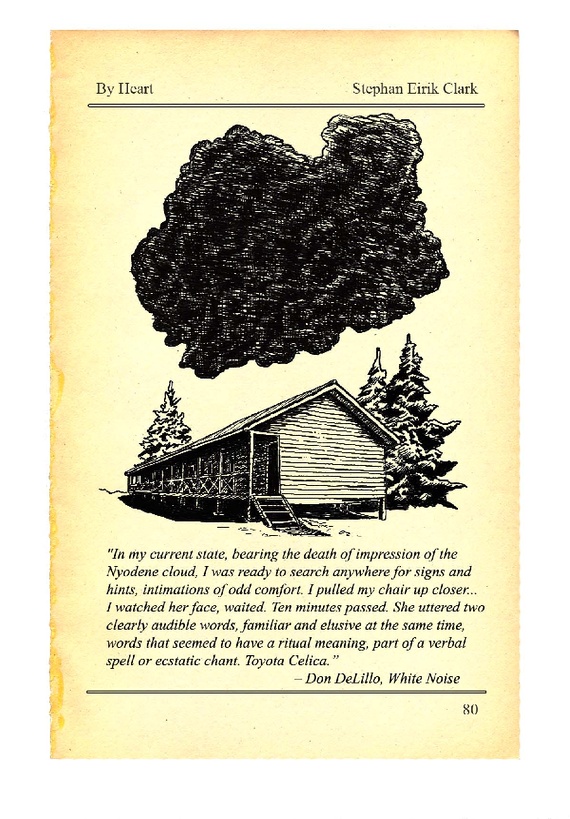 Don DeLillo's White Noise works a potent magic on author Stephan Eirik Clark: After re-reading that book's billowing first paragraphs, he sat down and began typing the first words of his own first novel, Sweetness #9. As he explains in an essay for this series, Clark loves DeLillo for the way he imbues American culture with a nearly religious significance, unpacking its intricacies like a theologian. He discussed why, more than any other book a shelf of cherished classics, DeLillo makes him want to sit down and write.
Sweetness #9, inspired in part by Eric Schlosser's Fast Food Nation, is narrated in the confessional style of a memoir by David Leveraux, a flavor scientist. "If given the choice, I would have lived a life of quiet domesticity," he tells us. "What happened? you say. One thing: Sweetness #9." Responsible for testing a new artificial sweetener's potential for long-term toxicity, he spends his days dosing Sprague-Dawley lab rats and measuring their behavioral changes—which turn out to be extreme. That's unfortunate, because the narrator has included two human participants in his experiment: himself, and his unwitting wife.
Clark recently made headlines when his book was mentioned on The Colbert Report. As the battle rages between Amazon and Stephen Colbert's publisher, Hachette, the comedian has resorted to his own guerrilla tactics—plugging debut Hachette authors on his show, and giving them the greatly-coveted "Colbert Bump." Last week, Clark's became the second debut to receive this high-profile treatment.
Stephan Eirik Clarks is also author of a story collection, Vladimir's Mustache. He teaches English at Augsburg College in Minneapolis.
---
Stephan Eirik Clark: If I were to run a speakeasy or an underground revolutionary movement—something in need of a secret code phrase, a few words you could whisper to show you were a Fellow Traveler—I might opt for: "The station wagons arrived at noon, a long shining line that coursed through the west campus."
If you don't recognize this line, I'm sure you haven't read White Noise, which was introduced to me while I was an undergraduate at the University of Southern California. I don't remember my class making much sense of Don DeLillo's breakout novel (perhaps because my memory is not great and my powers as a student were no better), but I do know I soon had that paperback copy, the one with the stark black and white cover, so filled with underlined passages and stars and notations in the margins that you would have thought it were a Holy Text, one in which all of my ontological questions and revelations could be seen in the scribbles of a ballpoint pen.
At some point, maybe ten years on, I upgraded to the Viking Critical Library edition, which included both the text of the novel and a good amount related literary criticism. I had read much of DeLillo's writing by then, but it was likely through this edition of White Noise that I first understood why the book was so significant to me. As the scholar Mark Osteen points out in his introduction to the novel, White Noise is a deeply religious work. "Like DeLillo's later novel, Mao II (1991), it asks, 'When the old God leaves the world, what happens to all the unexpended faith?'"
Since childhood, I had been Christ-haunted in a way, though not because I was brought up in a strictly devout and church-going family. My mother is Norwegian, and she raised me in the Seaman's Church, an overseas offshoot of the Church of Norway.
A couple of times each year we would attend a service in San Francisco, and though parts of it would be in English, the material that aimed to sooth the soul, the readings and the Biblical exegesis, was always spoken in Norwegian.
I do not now nor have I ever spoken Norwegian; it washes over me like the incantations of a Latin mass; and so what I felt in the pews of that church, if not then, when I sat there in corporeal form, then later, in retrospect, while I thought back on this—it was the same "feeling of desperate piety" that Jack Gladney, DeLillo's professor of Hitler studies, feels while looking at his sleeping children on the night of the Airborne Toxic Event.
Just as he sees in the "soft warm faces" of his children "a quality of trust so absolute and pure" that he doesn't want to believe it misplaced, I imagined, in the calm, beatific faces of the Norwegian-speaking congregants around me, a faith and a solidity of being that I had always desired.
But what was the pastor saying to them that I couldn't understand? What secrets of the universe were being revealed to the others but not to me?
I was no better off than Jack Gladney as he watched his family sleep on that night the toxic cloud forced them to evacuate their home and take refuge in an emergency shelter. "Steffie turned slightly, then muttered something in her sleep," Gladney observes.
It seemed important that I know what it was. In my current state, bearing the death of impression of the Nyodene cloud, I was ready to search anywhere for signs and hints, intimations of odd comfort. I pulled my chair up closer ... Moments later she spoke again. Distinct syllables this time, not some dreamy murmur—but a language not quite of this world. I struggled to understand. I was convinced she was saying something, fitting together units of stable meaning. I watched her face, waited. Ten minutes passed. She uttered two clearly audible words, familiar and elusive at the same time, words that seemed to have a ritual meaning, part of a verbal spell or ecstatic chant.

Toyota Celica.
This is what Jack Gladney is left with, Toyota Celica, the detritus of American consumer culture, and it was no different for me as result of a second experience in the Norwegian Seaman's Church.