By Heart is a series in which authors share and discuss their all-time favorite passages in literature. See entries from Claire Messud, Jonathan Franzen, Amy Tan, Khaled Hosseini, and more.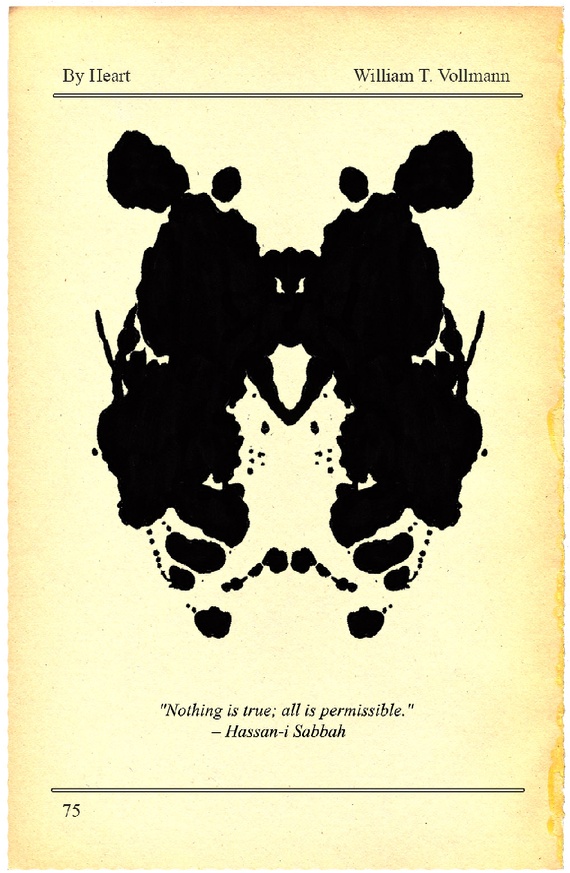 William T. Vollmann surely takes artistic freedom as seriously as any living writer. His books—sometimes to the dismay of his publishers—routinely compare length-wise with the King James Bible and Infinite Jest. His three most recent books include a series of trangender self-portraits, an investigative report on nuclear power in post-Fukushima Japan, and this month, a whopping collection of what he calls "ghost stories." Through it all, he deploys writing styles that range as widely as the broad topics he covers—war, economic inequality, fetishists, prostitution.
Vollmann, in other words, always writes the book he wants to write.
In our interview for this series, Vollmann discussed a short, paradoxical aphorism from the 11th-century cult figure, Hassan-i Shabbah, a mystic and religious leader who retained power using a stable of trained killers. In his unpacking of the maxim's many paradoxical layers, Vollmann explored how freedom—in art, governance, and life—must be protected, and yet must have its limits.
Last Stories and Other Stories is a sprawling, enchanting casket of curiosities. Over 600 pages long, and copiously epigraphed, these stories range from novella-length to just a single paragraph. In their elegant, elegiac meditations on death and the afterlife, we cross broad terrain, including geishas in ancient Japan, vampires in preindustrial Bohemia, and bombings in modern-day Sarajevo.
Vollmann's previous book of fiction, Europe Central (2005), won the National Book Award for Fiction. He spoke to me from his writer's studio in Sacramento, where he lives.
---
William T. Vollmann: Hassan the Assassin, also known as the Old Man of the Mountain, was a legendary figure from 11th and 12th century Persia. He lived in a mountain fortress with a gang of young men he'd hired to be assassins, guys who were prepared to kill and die for him. He'd reward them for their work by drugging them with hashish—the words assassin and hashish actually have the same Arabic root—and they'd wake up in a cave filled with wine and beautiful women. He had brought them to paradise, he'd tell them. If they did his bidding, they would end up there forever.
Hassan the Assassin lived by a proverb that's long been an object of contemplation for me:
Nothing is true; all is permissible.
I haven't followed this line as any kind of guiding principle. These aren't necessarily words to live by. But it's a deeply resonant maxim, one that contains within it many layers of meaning, and there's a great deal to be learned by looking at its two parts and turning them around. As a credo, it can be inspirational—or alarming—on many different levels.
If we apply "nothing is true; all is permissible" in its most immediate, literal meaning, it appears to be a horrible, dangerous idea—though perhaps perfect for an assassin. Saying "Nothing is true" is the same as saying "Everything is true," as far as I'm concerned. Because if nothing is true, don't all claims to truth have equal weight? If all is true, any form of human behavior becomes valid. Who can say it's wrong to kill another person for money—or merely for hashish? All is permissible. You might read these lines as an insistence on the relativity of ethics, and they could even be applied to excuse a kind of moral nihilism.
At the same time, I see a kind of freedom in these words. In my book The Rainbow Stories, I spent time writing about communities in San Francisco where there's a lot of BDSM stuff. The people in that world love to pretend all kinds of fantastic or preposterous or sometimes very frightening-sounding things—but none of it's true, and so all of it's permissible. Viewed one way, the Assassin's maxim could be used to excuse terrible, harmful behavior—but it also could be instructive for role-players, gamers, and others who want to live out their fantasies on their own terms. It's a reminder that the fictional aspect of the fantasy makes it permissible.
In fact, when we're working in solely in the realm of the imagination, the assassin's proverb becomes a very uplifting idea. For me, as an artist, it's been a great help. While I'm working on a book, it's a reminder that I don't have to worry about making a mistake, about writing "poorly," or about taking on a difficult or ambitious project. I try to remain open, reminding myself that all is permissible as I work. Of course, that doesn't let me off the hook later—ultimately, I have to live with any work I publish and make public. But it's a very freeing feeling during the composition process, when I try to keep in mind that nothing is off-limits.
Sometimes, this is very difficult. There have been times when I'm writing about things that are personally embarrassing.  Like any human being, sometimes I can't help but wonder—what are the people I know going to think about this? So I have to remind myself that all is permissible. Art has to be a free space. Language has to be a free space. And I just shouldn't worry about that kind of thing while I'm working. I might pay the consequences later, but that's not my problem while I'm doing the writing.