Project Runway, that fabulous reality show zombie that will keep making it work no matter what it takes, premieres its 13th season tonight. Like most long-running reality shows, it is well past its prime. Though the show's been on an upswing during the last season or two (after the talent level fluctuated wildly during seasons 6-10), it will never again be the zeitgeist-y hit of its moment.
But think back to when it was! It was a time when we could quote "It's a motherf*cking walk-off" at each other like it was from a Will Ferrell movie. When we hated Wendy Pepper's guts, even while bitterly admitting she was right about Kara Saun's free shoes. When we tolerated Christian Siriano's catchphrases because damn it, he was a truly great designer in the making.
Though there were plenty of factors for the show's breakout success—the judges and mentor Tim Gunn; the creative nature of the challenges—a huge part was the fashion being created. There were some crash-and-burns, of course, but there were designs that inspired, that excited, that showed off the contestants' original perspectives. You can think the food on Top Chef looks pretty, but you can't taste it. Watching Runway was like being on the front lines at Fashion Week.
In honor of tonight's season premiere, we decided to take a look back at some of the best outfits in series history. Since there have been well over a thousand looks over the past 12 seasons, we decided to group them by challenge. Which designer took best advantage of unconventional materials? Which looks were most inspired? Which final collection was the best? We've got your answers below.
Best Unconventional Materials Challenge Look
Standard bearer: Austin Scarlett's corn husk dress from season 1 showed viewers that Project Runway would be so much more than a flash in the pan. Something special was happening here.
Other standouts:
Best of the best: The Project Runway judges' major criterion for an unconventional materials challenge tends to be whether it could pass for real fashion. There's no question Sonjia Williams' aquatic-inspired candy dress from season 10 looked like a costume. But she incorporated so many different and difficult-to-manipulate materials—jellybeans, almonds, gummy sharks, rock candy—and still presented a stunning, whimsical, complete vision. Who cares if it looks like a costume? Sonjia lost to fellow contestant Ven Budhu's entry, largely because his looked like a real, if dull, dress, and that's a shame. These challenges should be about creativity, and this dress is pure imagination.
Best Inspiration Challenge Look
Standard bearer: Andrae Gonzalo was known more for his tears than his fashion in season 2. But when he found inspiration in New York City gutter water, he knocked it out of the park.
Other standouts:
Best of the best: Mychael Knight's Pam Grier-inspired look from season 3 was a hot pink hot pant—in other words, a disaster in the making. But Mychael, who cheered for the chance to create a look inspired by "Pam motherf*cking Grier," was up to the challenge. Mychael had the perfect mix of an understanding of the woman he's designing for and an ability to turn the volume knob up without going overboard. Nothing in his portfolio demonstrates that better than this look—still the hottest design ever featured on Project Runway. (His model, the sensational Nazri Segaro, certainly didn't hurt, either.)
Best Sponsored Challenge Look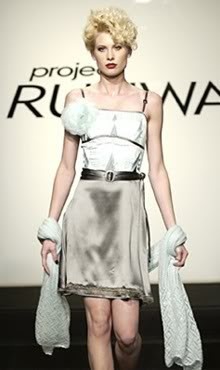 Standard bearer: The best entries in the sponsored challenges are both incredible in their own right and keep the client in mind. Nick Verreos' colorful, stimulating Barbie challenge dress in season 2 fits both those criteria to a T.
Other standouts:
Best of the best: Jay McCarroll's Chrysler Building dress from season 1. It's not even close, honestly. The Chrysler Building dress is iconic in the same way Austin's corn husk dress is, perhaps even more so. Jay was always a talented designer, and his skill took him all the way to the winner's circle, but this was the first sign that he had something truly special in him. The look was created for a Banana Republic challenge—and, unfortunately, the level of detail in the dress prevented it from winning, since the winner would be mass-produced and sold by the chain—but it's an exquisite melding of client need and personal design philosophy. It's a standard bearer not just for this kind of challenge, but for the series as a whole.
Best Celebrity Client Challenge Look
Standard bearer: Kit Pistol's look for Tiki Barber in season 4 fit the client's need, with fabrics that would look good on TV, and managed to actually look like sellable menswear (an issue for most of the designers, who seemed to have never heard of menswear).
Other standouts: There aren't many! These challenges tend to trip up even expert hands (see: season 1's Nancy O'Dell Grammy Awards dress challenge).
Best of the best: Getting to design a dress for a Marie Claire billboard in Times Square is a dream. Getting to design for supermodel Coco Rocha is also a dream. So it's only fitting that Mondo Guerra's season 8 entry was pretty goddamn dreamy. Mondo described it as Mary Tyler Moore-inspired, and that's clear from head-to-toe in the final look. This lost to Gretchen Jones's jumpsuit—a sad foreshadowing of that year's finale—but it was our first taste of the crazy cute aesthetic that defines Mondo's work.