All images courtesy of Perez Art Museum Miami, taken by Oriol Tarrides
In 1974, Marvin and Ruth Sackner began gathering works of "concrete poetry," poems whose words and typography are arranged to convey meaning graphically. But they didn't know the genre was called "concrete poetry" until 1979. Coming across Emmett Williams's Anthology of Concrete Poetry in a book store "was a Eureka moment," says Marvin, a neurologist by trade. "I exclaimed to Ruth, 'What we've been collecting has a name!'"
In the years since, they would help give a once-languishing art movement a home at the Sackner Archive of Concrete and Visual Poetry in Miami, an enormous and unparalleled collection of 250,000 works—housed not in a museum, but in a massive duplex overlooking the bay. Now, 300 choice pieces of theirs sit on display at the brand-new Pérez Art Museum Miami (PAMM), whose concrete-poetry exhibit, "A Human Document," was set to come down in May but has been extended and remains on view until August 2014.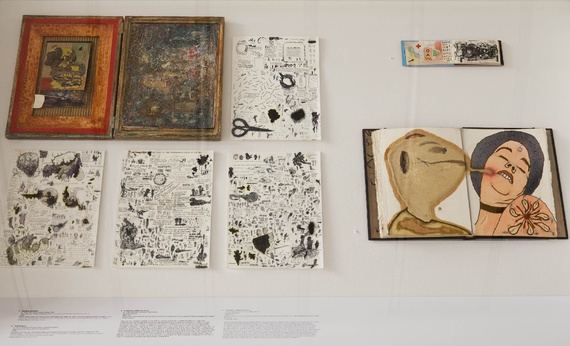 The Sackners have built two other major art collections in the past 30 years. The first was of contemporary constructivist works. The second was of Russian avant garde and early 20th century avant garde movements (books, drawings, and paintings informed by dada, futurism, surrealism and the like). But it was the concrete and visual poetry collection—which includes artist books, assemblings, artist magazines, experimental calligraphy, typewriter art and poetry, and word-image works—that would become the Sackners' signature achievement.
That fact is due as much to circumstance as anything. As collectors, the Sackners could never afford to establish the early 20th-century avant garde art and book collection. But focusing on concrete poetry and letter arts was a different matter. "The prices were within our means, and we related to the facile immediacy of the visual and linguistic communicability of concrete poetry," Marvin says. "We gradually came to realize that it was possible to build the collection of concrete and visual poetry."
They certainly accomplished their mission, with hundreds of rarities, one-of-a-kinds, and limited-edition documentation. The earliest book in the Sackner collection is Rabanus Maurus's 1503 Liber de Laudibus Sanctae Crucis, produced in 1,000 copies and including 28 shaped poems. The collection continues to the present with the most recent book of experimental calligraphy by Francoise Mery dated April 2014.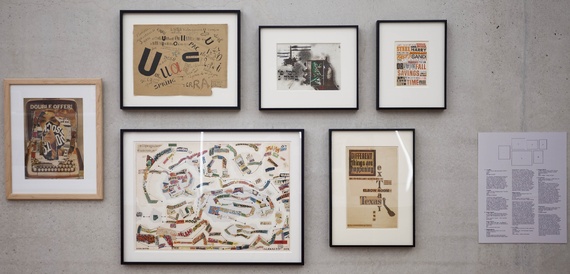 The Sackners' database encompasses more than 58,000 records with approximately 17,000 partially or not catalogued. The number of individual pieces is about 250,000. This is because artist books, print portfolios, and assemblings are recorded as one entry in the database although they may contain multiple prints and drawings.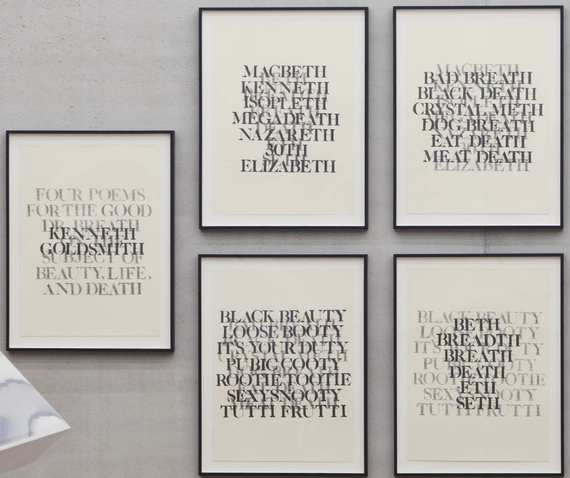 "A Human Document" at the Perez Art Museum begins with Mallarme's first publication of Un Coup de Des in Cosmopolis (1897) and then provides examples of Dada, Russian avant garde, De Stijl, surrealism, futurism, lettrisme until World War II. Artist books and magazines, manuscripts, concrete and visual poems, correspondence art, typewriter poems and art are displayed in vitrines. Post-WWII word-image wall works are displayed from artists and poets worldwide.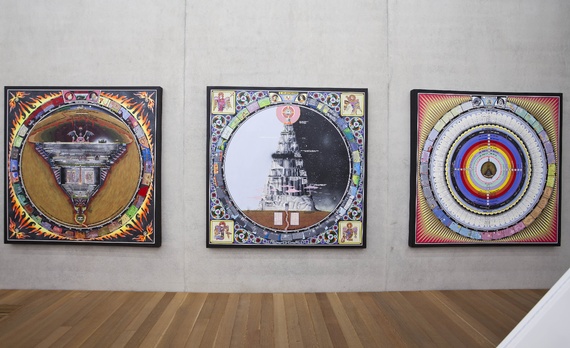 Of all the materials, typewriter art and poetry is the most fascinating. The genre "began about 20 years after the commercial introduction of the typewriter and reached its flowering with the advent of concrete poetry in the 1950s and early 1960s," Marvin explained, adding that this method allowed an inexpensive but often very labor-intensive solution for widespread distribution of a new poetic form. "Moreover, the ease of overstriking letters and text for new visual and kinetic effects would have been costly and difficult if the poems were typeset during that time."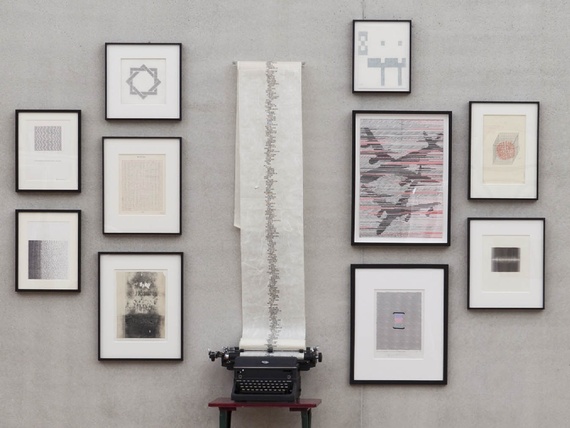 Asked about the Sackners's three most valued art and artists, Marvin said the first two choices were easy: "Tom Phillips's original book A Humument and the pages of its revisions is the most important work in our collection, and we consider it the greatest and most innovative artist book of the 20th century. The most interesting person in the collection is Dom Sylvester Houédard, a Benedictine Monk who was one of the outstanding typewriter artists and poets of all time in addition to being a foremost critic of concrete poetry, an artist, translator, social activist, and fantastic correspondent."