Listen to: "Goodbye Summer"
Sophie
London
The sound: Ultra-inventive dance music that almost feels like a high-concept joke. The instantly catchy vocals sound like they're treated by helium; the rhythms wobble, clack, and groan—it's avant garde Aqua.
Key SXSW moment: In the middle of a high-energy, playful set for the Warp/Numbers showcase at Empire Garage Wednesday night, Sophie (a mysterious producer revealed at SXSW to be a skinny white guy with an asymmetrical shock of wavy red hair) started barraging the room with atonal bass drones that shook the auto shop's rafters. The crowd responded to the abuse with cheers.
Listen to: "Bipp"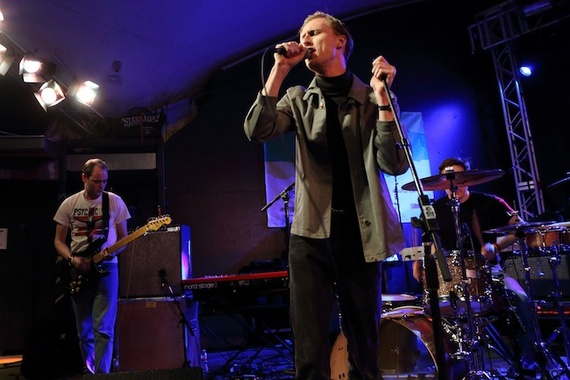 Eagulls
Leeds, UK
The sound: Shouty, galloping post-punk from the nation that does it the best.
Key SXSW moment: At 12:30 of the first afternoon of the music festival, the band offered a triple-guitar wakeup call for attendees of Spin's House of Vans party at Mohawk, who were soon "oy!"-ing back at vocalist George Mitchell.
Listen to: "Possessed"
Conner Youngblood
Dallas
The sound: Apocalyptic folk soundscapes ruled over by Youngblood's aching, studio-treated whispers. Think Bon Iver, but darker.
Key SXSW moment: Youngblood performed by himself inside Mohawk for ATC's Friday night showcase, but this was no campfire strumalong: Using loop pedals, he built a complicated, full-band sound with ukulele, brass instruments, drum patterns, and his own ethereal voice. 
Listen to: "The Warpath"
Obey City
Brooklyn, New York
The sound: Hip-hop-inflected electronic music that feels strikingly organic: the percussion lands as if played by a drummer in your living room, and the songs share M83's penchant for melding the synthetic with the emotional.
Key SXSW moment: At Empire Garage on Wednesday night, guest singer/rapper Anthony Flammia played hype man, keeping Sam Obey's alien-sounding arrangements firmly relatable to the humans in the audience.
Listen to: "Fallin'"
Tink
Calumet City, Illinois 
The Sound: Gritty hip-hop from a Chicagoan who can sing, rap and write with an emotional authority that goes far beyond her 18 years.
Key SXSW moment: The crowd at Red Bull's Sound Select showcase wasn't exactly asking for a slow jam, but despite their indifference Tink took a break from hard rapping to prove she has seriously silky pipes. 
Listen to: "When I'm Lit"
Kelela
Los Angeles
The sound: Adventurous, confrontational beats backing a newbie R&B singer with seeming decades of confidence.
Key SXSW moment: Wearing fetching white pajamas outside at Mohawk on Wednesday for Spin's day party, Kelela put on a thumping, magnetic performance despite environmental obstacles: "It's kind of windy. I'm also high as fuck."
Listen to: "Enemy"
Beautiful Bodies
Kansas City, Missouri 
The sound: Bouncy, cavernous, and sometimes frantic power-pop anthems.
Key SXSW Moment: In front of a capacity crowd at their Soho House showcase, guitarist Thomas Becker, late of The Get Up Kids and Gratitude, spent half the set playing somewhere other than the stage—surfing the crowd, running on top of the bar, or hanging upside-down from a security barrier.
Listen to: "Invincible"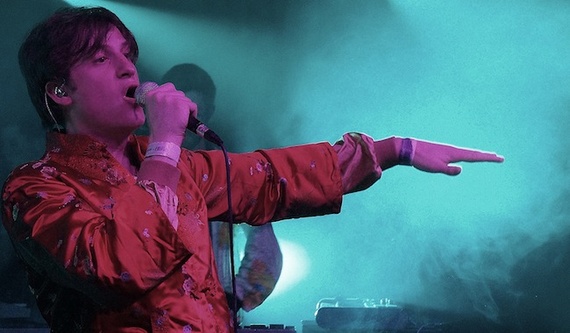 Great Good Fine Ok
Brooklyn, New York
The Sound: Synth pop recalling early Prince with deliciously fluffy falsetto vocals and just enough garage guitar to keep from being sappy. 
Key SXSW moment: Towards the end of their gig at Neon Gold's Saturday night showcase at Empire Garage, the lead singer dropped his red kimono to reveal a shiny gold-pained jacket and jeans. His bandmate doubled down on the glam vibes with a keytar solo. 
Listen to: "You're The One For Me"
Black Dave
New York City
The sound: Throwback to early Rick Rubin-produced East Coast hip hop—geographically obsessed, profane, and perfect for backyard barbecues.
Key SXSW moment: Early in the day Saturday, he fit a crew of nine onto Mohawk's small indoor stage and then led the sparse crowd in a raucous, jump-along refrain: "Fuck everybody, fuck everybody, fuck everybody!"
Listen to: "On Da Map"
Phox
Baraboo, Wisconsin
The sound: A big instrumental ensemble (banjos! trumpets!) capable of anything (spindly folk! surging rock! twinkling twee!) and fronted by a singer so charming she should run for office.
Key SXSW moment: Warming up the crowd early in the evening for Friday's ATP showcase outdoors at Mohawk, Monica Martin embellished up her group's dynamic set with winning self deprecation: "We're Phox, spelled P-H-O-X because we're zany."
Listen to: "Slow Motion"