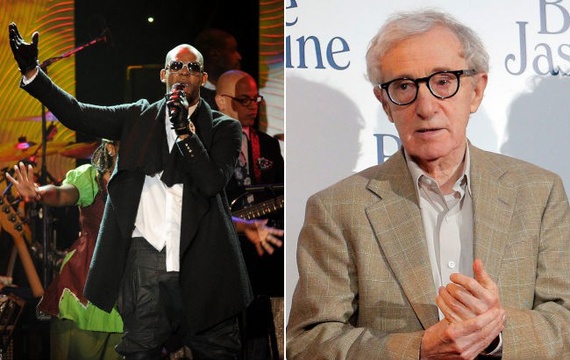 Although he wasn't nominated, R. Kelly remained a big presence at this year's Grammy Awards, even performing a bizarre tribute to Nelson Mandela at music industry heavyweight Clive Davis's pre-show gala. Kelly seemed untouched by a damning exposé the month before in the Village Voice about his two-decade history of sexually abusing underage adolescent girls.
The article highlighted Chicago Sun-Times coverage spanning nearly 15 years: multiple graphic sex tapes showing Kelly with underage girls, civil suits and a criminal trial, as well as public statements from former confidantes detailing his obsession with young girls. The report included the Illinois marriage certificate proving Kelly married singer Aaliyah in August 1994 when he was 27 and she was just 15 with the help of a falsified birth certificate putting her age at 18.
The aplomb with which Kelly was received recalled the Golden Globes' celebration of Woody Allen two weeks before. Actress Diane Keaton accepted a lifetime achievement award on the director's behalf, heedless of recent Vanity Fair articles adding further detail to long-standing allegations that Allen repeatedly molested his seven-year-old daughter with actress Mia Farrow.
Kelly and Allen have successfully relied on two different versions of the same celebrity strategy to escape the possibility of criminal consequences: legalized witness tampering. Our federal witness-tampering statute applies to anyone who "corruptly persuades" a witness to influence or deter communications and testimony. But the line between acceptable and "corrupt" persuasion becomes very fine when the accused is a celebrity.
Civil settlements are meant to enable parties to resolve civil lawsuits more efficiently. Instead, R. Kelly uses them to preempt or derail not only civil but criminal suits. Each time Kelly has been publicly accused of sexually assaulting an underage girl, the singer has issued emphatic denials chased by speedy out-of-court settlements with alleged victims and perhaps even witnesses to bar them from cooperating with criminal prosecution.
In a settlement with Aaliyah just a few months after their unlawful marriage, concomitant with its nullification, Kelly extracted a pledge that she would never discuss their relationship or any related "emotional distress." The singer has now settled with at least four other women who accused him of sexually abusing them from early adolescence.
The singer did face criminal charges in 2002, but prosecutors were at a major disadvantage: Even though they had a tape of Kelly sexually assaulting an underage girl, she refused to testify, possibly because of a private agreement or settlement—or possibly to simply to avoid crossing him and facing further public scrutiny. The case didn't go to trial until 2008. Although the girl's family and friends testified to identify the girl and establish her age when the tape was made, the jury acquitted Kelly. Five jurors went on record citing "the absence of testimony from the alleged victim" as a "big handicap."
Kelly is hardly the first celebrity or even the first singer to legally buy his way out of an underage sex scandal. Michael Jackson led the way by settling out of court with a teenager and his parents for $15.3 million in 1993 to secure their silence four months after they filed a civil suit alleging sexual battery. Despite a costly 14-month investigation and more than 400 witness interviews, prosecutors were unable to proceed without the alleged victim's testimony.