Daniel Maurer/AP
In 2001, Alan Webb was a senior at South Lakes High School in Reston, Virginia. He was also a distance runner who'd been winning races and breaking records since his freshman year. On May 27th, at a track meet in Oregon, Webb ran a mile in three minutes and 53.43 seconds. 
He had broken four minutes in the mile before, clocking a 3:59.86 indoors on January 20, 2001, at the New York City Armory. The sub-4-minute mile is a hallowed mark that, to this date, separates the pros from the amateurs in middle-distance running. Only five high-school runners have ever done it: Jim Ryun was the first, in 1964, and he eventually set the high-school mile record at 3:55.3. No scholastic athlete could best that, until Webb came along. 3:53 is now the fastest mile an American high-school athlete has ever run. 
For the past 13 years, Webb has been through the ups and downs of sustaining a running career—different coaches, different distances, different surgeries, different training groups—and fans (and his sponsors at Nike) have gone with him. He holds the American record for the mile (3:46.91), and no one has broken his high-school record yet. Even when he disappoints, fans remember that this is the guy who broke Jim Ryun's record, this is the guy who brought back the mile! We've always credited him, basically, with breathing some fire into American track and field.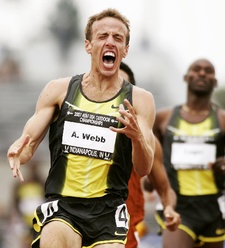 On February 15, 2014, Alan Webb showed up for his last race as a professional runner. He showed up for the famous Wanamaker Mile at the prestigious Millrose Games, held this year at the New York City Armory. There was some chatter, and perhaps genuine hope, about the possibility of one last four-minute mile from Webb this Saturday, on the same track where he did it for the first time. He had announced in January that he was "burned out from running" and wanted to transition to the sport of triathlon, so everyone knew that the 2014 Wanamaker Mile would be his last, but they also knew that Webb, at 31, was still one of the all-time greats. So fans like me watched him run his last mile—hanging on at the back of the pack for most of it, finishing 11th out of 12—in 4:06.11, and we felt satisfied. We've all been there. (Those of us who ran competitively in high school or college, especially, have been "there," struggling to keep up with a field of faster, fitter athletes. You're not having "a bad day," you're not sick—you're simply outclassed, and you must run with your whole heart anyway.) 
Webb ran with as much passion and effort as ever on Saturday, and it was a reminder of all that's good in track and field, a humble nod to the glory of the middle-distance runner.
* * * 
Emil Zatopek, who some consider to be the greatest runner of all time, once said: "If you want to win something, run 100 meters. If you want to experience something, run a marathon." But what about the mile? As Webb told David Letterman, a good miler has to have the legs of a sprinter and the heart of a distance runner.
A mile is 1609.34 meters. To race the distance on a standard outdoor track, athletes run four laps plus 10 meters, which pushes the starting line about 30 feet back from the finish line. It's more common to race an even 1600—four clean laps around the track—or, in competitions outside the United States, 1500, which has been dubbed "the metric mile" despite being short of the real thing. These discrepancies in distance may be part of the reason that the one-mile footrace has been losing clout over the past few decades. 
But consider all that a race of 1500 to 1609 meters in length has to offer. This is the ideal distance for competitors and spectators alike: There's enough time for drama to unfold, but not enough time for any one runner to relax or operate on autopilot, and every turn of the track is an opportunity for someone to make a tactical move that will almost certainly affect the outcome of the race. Watch what happened in the 1500m final at the 1984 summer Olympics in Los Angeles:
American Steve Scott made a bold move at the end of the first lap, taking the lead and forcing the field to quicken its pace. The field responded well; Scott, not so much. He ended up finishing in 10th. As Scott faltered on the third lap, Spain's Jose-Manuel Abascal took the lead. Meanwhile, race favorite Steve Ovett, in fourth place heading into the final lap, abruptly dropped out of the race with a breathing problem. Abascal ran away with Britain's Sebastian Coe and Steve Cram on his shoulders. Cram surged on the backstretch, Coe responded, and the rest is history. It could have been a different story, had Scott not taken the lead so early, or if Coe had had been the one to initiate a breakaway at the end instead of Cram. The 1500 is one of the more unpredictable events in track and field. That may be what makes it so perfect. Three and a half minutes is just enough time for athletes to write their own stories.
* * *
Today, the Millrose Games provide one of the few annual showcases for the artistry and intensity inherent in the mile race. The Wanamaker Mile has been the marquee event at Millrose since 1926. For many years it was actually run at 10 p.m. on a Friday so that it could be broadcast live on the nightly news in New York. While the Wanamaker still captivates the dreams of a certain subset of track and field athletes, it matters less to everyone else. The Millrose Games happen on Saturday now, and this year the Wanamaker Mile gun fired at 4:48 p.m. The NBC Sports Network had a live broadcast from 3 to 5 p.m. (In 2013, ESPN had a delayed broadcast. In 2012, there was no television coverage at all.) 
A brief history of the one-mile footrace would note that the tradition started in England in the late 19th century, when and where people loved to watch other people run. Track was England's most popular sport. In 1886, some 20,000 showed up to watch George Walter race the mile against Jack White on the track at London's Lillie Bridge: Walter won in 4 minutes, 12 seconds. 4:12 was the world record for thirty years. Through the first decades of the 1900s, mile times dropped closer and closer to the four-minute mark. American Glenn Cunningham ran 4:06 in 1934. Gunder Hägg, a Swede, ran 4:01 in 1945. And then came Roger Bannister.