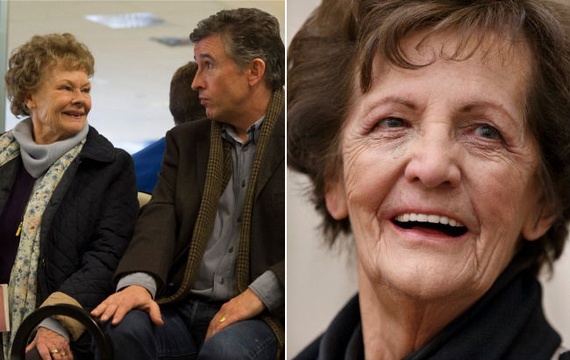 For decades, Philomena Lee didn't think there was anything interesting about her life story.
After becoming pregnant out of wedlock in Ireland in 1951, a teenage Lee was disowned by her father and sent to live and work in a convent alongside other unmarried mothers. When her son Anthony was three years old, the convent's nuns, in exchange for a generous donation, gave him up for adoption to Americans, who were told he was an orphan. A distraught Lee watched from an upstairs window as strangers drove off with her child.
For the next 50 years, Lee told nobody about Anthony. That's just how life went for sinners in the Catholic Church, she thought.
But one day, she told her secret to her daughter, Jane Libberton, who quickly began the search for Lee's long-lost child. It wasn't easy: Irish law makes it extremely difficult for adopted children to learn about their parents and birth records, and the nuns at the convent where Lee lived stonewalled her requests for information. Eventually, Libberton pieced together the identity of Anthony: Renamed Michael Hess by his American parents, he'd grown up to be a top attorney for the Republican National Committee.  
By the time Lee and Libberton solved the mystery, however, they were too late: Hess had died of AIDS in 1995. His ashes had been buried at the the convent at Hess's request—he hoped that his mother would return and find him. Just as the nuns wouldn't give Lee and Libberton any answers about what happened to Anthony, Hess himself had journeyed to Ireland to ask about his mother—with no luck.
Acclaim and Oscar nominations for Philomena, based off journalist Martin Sixsmith's book, The Lost Child of Philomena Lee, have brought international attention to the stories of Lee and the thousands of women just like her. Last month, Lee partnered with the Adoption Rights Alliance to launch The Philomena Project, which will advocate for changes to Ireland's adoption-records policies and help connect mothers and children separated by the country's history of forced adoptions. In late January, Lee, Libberton, and Mari Steed, U.S. coordinator of the ARA, traveled to Washington D.C. to meet with senators and diplomats about the project, and they spoke to The Atlantic about the film, faith, and forgiveness.
This interview has been condensed and edited.
---
When you started your journey a decade ago, did you ever think it would bring you to Washington?
Philomena: No way whatsoever.
Jane: When mom first met Martin, she didn't even really want it to be a book, did you? You didn't really want the story.
Philomena: Oh no. When I told my daughter after 50 years, I said, "No, I can't." Because I kept it a secret so long. No way. So then I just decided, well, look, if it can help a lot of mothers my age, I'm nearly 80—
Jane: You are 80!
Philomena: We were ostracized in them days because we had babies out of wedlock, because that was a very awful thing to do. Women my age kept it a secret and wouldn't tell their families. A lot of the babies born, their offspring, they're now looking for them. A lot of ladies my age still haven't come out to say it. So many people responded to the film, and a lot of them actually were women like me coming out. People like Mari and her colleagues have been trying for years to get the government in Ireland to give people rights to their records.
Is the project more about helping adopted children here connect with parents in Ireland, or about putting pressure on Ireland to change its policies?
Mari: Both. Some of the senators and congressmen we met are from the states where a lot of the babies were placed to—in Anthony's case, Missouri—so we met with Senators Roy Blunt and Claire McCaskill. Somebody might go to their local representatives and say, "I was born in Ireland and am a citizen here, what do I do?"
Likewise, we met the Irish ambassador [Anne Anderson] and it's the same thing. "If one of our citizens should happen to come to the Irish Embassy or call one of the consulates, would you be able to give them these resources and point us in the right direction?" We don't want to do any hard-hitting political lobbying, but we would like them to lend their voices and their support if at all possible. I think the response was very positive.
Jane: It was very positive! Obviously my mom and I have no experience of being here in Washington and meeting senators, that's like—
Philomena: Wow-wee!
Jane: We had no idea what to expect. Each and every one was different, but very positive. We felt like we were following in Anthony's footsteps because he worked in these buildings.
That must have been special.
Philomena: Very much so. This was his world.
Activists have said you'd need to drag Ireland to the United Nations to see these changes happen. Have you had more success going the political route than through the Church?
Mari: Absolutely. With the Church, you really will get nowhere. I'm not saying that's a negative or a positive. That's simply what it is. They're not going to change their mind or suddenly change their policies. And not only that, but all of the records, as of this year, have finally been transferred out from under the ownership of Church agents and are now under the government's Health Service Executive in Ireland, so we've almost removed the Church from the picture, at least as far as the records are concerned. But I think eventually it may take a UN case similar to the Magdalenes cause in Ireland. We've got the right players, we've got people affiliated with the project. If we have to go that route, we will.