More than a century before Coca Cola's controversial Super Bowl commercial celebrating America as a nation of nations, the melting pot overflowed with people of all races and ethnicities—each subject to its share of mass media abuse. Immigration made America what it is, but not without considerable racist barbing and comic hazing by cartoonists, illustrators, and artists. Blacks, Indians, Irish, Jews, and Asians were the main targets. The last was not just savagely portrayed in media as rat-tailed demons but legally restricted for decades from entering the United States. An insightful new anthology of writing on racist stereotyping, Yellow Peril! An Archive of Anti-Asian Fears edited by John Kuo Wei Tchen and Dylan Yeats (Verso), describes how demonizing Asian peoples in word and picture was acceptable in America for so long.
With China's reemergence today, the term "Yellow Peril" is still faintly whispered. Yet the first use of the pejorative "as a modern political tool," Tchen, an NYU professor and the author of New York Before Chinatown, told me, was Germany's Kaiser Wilhelm. Responding to his cousin the Russian Czar's defeat to Japan in 1905, Wilhelm commissioned an artist draw a "threatening Buddha in a lotus position riding a dragon thundercloud off in the distance." This was not an effective piece of propaganda by contemporary standards, Tchen says, "but it did get at some basic dynamics: the threatening, evil man marked by certain exaggerated and racialized physical characteristics. It gets the juices going for men to become protectors."
Caricature, the meat of stereotype, works best when loosely rooted in distortions of truth; exaggerated appearance, for instance, serves to reinforce negative impressions while building misconceptions. American caricaturists misrepresented different racial and ethnic physiognomic characteristics for the most sensational outcomes. Since Asians had distinctive features and dress, they were easy targets for artists. I asked Tchen, was there one person or event responsible for creating the typical, harmful image?
 "Historians tend to look at processes and convergences not single bullet-type conspiracies," he says. "From my research, the transplantation of Anglo-Saxon Protestantism into a potent Anglo-American Protestantism is key. This was the underlying, interlocking political culture which formulated a particular notion of the property-owning, white, male, superior, rational male benevolently (and by right) presiding over an expanding north America—with Canada in their sights, south into Mexico and the inferior Spanish colonies, and westward into the Pacific with the luxuries of 'the Orient' always beckoning." When part of that "manifest destiny" ideal was threatened, "the fallback position was to promote what historian Alexander Saxton called a 'white republic' with a racially exclusive form of wage labor and industrialization excluding those deemed too 'lazy' or too 'hard working.'"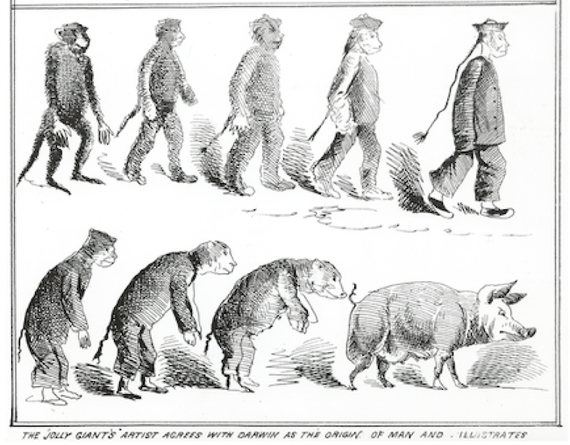 Images of hate are linked, Tchen continues, to "desire for and admiration of. They have what we need. But then when they compete too hard for 'what is ours,' that tips the balance of acceptance." In the history of the U.S., it doesn't take much for dangerous "minorities" to become "model minorities" and vice versa, he says. "It's all a question of whether they get incorporated into the society or not. Fu Manchu and Ming the Merciless: No. Charlie Chan and the 'hard-working' 'foreign' service worker who know their place: Yes."